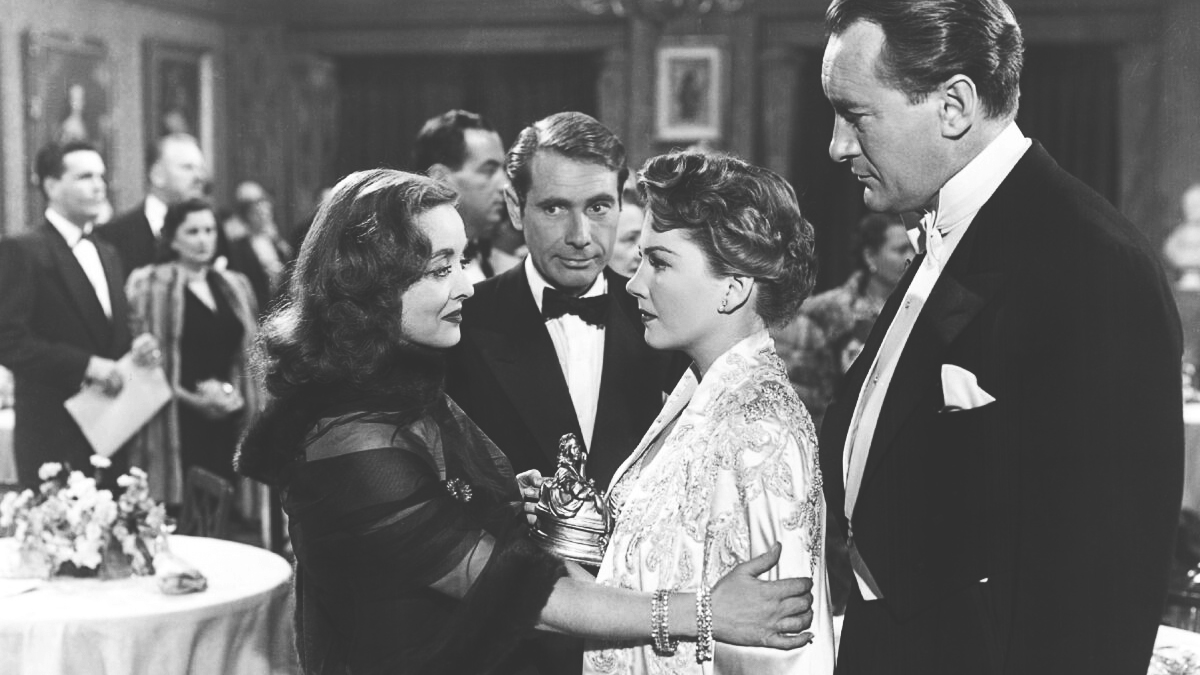 Film Synopsis
In All About Eve, Eve waits backstage to meet her idol, the aging Broadway star Margo Channing. While it all seems so innocent as Eve explains that she has seen Margo in EVERY performance of her current play. Only playwright and critic, Addison DeWitt, sees through Eve's evil plan—to take Margo's acting roles and her fiancé, Bill Simpson.
After Bill rejects Eve's advances, she turns her attention to the playwright Lloyd Richards, but DeWitt stops her in her tracks when he discovers her dirty little secret. In the end, we meet another young girl named Phoebe, and the viscous Circle of Life now comes to Eve who will find herself played like she played Margo.
Buy the Film
All About Eve (The Criterion Collection)
10 new from $27.99
7 used from $23.99
Free shipping
as of August 14, 2022 11:14 pm
*As an Amazon Associate we earn from qualifying purchases.
'All About Eve' Movie Summary
The summary below contains spoilers.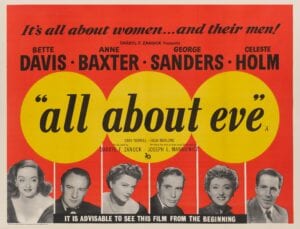 In
All About Eve
,
Margo Channing
is one of the biggest stars on Broadway. However, now that she's turned forty, she's worried that ageism will destroy her career. After a performance of her latest play, Aged in Wood, her close friend, Karen Richards, and wife of the play's author, Lloyd Richards, brings a very enthusiastic fan named
Eve Harrington
to meet Margo.
Eve tells everyone in Margo's dressing room that she followed Margo's last theatrical tour to New York after seeing her perform in San Francisco. Her tale of growing up poor in Wisconsin and then losing her young husband in World War II moves Margo. She befriends Eve, and brings her into her home. She then fires her assistant, Birdie, in favor of Eve.
As her assistant, Eve manipulates her way into every aspect of Margo's life; anticipating all of Margo's needs. When Margo forgets her boyfriend Bill's birthday, a director who is eight years her junior, Eve calls him long-distance.
However, Margo becomes increasingly distrustful and bitter towards Eve—especially after she catches Eve taking a bow in an empty theater while pretending to wear Margo's Aged in Wood costume. So, Margo asks her producer, Max Fabian, to hire Eve to get rid of her. Instead, Eve finds a way to become Margo's understudy (without Margo's knowledge).
Margo's irritation towards Eve grows to the point Karen feels sorry for the young girl. She decides to humble Margo a bit, and arranges for Margo to miss a performance of Aged in Wood, so Eve can play her part once.
Eve decides to invite the city's theater critics, which includes one Addison DeWitt, to her performance. It goes better than she could hope. After that evening's performance, Eve tries to seduce Bill too, but he rejects her. After Addison interviews her for a column, Margo's criticized for not making way for new talents like Eve. Guess what? Margo and Karen are quite angry at the story…and at Eve.
Later that evening, while at dinner at the Stork Club, Margo and Bill announce their engagement. Eve, who's there with DeWitt, asks to speak to Karen alone in the ladies' room. At first she appears regretful for her actions, but then suddenly blackmails Karen—either she ask Lloyd to give her the lead part as Cora in his next play, or she will reveal Karen's role in Margo's missed performance.
However, before Karen talks to Lloyd, Margo surprises everyone when she says she doesn't wish to play Cora—instead preferring to continue on in Aged in Wood. So, Lloyd casts Eve. Just before the out-of-town premiere of that play, Eve tells Addison she plans to marry Lloyd—claiming he's already professed his desire to leave his wife for her.
She reveals how excited she is that Lloyd's going to write all these brilliant plays which will feature her. Addison's not an idiot, and it angers him that she thinks she can manipulate him as easily as everyone else. He tells her that he knows her back story is nothing but lies. Her real name is Gertrude Slescynski. She's never married, AND previously she's been paid to leave her old town after having an affair with her boss. Now it's Eve's turn to have someone blackmail her. Addison informs Eve that she's not marrying Lloyd or anyone else—in exchange for his silence—she now belongs to him.
A year passes, and Eve is the huge Broadway star she's wanted to become, and now, she's on her way to Hollywood. At an awards banquet, Eve thanks Margo, Bill, Lloyd, and Karen with her usual flair. The four just coldly stare back at her.
Afterwards, Eve skips a party in her honor. When she returns home alone, she sees a young girl asleep in a chair named Phoebe who snuck into her apartment. It's clear that she admires Eve immensely, and when the doorbell rings, Eve's too tired to answer it. She accepts Phoebe's offer to help her. Addison stands at the door with the award Eve forgot. He glances at the ambitious Phoebe before leaving with a sardonic smile. The Circle of Life continues on—poor Eve.
Add the film to your collection today!
Rate the Film!
20th Century Fox released All About Eve on October 27, 1950. Joseph L. Mankiewicz directed the film starring Bette Davis, Anne Baxter, and George Sanders.