Film and Plot Synopsis
After spending thirteen years away, Brian Gilcrest, a celebrated military contractor, returns to the site of his greatest career triumphs – Honolulu, Hawaii. There, he reconnects with the girl that he left thirteen years before, who is now married and has two kids. He also finds himself unexpectedly falling for the hard-charging Air Force watchdog assigned to him while he tries to negotiate with the native Hawaiians to get them to bless a military gate.
Buy the Film
Aloha [Blu-ray]
32 new from $4.78
40 used from $2.49
Free shipping
as of December 1, 2023 12:32 am
*As an Amazon Associate we earn from qualifying purchases.
'Aloha' Movie Summary
The summary below contains spoilers.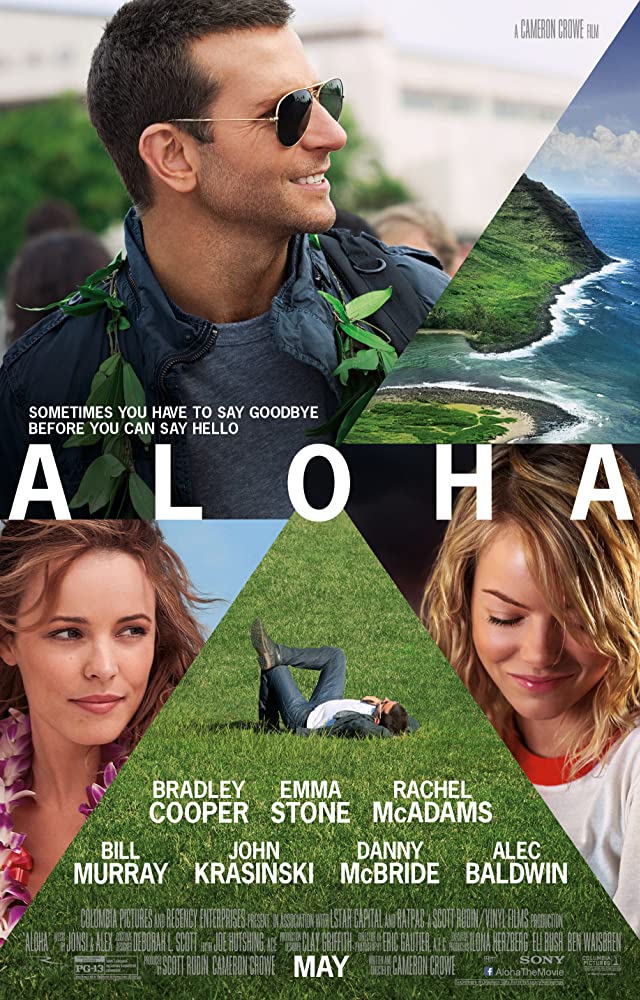 Military contractor Brian Gilcrest (
Bradley Cooper
) returns to Hawaii for the first time in thirteen years. Brian has been hired by billionaire Carson Welch (
Bill Murray
) to organize a traditional blessing for a new pedestrian gate on a proposed pedestrian entrance for a military base and space center that Carson plans to build. Brian is former military, having retired after being severely injured under mysterious circumstances in Afghanistan.
Brian negotiates with the Native Hawaiians for the blessing and for them to support Carson's plan to launch a privately-funded satellite. His job is complicated by two women. His former girlfriend Tracy (Rachel McAdams) who is now married with two children; and Captain Allison Ng (Emma Stone), his idealistic Air Force liaison. Brian and Allison both possess a fascination for space, which reminds him of his own childhood sense of wonder before he became jaded by the world.
Brian and Allison travel to an isolated community to meet with King Dennis "Bumpy" Kanahele (Dennis Bumpy Kanahele). Their mission is to negotiate Kanahele's participation in the gate blessing ceremony. Along the way, Allison attempts to discuss Brian's life and work with him, but Brian stonewalls her. At the meeting with Kanahele, Allison bonds with the Hawaiians due to their shared spiritual view of the land and sky. Brian is able to broker the deal in exchange for two mountains and free cell phone service for the isolated community.
The next night, Brian and Allison attend a dinner at Tracy's house, where they meet her husband Woody (John Krasinski) and their two children, Grace and Mitch (Danielle Rose Russell and Jaeden Martell). Tracy confesses to Brian that she loved him deeply and had plans to make a life with him before he abandoned her thirteen prior. Woody interrupts their private conversation and has a conversation with Brian that has no words.
Brian and Allison attend Carson's Christmas party. The commander of Pacific Air Forces General Dixon (Alec Baldwin) attends as well. Dixon tells Brian not to screw up the deal with the Hawaiians because the military is counting on him. Brian receives a thumb drive from one of Dixon's men, Bob Largent, (Bill Camp) which contains top secret information for the impending satellite launch. Carson briefly interacts with Brian, sarcastically welcoming him back to the game.
During the party, Brian becomes attracted to Allison as she is dancing with Carson. After the party, Allison goes with Brian to his hotel where he recounts his near death experience in Kabul. Brian admits to Allison that this night is the first night he was truly happy to be living. Allison is afraid of becoming a one stand and a sticker on Brian's laptop. Nevertheless, the two have sex together.
The next day, Allison discovers that Carson's satellite will actually carry a nuclear payload when she sees some secret photos that Mitch took with his camera. Allison attempts to submit her resignation to her commanding officer, Colonel "Fingers" Lacy (Danny McBride), but he refuses to accept it. He tells her that it is a private operation run by Carson and none of her concern. He also tells Allison that Brian likely knows about the nuclear payload. Allison confronts Brian about lying to her and the Hawaiians and ends their relationship.
Meanwhile, Woody and Tracy fight with each other over recent tensions in their marriage. Tracy believes that Woody's lack of communication is the root of their problems and Woody believes that their problems stem from Brian's return to Hawaii. The couple agrees to separate and Woody leaves the house after decapitating the light up Santa Claus in the front yard. The next morning, Tracy goes to Brian's hotel room and tells him about her separation. Brian confronts her as to whether Grace is his daughter and Tracy admits that she is. Tracy also tells him that no one knows, not even Grace and Woody.
Later that day, the new pedestrian gate has a successful blessing and both Allison and Brian are present to see it. Largent arrives and tells Brian that the Chinese are attempting to hack Carson's satellite's code to prevent the impending launch. Largent takes Brian and Allison to the command center and Brian is able to thwart the hacker's attempts. Everyone applauds Brian's efforts, including Carson. However, Allison is devastated by the launch and the implications that it creates. Brian realizes what he has done, to the sky and to Allison, and uploads a massive sonic package to be sent into space. The satellite is not able to process the information and explodes. Allison thanks Brian for what he has done, but Brian tells her to stay away from him. He tells her that her career is just beginning, but that he just ended his and that she would be better off not to be connected to him.
Carson is not pleased with Brian for destroying the satellite and asks if Brian's motive was revenge for Carson leaving him for dead in Kabul. Brian tells the billionaire that he cannot buy the sky. Carson simply tells him that he will build another satellite. General Dixon is extremely angry with Brian and threatens to prosecute him. Brian tries to explain that Carson was going to put a personalized nuclear payload in space, but Dixon does not want to hear it from him.
Brian returns to Tracy's house to tell her what he has done before he leaves town again. Tracy reads Brian a letter that the normally stoic Woody wrote to her. Tracy is moved to tears. Brian tells her that she belongs with her husband, and Tracy tells Brian that he needs to go after Allison because she is a good one. The next morning, Woody returns home and finds Brian in the house. The two men engage in a silent man communication. Woody tells Brian that he knows Brian is Grace's father, and Brian says that he is glad that he knows. Woody asks Brian if he slept with Tracy, and Brian says no but that he slept with Allison. Woody congratulates him with a warm hug. Brian takes Woody to Tracy and watches as they and the kids engage in a warm family hug. Brian realizes what truly matters to him and leaves.
Brian meets with General Dixon who has learned that Brian was telling the truth about the nuclear payload on Carson's private satellite. Dixon congratulates Brian, who is now a hero for his efforts. Dixon tells Brian that Carson will soon be arrested for his deception, and he is arrested in Japan.
Brian finds Allison preparing to check out of their hotel. He tells her that he loves her and is staying in Hawaii and will wait for her to return from her assignment. The two commit to trying to make things work. That night, Brian stands outside Grace's hula class and watches his daughter dance. She sees him through the window and smiles. Slowly, Grace's face begins to show the understanding of why he is there. With tears in her eyes, she runs outside and embraces her father for the first time before she returns to her dancing class.
Add the film to your collection today!
Additional Film Information
Rate the Film!
Columbia Pictures released Aloha on Blu-ray. Cameron Crowe directed the film starring Bradley Cooper, Rachel McAdams, and Emma Stone.