Summaries
Anchorman 2: The Legend Continues (2013)
Film and Plot Synopsis
Will Ferrell returns to his famous role of Ron Burgundy. This time, Ron faces a crisis as both his career and his marriage both collapse at the same time. However, salvation may appear in the formation of GNN, a new 24-hour news network. With the help of his news team, Ron sets out on a new trailblazing venture to make the news entertaining. But along the way, Ron loses himself and his principles. Can Ron reclaim what he loved about the news and also reclaim a piece of himself at the same time?
Buy the Film
Anchorman 2: The Legend Continues (Blu-ray + DVD + Digital HD)
21 new from $4.99
75 used from $1.99
Free shipping
as of June 2, 2023 2:02 pm
*As an Amazon Associate we earn from qualifying purchases.
'Anchorman 2: The Legend Continues' Movie Summary
The summary below contains spoilers.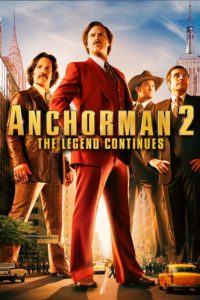 In 1979, Ron Burgundy (Will Ferrell) and Veronica Corningstone (Christina Applegate) are happily married and working as co-anchors for a new network in New York City. The couple are summoned to the office of Mack Tannen (Harrison Ford), one of the most famous nightly news anchors on network television. Mack informs them that he is retiring and is intending on promoting Veronica as his replacement making her the first female nightly news anchor in the history of television. Mack also informs Ron that he intends to have him fired for his poor performance on air. As expected, Ron handles the news poorly and becomes jealous of Veronica's success. Ron ultimately leaves his wife and their 6-year-old son Walter (Judah Nelson) for places unknown.
Six months later, Ron is living a life of destitution in San Diego, unable to support himself due to his overwhelming depression. After a failed suicide attempt, Ron is approached by Freddie Shapp (Dylan Baker), a representative of GNN, the world's first 24-hour news network. Freddie offers Ron a job on the network, which Ron accepts. Ron and his dog Baxter reform Ron's San Diego news team, Champ Kind (David Koechner), Brick Tamland (Steve Carell), and Brian Fantana (Paul Rudd) to return to New York with him. Once at GNN, Ron's team is assigned the graveyard shift timeslot on the network. Ron also finds himself in immediate competition with GNN's lead anchor Jack Lime (James Marsden). To make matters worse, Ron discovers that Veronica has moved on with her life and started dating psychologist Gary (Greg Kinnear).
GNN's launch is a little rocky, with the world skeptical of the need for a 24 hour news service. Ron decides to broadcast what he believes that people want to hear rather than focusing on what they need to hear. Ron's team's sensationalistic and patriotically pandering newscast proves to be a hit, beating Lime's ratings. Soon, everyone begins to attempt to co-op Ron's approach, and Ron and his team are promoted to the primetime slot. Fame and fortune soon follow the entire news team. Ron's success draws the attention of GNN's manager, Linda Jackson (Meagan Good), who begins a sexual relationship with Ron. Brick also begins a romantic relationship with an eccentric GNN employee named Chani (Kirsten Wiig). Ron's success causes Ron to alienate those around him including Champ, Brick, Brian, and even his son Walter. Ron fractures the relationship with his new team when he falsely claims that he has been carrying them their entire careers.
By the hymen of Olivia Newton-John! Ron Burgundy (Will Ferrell)
Everything comes to a head at a party celebrating GNN's successful launch. Overcome with jealousy, Lime causes Ron to slip and as a result, Ron suffers a head injury that leaves him blind. Unable to read the news, Ron isolates himself in a lighthouse where he struggles with his blindness. Veronica visits Ron and tells him that she is quitting her job. As a result, Ron, Veronica, and Walter begin to bond and once again become a family. Ron learns to accept his disability. He and Walter raise a baby shark named Doby before setting him free in the ocean again. However, Ron eventually learns that Veronica has concealed messages from his doctor about an experimental surgery that would restore his vision. Veronica believes that Ron's blindness is a significant factor in their family bonding. Ron rejects Veronica and leaves the lighthouse angrily. He has the surgery to restore his vision and returns to GNN to reclaim his post.
Before he returns to the airwaves, Veronica approaches Ron and begs with him to attend Walter's piano recital so as to not completely destroy the relationship that Ron has built with his son over the preceding weeks. At that moment, an exclusive news story comes in which requires Ron to cover it on the air. Ron goes on live television but interrupts his news report after he recognizes its insignificance. Ron tells the television audience that the news is supposed to inform, not entertain, and takes responsibility for the mistakes he has made. He concludes his broadcast by quitting and walking off camera.
Ron then begins running for Walter's recital. Ron is intercepted by Lime and his news team who wish to kill Ron. Lime is joined by Mack Tannen, the BBC News anchor (Sacha Baron Cohen), the ESPN anchor (Will Smith), MTV news anchor Wesley Jackson (Kanye West), the History Network host (Liam Neeson), Canadian news team anchors (Jim Carrey and Marion Cotillard), two entertainment news anchors (Tina Fey and Amy Poehler), and the ghost of Stonewall Jackson (John C. Reilly). However, Champ, Brick, and Brian all show up to stand with their friend. Battle is engaged with Ron desperate to get to his son's recital. Gary shows up and rescues Ron with his mind powers. He tells Ron to get to the recital, and Ron's team makes a run for it. They are cut off by Lime's team. However, Ron's former nemesis Wes Mantooth (Vince Vaughn) arrives to help Ron before Brick sets off an explosion. Ron makes it to the recital in time and reconciles with Veronica.
Weeks later, Ron, Champ, and Brian attend Brick and Chani's wedding on the beach. During the wedding, Ron observes Doby in the water. Ron attempts to greet his former pet shark and is attacked by Doby. Baxter is forced to rescue him.
Additional Film Information
Rate the Film!
Paramount Pictures released Anchorman 2: The Legend Continues on December 18, 2013. Adam McKay directed the film starring Will Ferrell, Christina Applegate, and Paul Rudd.