Film and Plot Synopsis
Four middle aged men find themselves each stuck in ruts as their professional and personal lives seemingly grind to a halt. After a birthday dinner for one of the friends, the men decide to engage in a social experiment to test a theory that maintaining a constant blood alcohol content of .05 will make you more creative and relaxed. Initially, the experiment appears fruitful as each of the friends' lives at work and home seem to improve. However, when they decide to push themselves to higher levels of alcohol, things begin to go awry.
Buy the Film
Another Round (BD)
10 new from $14.99
3 used from $17.52
Free shipping
as of May 3, 2023 10:18 am
*As an Amazon Associate we earn from qualifying purchases.
'Another Round' Movie Summary
The summary below contains spoilers.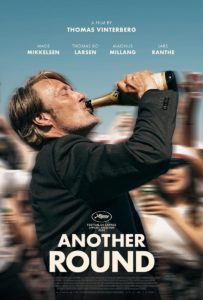 Martin (
Mads Mikkelsen
) is a teacher at a school in Copenhagen. His life has become stagnant at both home and work. At home, Martin barely connects with his wife Anika (
Maria Bonnevie
) who is constantly working late shifts overnight and barely speaks with his teenage sons. At work, Martin struggles to teach his unmotivated history students. The administration and a parent group also approach Martin to comment on his inability to inspire and educate his students.
One night, Martin goes to dinner with his three best friends, Tommy (Thomas Bo Larsen), Peter (Lars Ranthe), and Nikolaj (Magnus Millang). In addition to being friends, the four men are also colleagues, teaching at the same school. At the dinner celebrating Nikolaj's 40th birthday, the group discusses psychiatrist Finn Skårderud's theory that maintaining a blood alcohol content (BAC) of .05 makes you more creative and relaxed. The group dismisses the theory while engaging in copious amounts of alcohol during the dinner. However, Martin is inspired by the theory and his constant state of depression and begins to drink at work. As a result, Martin begins to connect with his students and inspires them to learn about history.
Martin's friends notice the change and confront him. He acknowledges what he has done, and the entire group decides to engage in a covert experiment to test the theory. They agree to a strict set of rules: their BAC should never be below .05 and that they should not drink after 8:00 P.M. or on weekends. Almost immediately, all four members of the group find both their work and private lives more enjoyable. Tommy connects and inspires the young boys that he coaches soccer. Peter finds new experimental ways to teach his students how to sing with passion. Nikolaj documents and keeps track of the experiment's results.
So, when you run around totally wasted, throwing up in bushes and alleys, don't feel alone, because you're in great company. Martin
During the experiment, Martin begins to reconnect with his wife and children. They go canoeing on a vacation together where Martin and Anika have sex together for the first time in many months. Upon his return, the friends get together and discuss how well the experiment is going. They decide as a group to further test the theory by increasing the BAC's to .10. Once again, the four men find their lives continually improved. In one instance, Peter meets with a troubled teen named Sebastian (Albert Rudbeck Lindhardt) who has difficulty controlling his anxiety during testing. Peter suggests to the teen boy that he should have a couple of drinks before his tests to calm his nerves.
Due to their success, the four men decide to further test the theory and begin to binge drink to observe how their bodies and minds respond. The friends go out for a fun night together, but upon returning home Nikolaj urinates in his bed with his wife Amalie (Helene Reingaard Neumann) in his drunken stupor. Amalie takes their kids and leaves Nikolaj until he gets his drinking under control. Martin also gets into trouble after he awakes passed out in front of his neighbor's house with a gash on his forehead. His son finds him and takes him home. Anika and the boys confront their father about his drinking. They express their worries that he is descending into alcoholism, revealing that they have known about his secret drinking for weeks.
Martin engages in a heated argument with Anika when she implies that he is not present with the family anymore. During the argument, Anika admits to being unfaithful to Martin. Angered, Martin leaves her and the family home. That night, the four men get together and continue their binge drinking one last time before deciding to abandon the experiment due to the danger of alcoholism and social consequences that arise.
Months later, all the members of the group have stopped drinking during the workday except for Tommy, who has fallen into the black pit of alcoholism. The school becomes aware of his drinking and he faces consequences. Martin takes him home after he collapses at school and tries to clean up Tommy's house by removing all the alcohol. However, Tommy continues his downward spiral. A few days later, Tommy boards his boat with his dog and sails out on the ocean. While at sea, Tommy dies, although the audience is not made aware of whether it is from his alcohol consumption, drowning, or suicide.
Martin, Peter, and Nikolaj attend Tommy's funeral where their friend's casket is serenaded by the young boys on his soccer team dressed in their team uniforms. The three friends go out to dinner together after the funeral and appear reluctant to drink the alcohol which they are served. While they are eating, Martin receives a message from his wife indicating that she misses him…a lot. Martin is given the impression that reconciliation is possible and that his marriage is not a lost cause. They see a truckload of graduated students drive by. The trio join them in celebrating their accomplishment and begin drinking with their now former students. Martin, a former jazz ballet dances, dances with the students and Peter, which he has refused to do previously despite his friends' continuing requests. He dances with increasing intensity until the dance culminates with Martin jumping into the ocean headfirst.
Additional Film Information
Rate the Film!
September Film released Another Round on December 18, 2020. Thomas Vinterberg directed the film starring Mads Mikkelsen, Thomas Bo Larsen, and Magnus Millang.