Summaries
Au Revoir Les Enfants (Goodbye, Children) (1987)
Film and Plot Synopsis
Au revoir les enfants tells a heartbreaking story of friendship and devastating loss concerning two boys living in Nazi-occupied France. At a provincial Catholic boarding school, the precocious youths enjoy true camaraderie—until a secret is revealed.
Buy the Film
Au revoir les enfants (The Criterion Collection) [Blu-ray]
6 new from $17.59
7 used from $14.42
Free shipping
as of March 29, 2023 12:21 am
*As an Amazon Associate we earn from qualifying purchases.
'Au Revoir Les Enfants' Movie Summary
The summary below contains many spoilers and feeble attempts at humor.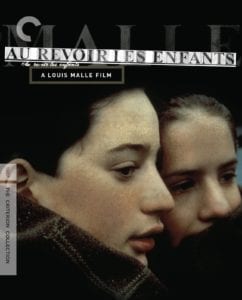 Au Revoir Les Enfants
takes place in January 1944, and the setting is a monastery and provincial boarding school for boys near Fountainebleau, France. The school is a rather gloomy, old and dark place; the younger students sleep on iron frame beds in a room set up like a barracks. However, the school's priests provide the students with patience, warmth and normalcy during a time where nothing is normal.
The headmaster of the school is Father Jean, who must make do with wartime rations of crappy food and insufficient heat for the boys, all while managing to placate their wealthy parents. We soon learn that Father Jean is also providing a clandestine sanctuary for three Jewish boys. Father Jean is truly a man of God. Aside from protecting Jewish boys from the Gestapo, he provides a lecherous French gimp named Joseph a job in the school's kitchen. Joseph rewards Father Jean's charity by giving the boys pornography in exchange for jam.
Aside from the occasional air raid siren and German soldier entering the school's chapel for a confessional, the boys at the school are far removed from the realities of the war, the German occupation of France, and the cloud of fascism over Europe. It is under this setting that Louis Malle tells us a story about innocence and betrayal brought upon by deeply imbedded anti-Semitism in French society.
Louis Malle uses the character of Julien Quentin, a boy of about 12, as a sort of alter ego. At the beginning of our film, Julien is set to return to school after Christmas holiday. He says a tearful goodbye to his mother on the platform of a train station in Paris. Julien's melancholy is not eased even when his mother reminds him that she will see him again in just three weeks.
In short, Julien is a mama's boy, although when he returns to school he acts tough around the other students, and refers to the monks as "babasse." We find out quickly that Julien is a very bright student, an avid reader, and one of the cool kids. Things haven't changed in 70 years. Self-possessed, rich kids who bully the weak but deep down are pussies are popular. You know, the sorts of kids who when they grow up run for President.
Julien's status is immediately challenged by the presence of a new boy, Jean Bonnet. Jean is the same age as Julien, but seems much older and wise beyond his years. Much to Julien's chagrin, Bonnet is a superior student in every subject, and he plays piano well enough to impress the local hottie played by Irène Jacob. Julien and the other students haze Bonnet. But after a conversation with Father Jean, Julien begins developing a friendship with Bonnet, spurred on by the two boys' common love of books.
Julien eventually discovers Bonnet's secret: that he is Jewish and his real name is Kipplestein. However, Julien keeps Bonnet's secret, and their friendship is strengthened when the two are abandoned by their classmates in the woods during a French version of capture the flag, which surprisingly does not end with the French surrendering.
The story reaches its sad conclusion shortly after Father Jean fires Joseph the Gimp for running his porno-for-jam racket. The Gimp implicates Julien and Julien's older brother as well as other students. However, the students are not punished, because their parents are rich. Quelle injustice! Joseph retaliates by ratting out Father Jean and the three Jewish boys to the Gestapo.
The Gestapo raids the school. As his classroom is being searched, Julien unintentionally gives Bonnet away by glancing at him, a glance which no self-respecting Nazi would miss. Bonnet, the other two Jewish boys, and Father Jean are whisked away by the Gestapo. The film ends with Julien waving a tearful goodbye to Bonnet. Louis Malle's voice narrates the sad epilogue to the story: The children died at Auschwitz; Père Jean was imprisoned at Mauthausen, where he died shortly after being liberated.
Additional Film Information
Rate the Film!
Orion Classics released Au Revoir Les Enfants on February 12, 1988. Louis Malle directed the film starring Gaspard Manesse, Raphael Fejtö, and Francine Racette.