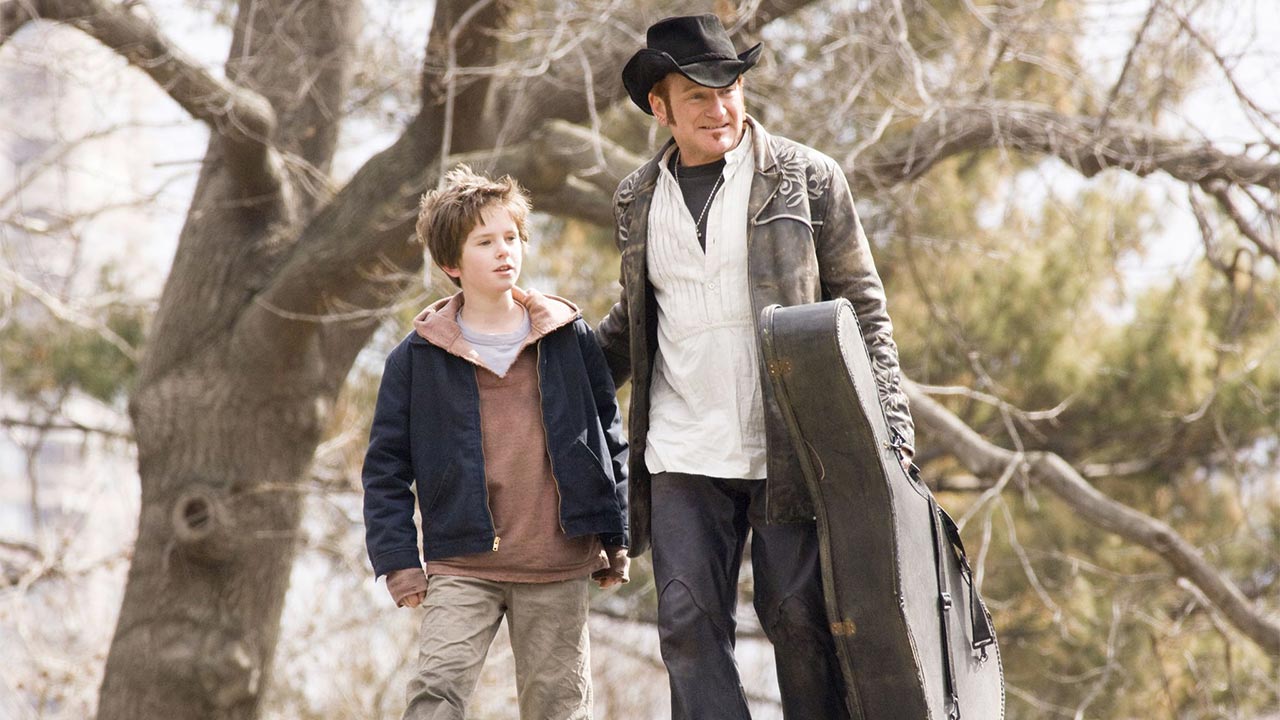 Film and Plot Synopsis
August Rush tells the story of a charismatic young Irish guitarist and a sheltered young cellist who have a chance encounter one magical night above New York's Washington Square, but are soon torn apart, leaving in their wake an infant, August Rush, orphaned by circumstance. Now performing on the streets of New York and cared for by a mysterious stranger, August uses his remarkable musical talent to seek the parents from whom he was separated at birth. (Summary courtesy of Warner Bros. Pictures)
Buy the Film
August Rush [Blu-ray]
13 new from $9.93
25 used from $2.93
Free shipping
as of November 28, 2022 4:57 am
*As an Amazon Associate we earn from qualifying purchases.
'August Rush' Movie Summary
The summary below contains spoilers.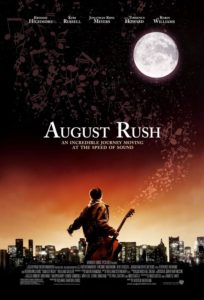 August Rush is the story of an orphaned 12-year-old musical prodigy that is untrained in music but believes if he can make enough music somehow – in the wind, banging pans, electrical currents, anything to make a sound — , his parents will hear him and return to make them a family.
This emotional drama starts with the awkward August in an orphanage where he is being bullied for being strange. He sets off on his own and catches a ride to New York City where he accidentally gets lost near the New York Arch. He unintentionally befriends a young street musician who takes him back to an abandoned Broadway theater that houses dozens of musically-inclined homeless children live but have to pay anything they make on the street to a crazy, dangerous adult named Whizzer, who threatens the kids if they don't make enough money.
Overnight, August discovers a guitar and starts banging it with such passion and skill, Whizzer and the kids realize he's not only a diamond in the rough, he's a prodigy. Whizzer loans August the guitar and teaches him how to play in Central Park to make money – and begins exploiting August to become famous, even though August's only goal is to find his parents.
Meanwhile, August's mother, Lila, is a renowned concert cellist with an overbearing father who has given up her musical dreams to give music lessons to children after the miscarriage of the child she had with an up-and-coming lead vocalist and guitar player from Ireland named Louis, who also doesn't realize the boy exists. When Lila's father forces her to leave Louis after an unintentional one-night stand, she is impregnated but Louis never gets her last name as she is whisked off before he can say goodbye. She is in a car accident right before giving birth and is led to believe she had a miscarriage. Louis, meanwhile, has given up music and gone into a lucrative but unfulfilling job in finance over many years.
However, August has started to see the dark side of Whizzer's plan for his career when all August wants to do is play music to find his parents. When the theater is raided by the police, August runs away and ends up in a church where he learns how music is written and he throws himself into learning and writing as much music as he can. The pastor of the church recommends August to Julliard Musical school on faith and August is admitted, and starts becoming a star student at the school that Julliard takes his music for the spring concert series in the park.
Lila has just found out on her father's death-bed that her father had signed away the child to an orphanage but never gave him a name. She goes to the welfare office where she finds the kindly welfare worker who may know who her child is. At the same time, Louis has reunited with his band and is playing music again in New York at the same time Lila is in New York trying to locate August.
Meanwhile, Whizzer has located August at Julliard and, claiming to be his father, whisks him away from the school and puts him back on the street playing as he intends on shipping August out to the west coast to make money off him.
Will Lila ever locate August before it's too late? Will Louis find Lila after so many years still has a flame burning for him? Will Whizzer get the comeuppance he so richly deserves for terrorizing children on the street?
Watch August Rush to find out!
Additional Film Information
Rate the Film!
Warner Bros. Pictures released August Rush on November 21, 2007. Kirsten Sheridan directed the film starring Freddie Highmore, Keri Russell, and Jonathan Rhys Meyers.