Film and Plot Synopsis
Verona De Tessant and Burt Farlander are an unmarried couple who is expecting their first child. Floundering in life themselves, they decide to travel around the United States in order to find a perfect place to start their family. Along the way, they have misadventures and find fresh connections with an assortment of relatives and old friends who just might help them discover "home" on their own terms for the first time.
Buy the Film
Away We Go [Blu-ray]
10 new from $4.06
22 used from $1.99
Free shipping
as of December 1, 2023 3:48 am
*As an Amazon Associate we earn from qualifying purchases.
'Away We Go' Movie Summary
The summary below contains spoilers.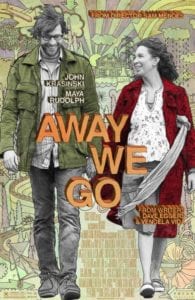 Unmarried couple Verona De Tessant (
Maya Rudolph
) and Burt Farlander (
John Krasinski
) are struggling to make ends meet and build a home together when their world is redefined with the revelation that Verona is pregnant. The impending arrival of their new baby cause the couple to evaluate how and where they will raise their child.
Six months later, the couple still has not made any decisions. They still live in Denver, Colorado near Burt's parents, Gloria and Jerry (Catherine O'Hara and Jeff Daniels). However, their back up plan of living near the Farlanders is thrown off track when Gloria and Jerry announce that they are moving to Antwerp, Belgium, a month before the baby is due. The elder couple plan to live overseas for two years and have already rented their Colorado house to another couple, rather than to Verona and Burt. Since Burt's parents will no longer be around, Verona and Burt decide to find somewhere else to raise their family since they are both employed in situations where they can work from home and live wherever they choose.
The couple begins a cross country trip to find a new place to live. Their first stop is Phoenix, Arizona where Verona's old boss, Lily (Allison Janney) lives with her husband, Lowell (Jim Gaffigan), and their two children. Lily is encouraging about the possibility, but Burt is disturbed by Lily and Lowell's crass and mean-spirited behavior towards one another and their children. The older couple seems to be in a loveless marriage which is confirmed when Lily kisses Burt when they say good-bye.
The next stop is just to the south in Tucson, Arizona. Burt and Verona visit Verona's sister, Grace (Carmen Ejogo), who works at a large resort on the edge of the city. Grace seems unhappy with her life and her boyfriend. Burt tries to persuade Grace to stay with the unseen boyfriend, before he has to stop to take a business call. While Burt is away, Grace tells Verona that she is lucky to have Burt, implying her attraction to her sister's boyfriend. Verona knowingly agrees.
Burt and Verona next head to Madison, Wisconsin where Burt has an interview for a new job at an insurance company. While in Madison, Burt and Verona visit Burt's childhood friend and pseudo-cousin LN (pronounced Ellen). LN (Maggie Gyllenhaal) is a college professor at the University of Wisconsin, but she and her husband Roderick (Josh Hamilton) have some radical ideas when it comes to parenting. Burt and Verona bring a stroller as a gift after hearing that LN does not have one for her new child.
However, LN and Roderick are offended at the gift and describe their home as a continuum home where the family all sleeps in the same bed together and Roderick does not work. Roderick's condescension and LN's backhanded compliments to Verona become too much for Burt who snaps and tells LN and Roderick that they are horrible people. He and Verona leave, but not before giving LN's son a wild ride in the stroller through the house.
After the job interview, Burt and Verona head off to Montreal, Canada to visit their old college friends Tom (Chris Messina) and his wife Munch (Melanie Lynskey). Tom and Munch have several children, all adopted, with various cultural backgrounds. Despite all the adoptions, Tom and Munch's family appears to be very loving and stable. Verona and Burt are encouraged to find such a sturdy family and decide to move to Montreal.
To celebrate, the couples go to dinner where it is revealed that Burt has proposed marriage to Verona many times, but she rejects him every time. Burt and Verona also reveal that their pregnancy was not planned which seems to depress Munch. After dinner, Tom confesses to Burt that Munch recently suffered her fifth miscarriage and appears to be unable to have her own biological children. Tom and Munch show a secret sadness that their family is still incomplete without a child that comes from them.
Later that night, Burt receives an emergency phone call from his brother, Courtney (Paul Schneider), in Miami. Courtney's wife has left him and their daughter, and Burt's brother does know what to do next. Burt and Verona fly to Miami to help him through the crisis. Courtney tells his brother that he is worried about the potential effects of divorce on his daughter. Burt is disturbed by the incident and worries that either he or Verona will decide to leave their child in the future. He and Verona promise to love each other and their daughter and to have a happy home.
The next day, Verona tells Burt a story about her childhood house and her parents, who unfortunately were both killed in a car accident when she was 22. Burt is moved by her memory and they decide to visit Verona's family home in the Florida Panhandle, a place that she has not visited since her parents' death. Once the couple enter the vacant home, they realize that the home is the place for them and decide to settle there. They sit together happily, overlooking the water.
Additional Film Information
Rate the Film!
Focus Features released Away We Go on June 26, 2009. Sam Mendes directed the film starring John Krasinski, Maya Rudolph, and Allison Janney.