Film and Plot Synopsis
An English professor and his colleagues are working on a dictionary of American slang when stumble upon a red-hot night club singer on the run from the mob. Before they know it, all hell breaks loose, and people fall in love.
Buy the Film
Ball of Fire
12 new from $14.68
6 used from $11.33
Free shipping
as of November 16, 2023 6:52 am
*As an Amazon Associate we earn from qualifying purchases.
'Ball of Fire' Movie Summary
The summary below contains spoilers.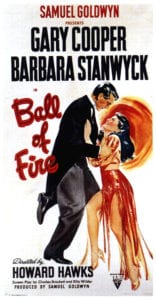 I
n New York City, a group of professors, all of whom are bachelors, live in a mansion together. They are busy compiling an encyclopedia of all human knowledge. While they are mostly old men, the youngest one is Professor Bertram Potts is not. He's a handsome 30-something grammarian.
The professors lead a mostly secluded lifestyle with their prim and proper housekeeper, Miss Bragg, keeping things tidy for them. Although they work at a leisurely pace, their financial backer, Miss Totten, grows impatient with them, and demands they finish their work soon.
On an outing to a nightclub to research American slang, Bertram becomes enamored with the sassy performer Sugarpuss O'Shea, and the way she speaks. Since Bertram is too stodgy for her tastes, she initially declines his request to assist him in his research. However, Sugarpuss soon finds she needs a place to hide from the cops. They want to question her about her mob boss/boyfriend, Joe Lilac.
Sugarpuss hides out at the professors' place against Bertram's better judgement, and Miss Bragg's threats to leave. Joe now wants to marry Sugarpuss because as his wife, she wouldn't be able to testify against him in a court of law.
The professors quickly fall under Sugarpuss' spell, and she too develops a fondness for them. She schools them in the ways of the woman, and teaches Bertram what a "yum yum" kiss is. The two wind up falling for each other, and Bertram eventually asks her to marry him.
She doesn't give Bertram an answer, but convinces the professors to drive her to New Jersey. What they don't know is that Joe has insisted she come there to secretly marry him in a quickie wedding.
The trip doesn't go well. The professors end up crashing the car, and then Joe's cronies capture them. At this point, even though Sugarpuss knows she's in love with Bertram, she must marry Joe to save the professors.
Meanwhile, a dejected Bertram resumes his research, but he can't hide from his true feelings for Sugarpuss. In one final confrontation, Bertram and the other professors use their smarts to outwit Joe and his cronies.
Now safe, Sugarpuss doesn't think she's good enough for Bertram. He gives her a "yum yum" kiss to change her mind.
Additional Film Information
Rate the Film!
RKO Radio Pictures released Ball of Fire on December 2, 1941. Howard Hawks directed film starring Gary Cooper, Barbara Stanwyck, and Oskar Homolka.