Film and Plot Synopsis
A violent police detective investigates a brutal murder that might involve a manipulative and seductive novelist.
Buy the Film
Basic Instinct (Unrated Director's Cut) [Blu-ray]
12 new from $10.46
21 used from $5.69
Free shipping
as of September 23, 2023 9:50 pm
*As an Amazon Associate we earn from qualifying purchases.
'Basic Instinct' Movie Summary
The summary below contains spoilers.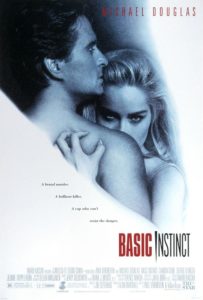 Johnny Boz, a San Francisco based 1960's rock star, is in a heated sexual romp with a mysterious blonde woman. Boz allows his sex partner to tie his hands to his bedpost with a white, silk, Hermès scarf. From there, the woman mounts Boz in the "cowgirl" position, vigorously rides the musician, then stabs him 31 times in the torso, face, and eye, killing Johnny Boz.
Homicide detectives Nick Curran and Gus Moran (Michael Douglas and George Dzundza, respectively) arrive at Boz's palatial estate, via the streets of San Francisco, to investigate the murder and try to provide law and order. The detectives are told Boz was last seen leaving his nightclub with his girlfriend, Catherine Tramell (Sharon Stone). Tramell, a well-known crime novelist and amateur psychologist, is a San Francisco socialite, who inherited $110 million from her parents when they died in a mysterious boat explosion. Nick and Gus interview Tramell, who claims she and Boz were merely f*ck buddies for over a year. Catherine states she wasn't with Boz after they left the nightclub and did not murder him.
Nick and Gus learn from their fellow detectives that Catherine had previously written a novel about a rock star being murdered in his bed by a woman, while they were having sex, who just happened to use an ice pick. Tramell, during a second interview, passes a lie detector test and pushes the notion that her novel is an alibi, and a copycat killer is using her book to frame her. Nick learns, during the interview process, that Catherine is intrigued by him and wants to use him as a character in her next novel. Catherine is aware, via her extensive research, of Nick's dubious past with the SFPD. She knows that Nick was involved in four questionable police related shootings over the span of five years, is under the constant examination of Internal Affairs, and may have been under the influence of alcohol and/or drugs during some of these shootings. The media nicknamed Nick the "Shooter" while he was under investigation for these shootings, so Catherine chose to continue calling Nick "Shooter" to needle him. Catherine also knows about Nick's wife killing herself during the time of his shooting spree.
Meanwhile, Nick is seeking psychiatric help and sexual relief from the resident police psychologist, Dr. Elizabeth Garner (Jeanne Tripplehorn). Beth is Nick's sounding board for all his on the job and personal issues. She continues to give him glowing reviews, which helps to keep him out of the grasps of Internal Affairs. After Nick's initial encounters with Catherine, Nick has a run in with Internal Affairs detective Marty Nielsen. Nielsen grills Nick about his lost sobriety and Beth must step in to keep the two from coming to blows. Nick and Beth retreat to her apartment where the couple have a quick, yet very physical sexual encounter. We learn afterward that Beth knew Catherine at the University of California – Berkeley, where the two were undergraduates together. (Their psychology professor was murdered with an ice pick while they were in college, but that is just one of a hundred details the audience is told to remember in the long run.) Beth is angered by Nick's aggressive behavior on this night and sends him away.
After learning that Catherine is close friends with a woman named Hazel Dobkins, who murdered her husband and three children with a kitchen knife, Nick decides to keep a closer eye on Catherine during his investigation. Nick realizes Catherine knows too much about his past, things he only told to Beth during their various sessions, so he goes to Beth for answers. Beth informs Nick she gave his psychiatric file to Lieutenant Nielsen to keep him away from Nick. Nick deduces that Nielsen then sold his file to Tramell, who is using the information for her new book. An angered Nick attacks Nielsen in his office at police headquarters and is subsequently put on administrative leave.
Later that evening, a passed-out Nick awakened by a phone call from Gus, who informs Nick that Nielsen has been shot in the head and left for dead in a Chinatown alley. Internal Affairs detectives question Nick about Nielsen's murder, but he has an alibi as Beth, who checked on Nick earlier in the evening, tells the detectives that Nick couldn't have been near Nielsen at the time of his murder. Nick is now convinced that Catherine murdered Lieutenant Nielsen.
Nick follows Catherine to Johnny Boz's nightclub where they end up dancing together and making out in the middle of the dance floor. The couple make their way back to Catherine's house where they have passionate sex. Catherine pins Nick down to the bed, grabs a silk scarf, then ties his hands to her bed post. Catherine begins to have unbridled sex with Nick, in the cowgirl position, reaches behind her body, then violently throws herself forward as she orgasms. The next day, after Catherine has an argument with her homicidal girlfriend, Roxy, Nick playfully tells Catherine that he's in love with her but will still nail her for murder.
Nick is run down by Catherine's car after he has drinks and dinner with Gus. Nick chases after Trammell's car with his own, until they get into a construction zone. Catherine's car goes off a bridge, flips, and crashes. When Nick opens the car door, he finds that Roxy was the driver and died in the crash. Catherine is very angry and distraught by Roxy's death, stating that everyone she truly cares about dies.
Catherine tells Nick about a girl who she went to college with named Lisa Hoberman. Catherine explains she and Lisa slept together one time, then Lisa became obsessed with Catherine, changing her looks to match Catherine's hairstyle. When Nick research Lisa Hoberman, he finds she is actually…Dr. Elizabeth Garner. Dr. Garner tells Nick she did sleep with Catherine the one time, but Catherine was the one who was obsessed and is evil.
Nick visits Catherine at her beach house and reads part of her new book, "SHOOTER" as it is being printed out. Catherine tells Nick "Goodbye" because her book is all done, and his character is dead.
An angered Nick joins Gus in tracking down a person who claims to be Catherine's college roommate. Gus goes into the apartment building and gets murdered by a mysterious assailant in a trench coat, who uses an icepick. Nick realizes Gus is going to be attacked in a manner like Catherine's new book and rushes into the building. When Nick finds Gus, Gus is bleeding out and dies. Just then, Liz shows up to meet Gus(?)! When Nick tells Liz to show him her hands, she wrenches around in her coat pocket. Nick shoots and kills Liz with Gus' gun as she tells Nick that she loves him. Nick's fellow homicide detectives find a blonde wig, SFPD trench coat, and ice pick in a nearby stairwell. When the police search Liz's apartment, they find a .38 mm revolver, a stack of Catherine's books, and multiple articles about Catherine. The now believe Liz was the murderer all along, who stalked and tried to frame Catherine Tramell.
Catherine goes to see an overwhelmed Nick. The author tells Nick that she doesn't want to care for him because she is afraid, she will lose him too. The couple have some wild sex with Catherine in her familiar cowgirl position. Catherine, again, reaches behind and throws herself forward as she orgasms. Nick tells Catherine he wants them to f*ck like minx, raise rugrats and live happily ever after. Catherine says she doesn't like rugrats, so Nick dismisses the rugrats and the couple begins to f*ck like minx. As the film closes, the audience sees an ice pick conveniently laying on the floor, easily within Catherine's reach.
The end.
Rate the Film!
TriStar Pictures released Basic Instinct on March 20, 1992. Paul Verhoeven directed the film starring Michael Douglas, Sharon Stone, and George Dzundza.