Film and Plot Synopsis
At the prestigious Mayflower Dog Show, a "documentary film crew"captures the excitement and tension displayed by the eccentric participants in the outrageously hilarious satire Best In Show.This biting send-up exposes the wondrously diverse dog owners who travel from all over America to showcase their four-legged contenders.Mild-mannered salesman Gerry Fleck (Eugene Levy) and his vivacious wife,Cookie (Catherine O'Hara), happily prepare their Norwich Terrier, while shop owner Harlan Pepper (Christopher Guest) hopes his Bloodhound wins top prize. As two upwardly mobile attorneys (Parker Posey and MichaelHitchcock) anxiously ready their neurotic Weimaraner and an ecstatically happy gay couple (Michael McKean and John Michael Higgins) dote on their tiny Shih Tzu, inept commentator Buck Laughlin (Fred Willard) vainly attempts to provide colorful tidbits about each breed. (Courtesy of Warner Bros. Pictures)
Buy the Film
Best in Show (BD) [Blu-ray]
16 new from $9.98
6 used from $7.84
Free shipping
as of May 28, 2023 6:21 pm
*As an Amazon Associate we earn from qualifying purchases.
'Best in Show' Movie Summary
The summary below contains spoilers.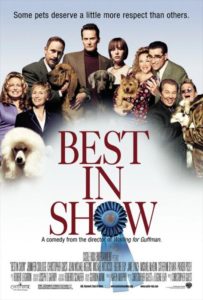 Best in Show documents the owners of five dogs entered into Philadelphia's Mayflower Kennel Club Dog Show. The "documentary" opens with each respective owner preparing to leave for the show. It then switches back and forth as each one arrives at the hotel and then prepares their dog backstage at show. The lineup for this season's dog show includes the following:
Gerry Fleck (Eugene Levy) and his wife, Cookie (Catherine O'Hara) have entered their Norwich Terrier, Winky. They're your typical middle-class couple from Florida, but money problems force them to sleep in the hotel's storage room when they arrive. During their stay, the two meet many, many random men Cookie has slept with over the years.
Meg Swan (Parker Posey) and her husband, Hamilton (Michael Hitchcock) have entered their Weimaraner, Beatrice. They're your typical upper-class, yuppie couple who try to take great care of their dog, but their neurotic behavior just aggravates her. Beatrice even goes to therapy after walking in on Meg and Hamilton getting it on doggie style. When they lose Beatrice's favorite toy they call the Busy Bee, it sets off a frantic search for a replacement before the show begins.
Harlan Pepper (Christopher Guest) is a good old boy with a Bloodhound named Hubert. His family has raised bloodhounds for generations, and even though Harlan has continued that tradition, he'd rather be a ventriloquist.
Sherri Ann (Jennifer Coolidge) and Leslie Ward (Patrick Cranshaw) Cabot have entered their standard poodle, Rhapsody in White (a.k.a. Butch) who is a two-time winner of the show already. Sherri Ann is your typical air-headed but big-breasted blonde. The elder Leslie is her sugar daddy. Sherri Ann's hired trainer Christy Cummings (Jane Lynch) to make sure Butch is ready for the show. Over the course of the film, Sherri Ann and Leslie's relationship falls apart due to Sherri Ann beginning a romance with Christy.
Scott Donlan (John Michael Higgins) and Stefan Vanderhoof (Michael McKean) have entered their Shih Tzu, Miss Agnes. The fellas are quite confident their dog will win the competition. The boys are quite the gossip too, and talk a lot about the other participants throughout the film.
Trevor Beckwith (Jim Piddock) hosts the show with Buck Laughlin (Fred Willard) doing color commentary. Beatrice winds up being disqualified in the first round when Hamilton cannot control her. The other four dogs advance to the final round, but just before the finals, Cookie fakes an injury and asks Gerry to take over for her. This is awkward as Gerry LITERALLY has two left feet. However, this doesn't stop the judges from selecting Winky the Best in Show.
The film ends with a bunch of post show interviews.
Gerry and Cookie are back home in Florida and are now mini celebrities. They've recorded some terribly bad songs about dogs.
Sherri Ann and Christy are an official couple and publish a magazine for lesbian dog owners called Modern Bitch.
Harlan fulfills his dream of becoming a ventriloquist and now entertains terribly small crowds with a honky tonk song and dance.
Hamilton and Meg Swan have a new dog that enjoys watching them do it doggie style. They are convinced this one will be a winner too.
Stefan and Scott are designing a calendar featuring Shih Tzu dogs dressed in scenes from famous classic films such as Gone with the Wind and Casablanca.
…and that is Best in Show.
Additional Film Information
Rate the Film!
Warner Bros. Pictures released Best in Show on September 29, 2000. Christopher Guest directed the film starring Fred Willard, Eugene Levy, and Catherine O'Hara.