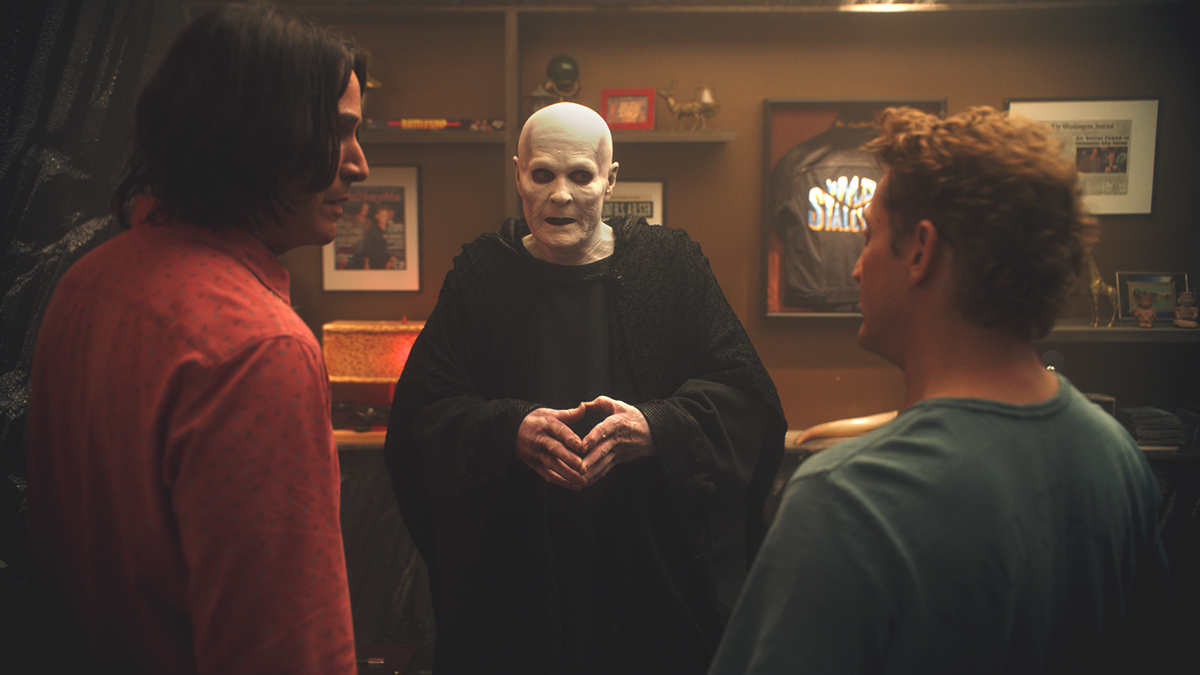 Film and Plot Synopsis
The lovable losers from the 80's are back for one last adventure. Bill Preston and Ted Logan must save the world again. However, they have never written the prophesied song that would unite the universe as was foretold. Now, reality is collapsing in on itself and unless the two most excellent best friends can write the song in seventy-seven minutes, the universe will collapse in on itself. This time, Bill and Ted call upon the help of their wives, their daughters Thea and Billie, and their good friend Death to come up with the one song that will reunite the universe.
Buy the Film
Bill & Ted Face the Music (Blu-ray)
20 new from $7.50
19 used from $2.95
Free shipping
as of November 17, 2022 7:42 am
*As an Amazon Associate we earn from qualifying purchases.
'Bill & Ted Face the Music' Movie Summary
The summary below contains spoilers.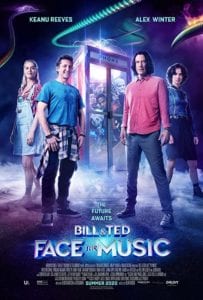 It has been twenty-five years since we last saw William "Bill" S. Preston, Esq. (
Alex Winter
) and Theodore "Ted" Logan (
Keanu Reeves
) in Bill and Ted's Bogus Journey. The leaders of the rock band Wyld Stallyns have failed to live up to their prophesied potential and have fallen on hard times. Not only have they not written the song that will reunite the world, but they have destroyed the band element of Wyld Stallyns and now perform as a duo.
The boys have come to the realization that they may never write the song that will unite humanity. However, they have married their long-suffering girlfriends, Princess Elizabeth Logan (Erinn Hayes) and Princess Joanna Preston (Jayma Mays), and they have each fathered an excellent daughter, Theodora "Thea" Preston (Samara Weaving) and Wilhelmina "Billie" Logan (Brigette Lundy-Paine). Thea and Billie have their father's love of music but a much larger understanding of music history.
Bill and Ted are visited from the future by Kelly (Kristen Schaal), the daughter of Rufus (George Carlin) Bill and Ted's guide from the future in the previous two films. Kelly informs them that their failure to write the prophesied song has a disastrous effect on the future and takes them back to her time to meet the Great Leader (Holland Taylor), Kelly's mother.
Once there, Bill and Ted learn that not only has Rufus passed away, but that their failure to write the song has caused time and reality to begin to collapse across all time. People begin to appear and disappear all throughout time, causing major ripples in the timeline. The Great Leader tells Bill and Ted that they have seventy-seven minutes to write the song and then perform it exactly at 7:17 PM in Bill and Ted's time at a place called MP46 or reality will collapse in upon itself.
Feeling under the gun, Bill and Ted conclude that they will not be able to write the song in time and decide to take Rufus' old time-traveling phone booth, now a museum relic, to "steal" the song from the future versions of themselves where they were successful. However, their first jump leads them to future Bill and Ted who are playing an afternoon set at a mainly empty bar in Barstow, California. Their future selves tell them that their most excellent wives have left them, and their daughters no longer speak to them. Even worse, they still have not written the song. Future Bill and Ted are angry and bitter. Bill and Ted decide to jump further into their future to see if they write the song sometime later in their lives.
Meanwhile, the Great Leader is dismayed that Bill and Ted did not write the song and proceeds with an alternative plan. Many in the future believe that time will stabilize if Bill and Ted are killed, so the Great Leader sends an assassin robot named Dennis Caleb McCoy (Anthony Carrigan) back in time to kill Bill and Ted. Kelly is angry with her mother for her decision and proceeds back to present time to warn Bill and Ted. Kelly encounters Thea and Billie, who decide to steal Kelly's time machine to help their fathers.
They go back in time to form a super group of history's best musicians including Louis Armstrong (Jeremiah Craft), Jimi Hendrix (DazMann Still), Wolfgang Amadeus Mozart (Daniel Dorr), Ling Lun (Sharon Gee), and a cavewoman drummer named Grom (Patty Anne Miller). Once they return to present day, they meet Kid Cudi (Kid Cudi), who has been pulled out of his time by the time instability. The group, now joined by Kelly, decides to work on the song, but they are unfortunately accidentally incinerated by Dennis, sending all members to Hell where they meet Death (William Sadler). At the same time, a mysterious person arrives in Rufus' time machine and takes Elizabeth and Joanna on journey through time.
Still in the future, Bill and Ted travel to 2025, where they have seemingly become successful. However, they are tricked by their future selves, who have broken into Dave Grohl's (Dave Grohl) mansion to try and pass off one of his songs as their own. Dennis arrives and tries to kill Bill and Ted, but they escape again further into the future.
However, Ted's father, Police Captain Jonathan Logan is killed by Dennis by accident and sent to Hell with a police van. Bill and Ted jump to 2067, where they find their elderly future selves on their deathbeds. The elder Bill and Ted give their younger selves a USB flash drive that contains the "song" written by "Preston/Logan". While Bill and Ted are talking to themselves, the mysterious individual who took Elizabeth and Joanna through time shows up and steals the time machine from Bill and Ted.
When Bill and Ted finish talking to their older selves, they discover that someone has stolen the time machine. Even worse, Dennis shows up to kill them. The boys tell the robot that they have the song, and Dennis tells them that he killed their daughters. Angered, the boys destroy the flash drive and urge the robot to kill them, so they can go to Hell and rescue their daughters.
Dennis kills the boys and himself and they journey to Hell. Bill and Ted find their daughters and the super group that they have created. They find Death, whom they have been feuding with for several years after Death tried to acquire the rights to the Wyld Stallyns name. Bill, Ted, and Death settle their differences and then jump into the police van with Thea, Billie, Ted's dad, Dennis, and the super group to return to present day San Dimas.
They land on Interstate 210 near Ted's brother Deacon (Beck Bennett) and his new wife and former stepmom, Missy (Amy Stoch). Reality is beginning to collapse around them and Bill and Ted explain to their daughters and Kelly that they have not written the song. Bill realizes that they are at milepost marker 46 (MP46) and that the Preston and Logan who wrote the song in the future was not he and Ted, but Thea and Billie. They realize that the girls will compose the song, but it is essential that everyone across all time and space hear it.
While the girls work on the song with the band, Bill and Ted join Joanna and Elizabeth, who suddenly show up with the time machine, to travel across time using the infinity button to create infinite copies of themselves to hand instruments to everyone who ever lived across every era. When the band begins to play, everyone across reality performs the song together, causing the universe to be repaired. Everyone who was pulled out of their original timeline is suddenly returned to their proper time lines. Bill and Ted, along with their wives, reunite with their daughters to become two happy families again.
In a post-credits scene, the elderly future versions of Bill and Ted rise from their deathbeds to play their guitars once last time.
Additional Film Information
Rate the Film!
United Artists Releasing released Bill & Ted Face the Music on August 28, 2020. Dean Parisot directed the film starring Keanu Reeves, Alex Winter, and Kristen Schaal.