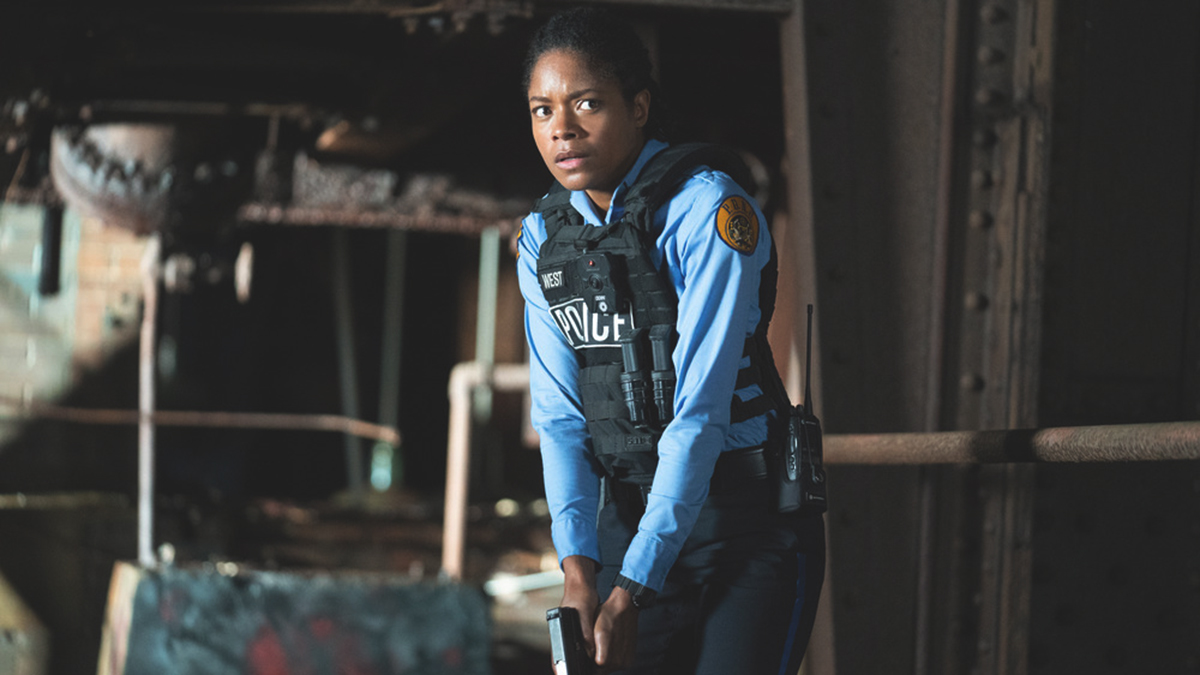 Film and Plot Synopsis
Black and Blue is an action thriller about a rookie cop who inadvertently captures the murder of a young drug dealer on her body cam. After realizing that the murder was committed by corrupt cops, she teams up with the one person from her community who is willing to help her as she tries to escape both the criminals out for revenge and the police who are desperate to destroy the incriminating footage.
Buy the Film
Black and Blue [Blu-ray]
14 new from $12.99
17 used from $3.00
Free shipping
as of July 2, 2022 11:19 am
*As an Amazon Associate we earn from qualifying purchases.
'Black and Blue' Movie Summary
The summary below contains spoilers.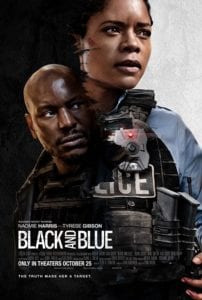 Alicia West (
Naomie Harris
) is a United States Army veteran who has returned to her hometown of New Orleans after several years away. She joins the city's police department in an attempt to continue to serve in a different way. She is partnered with the grizzled veteran Kevin Jennings (
Reid Scott
) who attempts to instruct her on the differences between the neighborhoods that she grew up in and the culture of the police department.
One night, West replaces Jennings on a double shift so that the elder police officer can attend a date night with his wife. She is partnered with Officer Deacon Brown (James Moses Black). Brown gets a call in the middle of the shift on his personal cell phone. Brown takes West to an abandoned building and tells the rookie that he has to meet with a confidential informant and that she needs to wait in the car. However, West hears gunfire coming from the building a few moments later and charges in to help her partner.
Once inside, she finds Brown and two narcotics detectives, Terry Malone (Frank Grillo) and Smitty (Beau Knapp), finishing off a series of executions of drug dealers. She actually sees Malone shoot an unarmed drug dealer named Zero (John Charles II). The dirty cops see West and Smitty shoots her in the chest several times after he observes that she is wearing a body camera on her chest. West falls through the floor of the building after being shot. Her bulletproof vest protects her from all but one of the bullets which hits her in her side. She escapes the building pursued by the other cops.
Malone and the other cops begin driving through the neighborhood looking for West. When the rookie cop attempts to call into dispatch, Malone convinces the dispatch officer that West is simply panicking after being involved in a shoot-out. West goes to a store where an old neighborhood acquaintance named Milo Jackson (Tyrese Gibson) works. Milo insists that he does not want to get involved, but allows West to patch herself up and gives her a pull over to wear to cover her police uniform. West contacts her regular partner Jennings for help and he drives to the neighborhood to pick her up. However, West discovers that Jennings is working with Malone and runs from him as well.
Meanwhile, the bodies of the dead drug dealers are reported. Malone tells Captain Hackett (Deneen Tyler) that the shootings look like a gang war killing. He also reports that West panicked and is now on the run. Hackett makes finding West a priority of the entire department. Shortly afterwards, Malone meets with the leader of one of the drug gangs, Darius (Mike Colter), and tells the drug lord that his nephew, Zero, was killed by West. Darius vows to kill the rookie police officer and puts an open bounty out on West.
At the same time, West returns to Milo after fleeing from Jennings. Milo reluctantly agrees to let her stay at his apartment until she can figure out a way to get the body camera back to the police station. Exhausted, West falls asleep but is awaken a short time later by the young son of one of West's old friend's, Missy (Nafessa Williams), pointing a gun at her head. Milo arrives and takes the gun away from his nephew. The boy informs the pair that Darius has put a bounty out for West and that there are multiple groups trying to kill her.
Meanwhile, Malone learns that West was at Milo's shop earlier and he and Smitty head to Milo's apartment to kill both Milo and West. West sees them coming, and she and Milo escape from the apartment. They encounter some of Darius' men on the street who open fire on them. West returns fire and kills the men, but Milo is shot in his leg. Milo tells her to go on without him because of his injury, but when West turns to leave, Milo is captured by some of Darius' other men.
Milo is taken back to Darius' headquarters in a rundown apartment complex. Darius and his men beat Milo in an attempt to learn West's location, but Milo refuses to tell them anything. Meanwhile, West is unwilling to leave Milo to his fate. She hides her gun and the body camera and walks into Darius' apartment complex. She is captured and brought before Darius. Darius prepares to kill West who tells him that Malone killed Zero. She tells him that it was captured on her body camera and even informs him where the body camera is in exchange for Milo's release. Darius retrieves the body camera and has his other nephew hack into the body camera. Darius views the footage and learns that Malone is his true enemy.
In the meantime, the police department learns that Darius has West at the apartment complex. Hackett sends almost the entirety of the department for a rescue attempt. Malone, Smitty, and Brown arrive and make a plan to kill West before she can turn over the camera footage or tell one of the other officers what she knows. Malone leads an assault team into Darius's apartment. Darius and his men fight off the police while Milo, Missy, and West make their escape. Darius and Malone get into a death struggle which ends with Malone shooting and killing Darius. At the same time, Smitty kills Brown, so that there is one less witness against the detectives.
While trying to escape, West and Smitty run into each other. West kills Smitty and then hides in an abandoned apartment with Milo. She gives the body camera and her tactical vest to Milo so that he can sneak into the station and upload the body camera to the system. Milo leaves the apartment complex and encounters Jennings. Jennings recognizes Milo from earlier and sees that he is wearing West's vest. However, the officer lets him go.
Meanwhile, Malone finds West and begins chasing her through the apartment complex. The two officers fall off a balcony onto a car. Malone's gun lands on the ground and Missy picks it up and points it at the dirty cop. West takes the gun from her and places Malone under arrest. However, the SWAT team arrives and point their guns at West. They threaten to kill her if she doesn't lower her weapon. West drops the gun and Malone picks it up. Malone feigns placing her in handcuffs so that he can pretend that she has a gun so that he can kill her. However, Jennings shoots Malone and incapacitates him.
Milo is successful in uploading the video at the station and emails the body camera footage to Captain Hackett. The captain orders Malone to be placed under arrest and clears West's name. The film ends with West back on the street with a partner. She has gained the respect of both her fellow officers and the community at large, symbolizing that the strength of her convictions has finally breached the gap between her two worlds.
Additional Film Information
Rate the Film!
Screen Gems released Black and Blue on October 25, 2019. Deon Taylor directed the film starring Naomie Harris, Tyrese Gibson, and Frank Grillo.