Film and Plot Synopsis
Ray Garrison, an elite soldier who was killed in battle, is brought back to life by an advanced technology that gives him the ability of superhuman strength and fast healing. With his new abilities, he goes after the man who killed his wife, or at least, who he believes killed his wife. He soon comes to learn that not everything he learns can be trusted. The true question is: Can he even trust himself? (From Columbia Pictures)
Buy the Film
Bloodshot [Blu-ray] [4K UHD]
11 new from $15.34
7 used from $4.99
Free shipping
as of December 3, 2023 12:47 am
*As an Amazon Associate we earn from qualifying purchases.
'Bloodshot' Movie Summary
The summary below contains spoilers.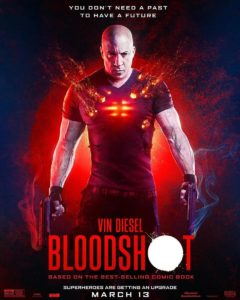 Ray Garrison (
Vin Diesel
) is a United States Marine who specializes in rescue operations. After a successful operation in Mombasa, Ray and his wife Gina (
Talulah Riley
) travel to small hotel in a little beachside town on the Amalfi Coast. A group of mercenaries kidnaps Gina and Ray from their hotel. The leader of the mercenaries, Martin Axe (
Toby Kebbell
), questions Ray and demands to know who told the Marines about the hostages and their location. Ray tells them that he cannot tell him because he does not know the information. Axe executes Gina in front of Ray. Ray vows to kill Axe, and the mercenary kills Ray as well.
Ray wakes up several months later in the Rising Spirit Tech (RST) lab. RST is a company in Kuala Lumpur specializing in cybernetic enhancements for disabled United States military personnel. Ray suffers from amnesia and recalls very little about his previous life. The RST CEO and lead scientist Dr. Emil Harting (Guy Pearce) tells Ray that he is the first successful human subject of the "Bloodshot" program. The program allows Ray to resurrect and heal himself using experimental nanite technology that has replaced his bloodstream. In addition to accelerated healing, the technology also increases his strength. However, the nanites need to be regularly replaced and recharged or he will suffer damage and die. The nanites create a red glowing circle of light on Ray's chest when they are working at full power.
At the facility, there are other patients that Dr. Harting has worked on. KT (Eiza González) is a former United States Navy diver who had her lungs replaced. Ex-Navy SEAL Jimmy Darlton (Sam Heughan) who has had his legs replaced and takes a dislike to Ray. Marcus Tibbs (Alex Hernandez) is a former service member who has enhanced senses. While at the facility, Ray experiences flashbacks of Gina and Axe and leaves the facility to track down Axe and exact his revenge. Ray tracks Axe down to Budapest using the nanites and the RST servers. Ray kills Axe and all his bodyguards.
Back at RST, Ray is put to sleep as his nanites are rebooted. It is revealed that Harting replaces Ray's memories with a new scenario of how Gina is killed so Ray will seek his revenge against anyone that Harting "programs" him to. In the new update, Harting replaces Ray's memories with a new scenario where Nick Baris (Jóhannes Haukur Jóhannesson) is the killer. KT objects to Harting manipulating Ray's memories, however, Harting reminds her that he can kill her anytime by deactivating her lung enhancements.
Ray awakens an amnesiac again and is reintroduced to RST. He experiences the flashbacks of Baris kidnapping and killing him and Gina. He tracks Baris to East Sussex and sets out on his revenge quest. He kills Baris, although his target tries desperately to convince Ray that RST is lying. A computer programmer named Wilfred Wigans (Lamorne Morris) who is being forced to work with Baris activates an EMP bomb that incapacitates Ray and severs his link with RST. Wilfred works on Ray and recharges his nanites. Ray is reactivated by Wilfred at his office and experiences contradicting memories of who killed Gina. Ray begins to realize that RST has been manipulating him so he would kill the company's enemies and rivals. Ray tracks down Gina in London, learning that she is alive and well after ending her relationship with Ray five years earlier. More devastating, Ray discovers that Gina has started her own family and life.
Back at RST, Harting sends KT after Wilfred. Instead of capturing or killing the programmer, she asks Wilfred for help in freeing herself from RST control and destroying the company. KT returns to RST and informs Harting that she failed to capture Wilfred. At the same time, Ray is captured by Dalton and Tibbs, who bring him back to the laboratory. KT and Wilfred sabotage the reprogramming process and destroy the RST computers. Ray awakens from the reprogramming session with his memories intact. Dalton and Tibbs try to subdue Ray a second time, but after a lengthy battle, they fail. The RST building is destroyed. Harting confronts Ray directly, confident that Ray will surrender since his nanites have been exhausted. However, Ray is willing to die to kill Harting and activates an explosion that kills them both.
Ray awakens later with his full memories, once again revived by Wilfred. Wilfred informs Ray that he updated his technology to that the nanites are self-sufficient. Wilfred, Ray, and KT begin their new lives where they are in complete control.
Additional Film Information
Rate the Film!
Sony Pictures Releasing released Bloodshot on March 13, 2020. David S. F. Wilson directed the film starring Vin Diesel, Eiza Gonzalez, and Sam Heughan.