Film and Plot Synopsis
In Boxing Helena, a top surgeon obsesses over a beautiful woman who once ditched him. Not wanting to live life without her, he tries to convince her that they are perfect for each other. Of course, she disagrees, but when she barely survives a horrible accident, she wakes to find herself at his mercy. She'd probably be better off dead.
Buy the Film
Boxing Helena [DVD]
2 new from $34.99
1 used from $21.50
Free shipping
as of November 26, 2023 7:16 pm
*As an Amazon Associate we earn from qualifying purchases.
'Boxing Helena' Movie Summary
The summary below contains spoilers.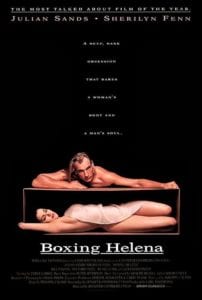 Boxing Helena
begins with a high society party. A young Nick Cavanaugh walks through the crowd where he finds his mother having sexual relations with a man. His reaction shows that Nick has serious Mommy issues.
A coffin next lowers into the ground, and a now grown up Nick (Julian Sands) is unmoved by his Mother's passing. He answers a call from the hospital where he's a surgeon instead of mourning her.
Later, at a bar with, Dr. Lawrence Augustine (Art Garfunkel), Nick spots a woman he had a one-night stand with. He is weirded out by it, and as a result, he makes Dr. Augustine leave with him.
The woman, Helena (Sherilyn Fenn), haunts Nick. One day while jogging in his neighborhood, Nick spots Helena's car. Instead of heading back home to his girlfriend, Anne (Betsy Clark), Nick climbs a tree, and peeps on Helena. From the tree top, Nick watches Ray (Bill Paxton) have sex with her.
Dr. Augustine calls out Nick over his obsession with Helena, but he ignores his friend. Sending Helena flowers isn't enough for Nick. Instead, he throws a big party at his Mother's house that he just inherited. Helena is unknowingly the guest of honor to his shindig. To the disgust of Anne, Helena strips to her underwear, and dances in a fountain upon arrival.
Helena Seduces Another Man
Helena seduces a yuppie named Russel, and promptly leaves with him. The next day, Helena calls Nick to retrieve her bag she accidentally left there. Nick arranges to meet Helena at the airport before she flies to Mexico with Ray.
Nick lures Helena back to his home, after some heavy begging, to have a candlelit dinner with her. His plan backfires, and Helena runs out of his house. A pickup truck slams into her, and drives away.
When Helena wakes up in bed, she finds that Nick has amputated her legs. He holds Helena against her will as a trophy of his psychotic love.
What follows next is an almost indescribable, surreal love story of sorts. Attempting to be provocatively shocking, the story fails by becoming unintentionally funny during "serious" moments.
Additional Film Information
Rate the Film!
Orion Classics released Boxing Helena on September 3, 1993. Jennifer Lynch directed the film starring Julian Sands, Sherilyn Fenn, and Bill Paxton.