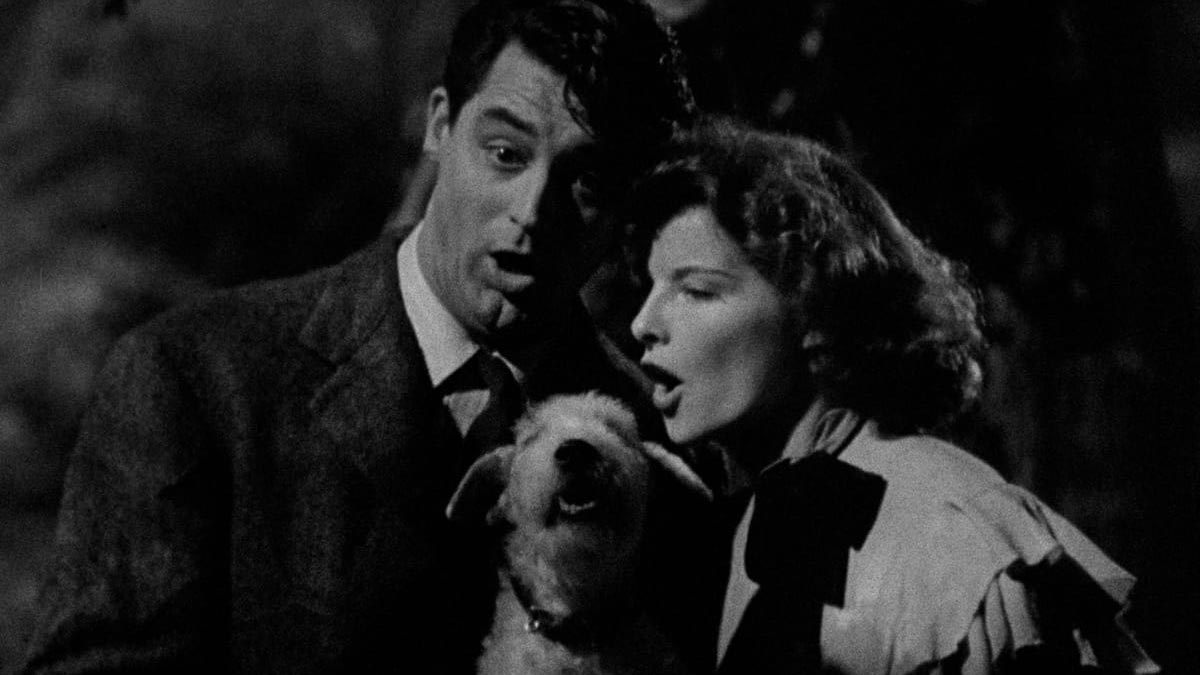 MHM Mart
Bringing Up Baby (1938) Gets a Screwball Criterion Release
Bringing Up Baby (The Criterion Collection) [Blu-ray]
15 new from $23.96
9 used from $20.65
Free shipping
as of October 1, 2022 2:36 pm
The Criterion Collection released Bringing Up Baby to Blu-ray on July 6, 2021. Howard Hawks directed the film starring Katharine Hepburn, Cary Grant, and Charles Ruggles.
'Bringing Up Baby' Movie Synopsis
Screwball sparks fly when Cary Grant and Katharine Hepburn let loose in one of the fastest and funniest films ever made—a high-wire act of invention that took American screen comedy to new heights of absurdity. Hoping to procure a million-dollar endowment from a wealthy society matron for his museum, a hapless paleontologist (Grant) finds himself entangled with a dizzy heiress (Hepburn) as the manic misadventures pile up—a missing dinosaur bone, a leopard on the loose, and plenty of gender-bending mayhem among them. Bringing Up Baby's sophisticated dialogue, spontaneous performances, and giddy innuendo come together in a whirlwind of comic chaos captured with lightning-in-a-bottle brio by director Howard Hawks.
Read the full summary, and listen to our Golden Age of the Silver Screen film review.
Special Features
New, restored 4K digital transfer, with uncompressed monaural soundtrack on the Blu-ray
Audio commentary from 2005 featuring filmmaker Peter Bogdanovich
New video essay on actor Cary Grant by author Scott Eyman
New interview about cinematographer Russell Metty with cinematographer John Bailey
New interview with film scholar Craig Barron on special-effects pioneer Linwood Dunn
New selected-scene commentary about costume designer Howard Greer featuring costume historian Shelly Foote
Howard Hawks: A Hell of a Good Life, a 1977 documentary by Hans-Christoph Blumenberg featuring the director's last filmed interview
Audio interview from 1969 with Grant
Audio excerpts from a 1972 conversation between Hawks and Bogdanovich
Trailer
English subtitles for the deaf and hard of hearing
PLUS: An essay by critic Sheila O'Malley and, for the Blu-ray, the 1937 short story by Hagar Wilde on which the film is based
New cover design by F. Ron Miller
Disclaimer: Please note that this post contains affiliate links. This means when you click a link and purchase an item, Movie House Memories may receive an affiliate commission at no additional cost to you. This bit of compensation helps keep content on our site free of charge to its readers. Advertisers and Affiliate Partnerships do not influence our content. See our
Terms of Use
about the inclusion of affiliate links on this site for more information.
Rate the Film!
RKO Radio Pictures released Bringing Up Baby on November 23, 1938. Howard Hawks directed the film starring Katharine Hepburn, Cary Grant, and Charles Ruggles.