Film and Plot Synopsis
Durham Bulls devotee Annie Savoy picks a new player to bring under her wing (and into her bed) each year. This season she's singled out a loose-cannon pitching prospect named Nuke LaLoosh. He's a big-league talent with a rock-bottom maturity level. However, she's unable to shake Crash Davis, the veteran catcher brought in to give Nuke some on-the-field seasoning.
Buy the Film
Bull Durham (The Criterion Collection)
9 new from $19.99
3 used from $15.99
Free shipping
as of November 16, 2023 6:45 am
*As an Amazon Associate we earn from qualifying purchases.
'Bull Durham' Movie Summary
The summary below contains spoilers.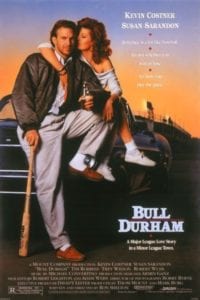 The Durham Bulls season kicks off to a questionable start when their rookie pitcher
Ebby Calvin LaLoosh
pitcher is caught with a girl in a compromising position minutes before his professional debut.
Annie Savoy is the resident groupie who decides whom she will both sleep with and tutor all season. It's to improve the player's concentration (among other things) for the season.
Crash Davis is a veteran minor leaguer who will not be part of any of Annie's schemes; letting her choose Ebby whom she nicknames Nuke. As Crash decides to concentrate on baseball and not Annie, Crash and Nuke develop a friendship as mentor and student. Annie of course continues to coach Nuke in her own way. However, she still keeps one eye on Crash as she's not going to take no for an answer. Nuke too leaves the door open for Annie's affections towards Crash.
When the umpire tosses Crash out of a game for calling him an undesirable name, things go off the rails soon after that. After the majors call Nuke up to the Big Show, the Bulls no longer have use for Crash as his mentor. They drop him from the team shortly after.
Crash and Annie finally get together for a night of sex and debauchery. Crash bales early the next day to join the Asheville Tourists. There, he breaks the minor-league record for career home runs, and then retires as a player.
He returns to Durham where Annie says she's ready to give up the groupie life for him. Crash tells her that he wants to become a manager for a minor-league team. The film ends with Annie and Crash dancing to Joe Cocker's husky tune When a Woman Loves a Man. Roll credits.
Additional Film Information
Rate the Film!
Orion Pictures released Bull Durham to theaters on June 15, 1988. Ron Shelton directed the film starring Kevin Costner, Susan Sarandon, and Tim Robbins.