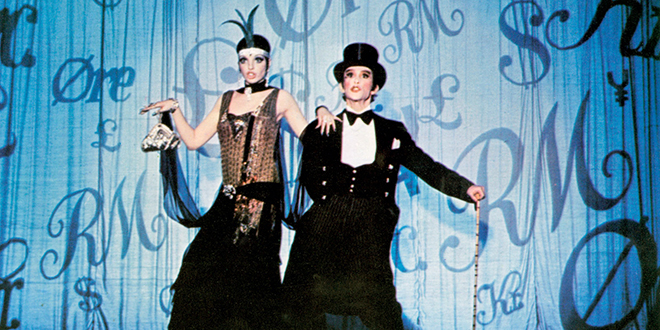 MHM Mart
Cabaret (1972) Finally Comes To Blu-ray
Cabaret (Blu-ray Book)
2 used from $38.54

as of August 9, 2022 5:02 pm
Warner Bros. Home Entertainment will bring the legendary classic Cabaret to Blu-ray this February.  The film was directed and choreographed by Bob Fosse and stars Liza Minnelli, Michael York, Joel Grey, and Helmut Griem.  Cabaret will be offered in a premium 40th Anniversary Blu-ray Book format edition, which contains 40 pages of insightful photos and text.  The film will be available in stores on February 12, 2013.
Cabaret was adapted from the Tony-winning stage production, which was in turn inspired by Christopher Isherwood's Berlin Stories and the play and movie I Am a Camera. This remarkable musical turns the pre-war Berlin of 1931 into a sexually charged center of decadence.  Flamboyant and eccentric American entertainer Sally Bowles (Minnelli) sings in Berlin's decadent Kit Kat Club, even as Nazism rises in Germany in 1931.  She falls in love with a British language teacher (York) – whom she shares with a homosexual German baron (Griem).  But Sally's insular, carefree, tolerant and fragile cabaret world is about to be crushed under the boot of the Nazis as Berlin becomes a trap from which Sally's German friends will not escape.
Cabaret was released in February 1972 and grossed over $42 million at the box office.  The film was nominated for nine Academy Awards, winning eight, including Best Picture, Best Actor (Grey), Best Actress (Minnelli), and Best Director (Fosse).  In 1995, Cabaret was selected by the Library of Congress for preservation in the United States National Film Registry as being deemed "culturally, historically, or aesthetically significant".  In 2006, Cabaret ranked #5 on the American Film Institute's list of best musicals.
The 40th Anniversary Blu-ray Book format edition will include several special features, including: an audio commentary by Stephen Tropiano; Cabaret: The Musical That Changed Musicals New featurette; Cabaret: A Legend in the Making feautette;  The Recreation of an Era featurette; dozens of Kit Kat Klub Memory Gallaries; and the Theatrical Trailer.
Disclaimer: Affiliate links are contained in this post. This means when you click a link, and purchase an item, Movie House Memories will receive an affiliate commission. Advertisers and Affiliate Partnerships do not influence our content. See our
Terms of Use
about the inclusion of affiliate links on this site for more information.