Summaries
Can't Buy Me Love (1987)
Movie review coming on 8/21/2023
Film and Plot Synopsis
When high school nerd, Ronald Miller, pays one of the most popular girls in school $1000 to help him become one of the coolest kids in school, he finds that the price of popularity is more than he bargained for.
Buy the Film
Can't Buy Me Love
15 new from $5.90
56 used from $2.10
Free shipping
as of March 28, 2023 7:38 pm
*As an Amazon Associate we earn from qualifying purchases.
'Can't Buy Me Love' Movie Summary
The summary below contains spoilers.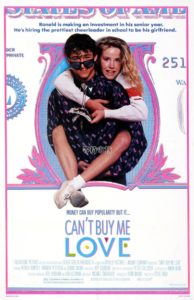 Tucson High School is your typical 1987 public institution. There are the well-known high school cliques. Ronald Miller (Patrick Dempsey) is your stereotypical nerd with a massive crush on popular head cheerleader Cindy Mancini (Amanda Peterson).
When Ronald learns that Cindy is in a predicament and needs quick cash, he sees a golden opportunity to get close to Cindy and boost his reputation. Ronald rents Cindy to pose as his girlfriend for one month.
Even though Cindy has an all-star college football player boyfriend that attends Iowa State, the rental agreement is believed by the students at school. Even Cindy's closest friends buy the ruse. With coaching from Cindy, Ronald goes from "totally geek to totally chic." Ronald becomes one of the popular crowd, leaving his best friend nerds behind. The student body even join in Ronald's awkward African mating ritual dance at the school Columbus Day dance.
Ronald continues to alienate his nerd friends and is caught throwing feces at former best friend Kenneth's  house on Halloween. That was really crappy! Ronald does not navigate his new popular status well.
To her surprise, Cindy finds that she enjoys spending time with the "lawn mower boy". While on a special date at an airplane graveyard, Cindy is actually ready to kiss the boy. Ronald completely misreads the moment and brings up how they will enact their staged break-up as the month is ending. The mood was gone.
Back at school, Ronald goes too far during the scene of the faux break-up and seriously hurts Cindy's feelings. Cindy resents the "new Ronald" who is shallow, careless, and promiscuous. Cindy herself dates an arrogant college guy (again, not her boyfriend Bobby.)
Speaking of Bobby, we never actually see Cindy talk to him in the film until an alcohol charged high school New Year's Eve party. Bobby shows up at the shin dig and is miffed to hear that his girlfriend that he has ignored for the semester has been dating a former nerd. A loud fight ensues between Bobby and and a drunken Cindy. When Bobby walks out on her, Cindy confesses to everyone in ear shot that she was paid to date Ronald. I wonder if Bobby would mind that she dated a shallow, rich college guy with a great car?
Ronald is demoted to the lowest high school pariah status. No one will associate with him, especially his former friends, nerds and jocks. He doesn't even want to talk to himself!
During lunch hour on a sunny day in the outdoor cafeteria, Ronald witnesses ex-bff Kenneth being bullied by a popular baseball player. Ronnie steps in to save the day, threatening the bully with a baseball bat. The jock miraculously sees the error of his ways, and the cafeteria erupts in applause. (What is more believable, spontaneous high school applause or singing and dancing like Grease or High School Musical?)
Cindy must have like what she saw of a humbled, reformed Ronald because she rides off with him on his lawnmower into a beautiful Arizona sunset. (This image should have been the movie poster). Did the movie answer the question? Can you buy love?
The End.
Rate the Film!
Buena Vista Pictures Distribution released Can't Buy Me Love on August 14, 1987. Steve Rash directed the film starring Patrick Dempsey, Amanda Peterson, and Courtney Gains.