Film and Plot Synopsis
In this pseudo audio biography of the Village People, Jack Morell is a struggling composer desperate to gain fame with his songs, and all he needs is a group to sing them. With the help of his roommate, Samantha, and a lawyer named Ron, Jack forms a group of men from his Greenwich Village neighborhood. From there, the film details the rise of these macho, macho men from New York City to a fabulous climatic concert in the heart of San Francisco.
Buy the Film
Can't Stop The Music
6 new from $24.96
3 used from $23.40

as of November 25, 2023 11:30 am
*As an Amazon Associate we earn from qualifying purchases.
'Can't Stop the Music' Movie Summary
The summary below contains spoilers.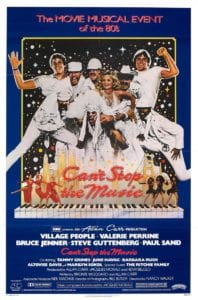 Can't Stop the Music
is a retro time capsule that begins in a record store with wall to wall vinyl. Our main man, Jack, declares 'My time is Now' while quitting to go into show business. With stars in his eyes and roller skates on his feet, he dreams of one chance to make it big in the record industry. Friend and recently retired international model, Sam, wants a demo tape to pass onto her contacts in hope success will transcend.
She also goes on a recruitment drive, inviting singers to her backyard gathering which doubles as a talent show. In the meantime, Sam meets jovial Ron White, whom we actually meet in the film after being accosted by a little old lady thief, but still somehow ends up at Sam's party with cake.
Despite slapstick moments with multiple drop in guests, the party is a hit on the musical side of things. Ron storms out unhappy at the frivolities. Unfortunately, Sam has no success helping Jack. With only rejections, she visits her phone obsessed Ex, Paul Sand, music executive. He commits to a demo session for Jack's potential group (which is still not together yet).
In the same building, Ron bumps into Sam, immediately apologizing for his actions at her party. They eventually get it on atop a barbers chair, and become lovers. He lets his Wall Street office be used for open auditions; attracting everyone from batten twirlers, knife jugglers, and ventriloquists. Among them, a motorcycle guy ends up completing the group, and the Village People are born!
First stop YMCA for some ping pong, one-armed push ups, hot tub splashing and diving. Sam is offered a commercial, and offers to come out of self-imposed model retirement to do the Milkshake, but only if the band is allowed to participate. That in turn creates an opportunity in San Francisco.
Hijacking Paul Sand on his own private jet plane, Jack and his adoring mom take him to the big gig the Village People have in San Francisco due to their success on their Milkshake advert. Luck goes the bands way for the first time, gaining contracts for an album deal before even taking the stage. Ron and Sam sort out further differences to become complete; just like how Jack describes his Village People declaring they are a group.
Additional Film Information
Rate the Film!
Associated Film Distribution released Can't Stop the Music on June 20, 1980. Nancy Walker directed the film starring Ray Simpson, David Hodo, and Felipe Rose.