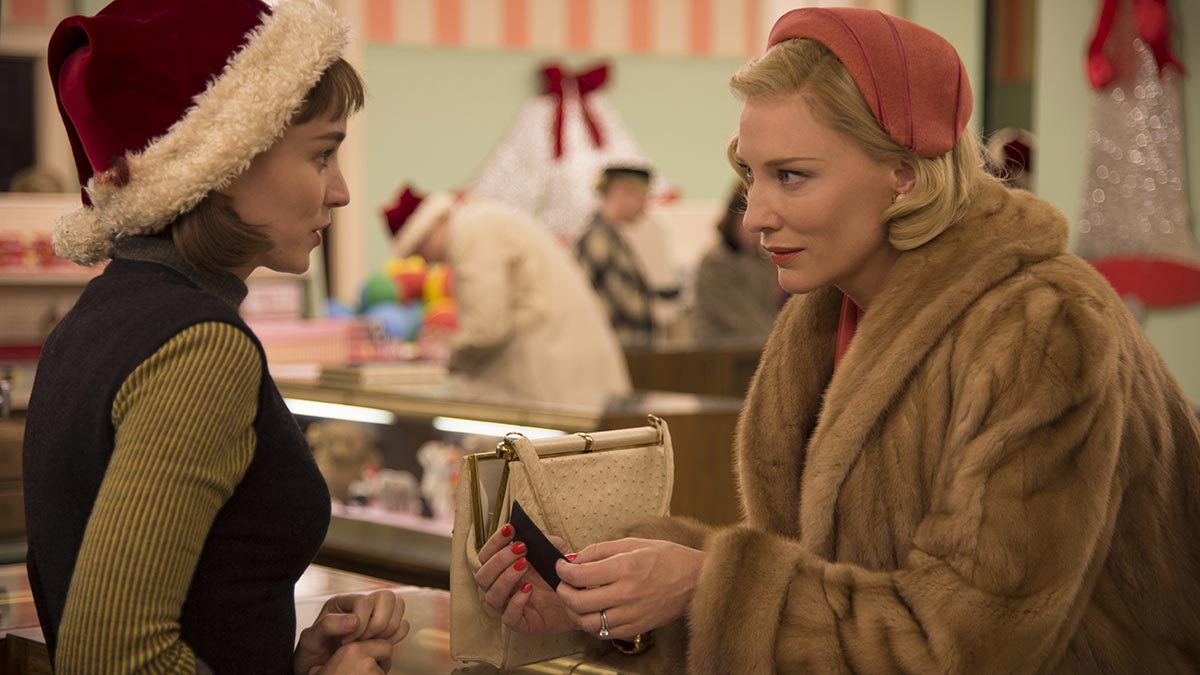 Film and Plot Synopsis
In an adaptation of Patricia Highsmith's seminal novel, The Price of Salt, the film follows two women from very different backgrounds who find themselves in an unexpected love affair in 1950s New York. As conventional norms of the time challenge their undeniable attraction, an honest story emerges to reveal the resilience of the heart in the face of change. A young woman in her 20s, Therese Belivet, is a clerk working in a Manhattan department store and dreaming of a more fulfilling life when she meets Carol, an alluring woman trapped in a loveless, convenient marriage. As an immediate connection sparks between them, the innocence of their first encounter dims and their connection deepens. While Carol breaks free from the confines of marriage, her husband begins to question her competence as a mother as her involvement with Therese and close relationship with her best friend Abby come to light.
Buy the Film
Carol [Blu-ray]
12 new from $14.99
11 used from $5.29
Free shipping
as of December 4, 2022 5:06 pm
*As an Amazon Associate we earn from qualifying purchases.
'Carol' Movie Summary
The summary below contains spoilers.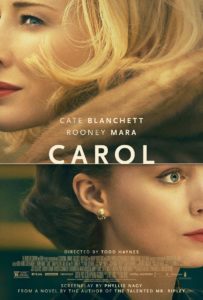 It is the Christmas season of 1952. Therese Belivet (
Rooney Mara
) is an aspiring photographer who pays the bills by working in the toy section of Frankenberg's department store in Manhattan. One day, she meets a glamorous woman, Carol Aird (
Cate Blanchett
), who is searching for a specific doll for her daughter Rindy (
Sadie
and
K.K. Heim
). When Therese informs her that they are sold out of the doll, Carol asks the clerk what she would want for Christmas at that age. Therese tells Carol to purchase an electric train set, which the wealthy woman does. After Carol leaves, Therese realizes that Carol left her gloves on the counter. Therese mails them to her using Frankenberg's sales slip with Carol's name and address.
Therese has a boyfriend named Richard Semco (Jake Lacy). Richard is extremely interested in Therese and hopes to marry her someday. However, Therese is less than enthused about their romance. A mutual friend, Dannie McElroy (John Magaro), invites Therese to his workplace at The New York Times to meet a friend who is a photo editor. Therese accepts the invitation, but he makes a pass at her and kisses her in his office. Therese gets uncomfortable and leaves without meeting the photo editor.
Meanwhile, Carol is going through a difficult divorce from her husband, Harge Aird (Kyle Chandler). Harge still loves Carol but finds it difficult to move past Carol's infidelity with another woman, Abby Gerhard (Sarah Paulson). Carol calls Frankenberg's to thank Therese for returning the gloves and invites her to join her for lunch the next day. The two women bond over lunch as they begin to become attracted to each other.
Carol invites Therese to her home in New Jersey the following weekend. They once again enjoy each other's company and purchase a Christmas tree together. Therese takes photographs of Carol throughout the day and talks about her love for photography. She confesses her lack of good equipment prevents her from pursuing it professionally. Harge arrives unexpectedly to take Rindy to Florida for Christmas. Upon seeing Therese, he becomes jealous believing that Carol is pursuing another homosexual affair. Therese witnesses the argument, and after Harge and Rindy leave, an upset Carol takes Therese to the train station so she can return to the city.
The next day, Carol calls to apologize and agrees to meet at Therese's apartment. Carol surprises Therese with a suitcase that contains a Canon camera and film. Soon after, Carol learns from her divorce attorney that Harge is petitioning the court to consider a morality clause against her, a threat to expose her homosexuality that would result in Harge having full custody of Rindy. To overcome the stress of the divorce, Carol decides to take a road trip and invites Therese to go with her. When Therese tells Richard that she is going away with Carol, the jealous boyfriend accuses Therese of being attracted to Carol and predicts that the older woman will soon tire of Therese. Their relationship comes to an end, something that Therese is not terribly upset about.
Carol and Therese hit the road and genuinely have a good time with each other. Therese meets a traveling salesman, Tommy Tucker (Cory Michael Smith), at one of the hotels. Tucker enjoys a meal with Carol and Therese. On New Year's Eve, Carol and Therese kiss for the first time and have sex. The next morning, Carol discovers that Tucker is actually a private investigator hired by Harge to obtain evidence against Carol. Carol confronts the investigator and threatens him at gunpoint. Tucker informs Carol that he has already sent the tape recordings to Harge. Carol and Therese turn back and head home.
The following day, Therese wakes in a hotel room in Chicago and Carol is gone. Abby is present and tells her that Carol flew home to fight for custody of her daughter. Abby explains that she is there to drive Therese home and gives her a letter from Carol. Once home, Therese tries to call Carol at home, but Carol hangs up, knowing that continuing the relationship with Therese will cost her custody of Rindy.
In the months apart, Therese creates a portfolio of her photographs and gets a job as a photographer at The New York Times. At the same time, Carol begins seeing a psychotherapist as a condition of the divorce settlement. During a mediation of the divorce case, Carol admits to the truth of what the tapes contain and refuses to deny her sexuality any longer. She tells Harge that she is tired and wants to avoid going to court and facing a public scandal. Carol tells Harge that he can have custody of Rindy but insists on regular visitation.
After the divorce is finalized, Carol writes to Therese and invites her for drinks in the lounge of the Ritz Tower Hotel. Carol reveals she is going to work for a furniture house and has taken an apartment on Madison Avenue. Carol invites Therese to come live with her, but Therese politely declines. Carol tells Therese that she is meeting associates in the Oak Room, and that if she changes her mind, they can have dinner. Carol whispers "I love you", but Therese does not respond. They are interrupted by Jack Taft (Trent Rowland), a friend of Therese who invites them both to a party. Carol declines and departs.
Therese rides to the party with Jack but finds that she cannot connect with anyone. Therese heads to the Oak Room. She scans the restaurant and finds Carol at a table. Their eyes meet Therese begins walking towards Carol. Carol smiles at Therese as she approaches the table.
Additional Film Information
Rate the Film!
The Weinstein Company released Carol on November 20, 2015. Todd Haynes directed the film starring Cate Blanchett, Rooney Mara, and Sarah Paulson.