Film and Plot Synopsis
Charlie's Angels have always provided security and investigative skills to private clients, and now the Charles Townsend Agency has expanded internationally, with the smartest, most fearless, most highly trained women all over the globe – multiple teams of Angels guided by multiple Bosleys taking on the toughest jobs across the world. When a young systems engineer blows the whistle on a dangerous technology, these Angels are called into action, putting their lives on the line to protect us all. (Courtesy of Sony Pictures)
Buy the Film
Charlie's Angels
7 new from $21.91
11 used from $5.46
Free shipping
as of May 19, 2023 11:34 pm
*As an Amazon Associate we earn from qualifying purchases.
'Charlie's Angels' Movie Summary
The summary below contains spoilers.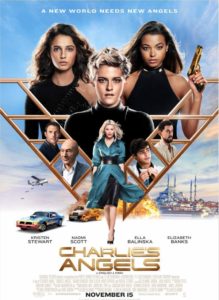 In Rio de Janeiro, John Bosley (
Patrick Stewart
) leads a team of Angels to capture international embezzler Jonny Smith (
Chris Pang
). The mission is a success and Smith is turned over to the American authorities. John is Charlie's first and original assistant. The lead Angel on the mission is Sabina Wilson (
Kristen Stewart
), a wild and rebellious agent. A short time later, John retires from the agency and is given accolades for his years of service. Rebekah "Bosley" (
Elizabeth Banks
) secretly plants a subdermal implant on John without his knowledge for unknown reasons. Rebekah is a former angel who has been promoted to an assistant.
A year later, the European division of the Townsend Agency is informed that Elena Houghlin (Naomi Scott) is seeking to expose her superiors at her company. Elena is an engineer and programmer employed by entrepreneur Alexander Brok (Sam Claflin) who helped to invent Calisto, an energy conservation device that has the unforeseen side effect of triggering fatal seizures in humans when it is used. Elena believes that Brok's head of development, Peter Fleming (Nat Faxon), is covering up the lethal side effects of Calisto.
Elena meets with operative Edgar "Bosley" Dessange (Djimon Hounsou) at a café in Hamburg to turn over her findings. However, an assassin named Hodak (Jonathan Tucker) ambushes the meeting and kills Edgar. Hodak leaves Elena to drown in a river. Edgar's Angel partner, Jane Kano (Ella Balinska), rescues Elena and brings her to Rebekah with the help of her partner Sabina. Rebekah assigns Sabina and Jane to accompany Elena in breaking into Brok's corporate headquarters to steal the remaining Calisto prototypes before they can be duplicated. They are successful in acquiring one of the devices, but Elena is forced to use it to escape and accidentally kills the chief of security Ralph (David Schütter). Unfortunately, the other prototypes are already gone, and Fleming is identified as the thief.
Rebekah tracks Fleming to Istanbul. There, Jane utilizes one of her old intelligence contacts, Fatima Ahmed (Marie-Lou Sellem), to locate Fleming. The Angels track him to a remote rock quarry, where they encounter Jonny Smith who is revealed to be Fleming's intermediary for selling Calisto. Hodak is also present and kills Fleming. The Angels are successful in breaking up the sale. Rebekah disappears mysteriously, allowing Smith and Hodak to escape with the prototypes.
The Angels return to their safehouse. Sabina concludes that Rebekah has betrayed them and is working against the agency. She theorizes that Rebekah has been manipulating them to steal Calisto for her own benefit. While the three women debate the issue, the safehouse is bombed. Rebekah returns, but she is shot by John. John takes Elena and retreats. Sabina and Jane regain consciousness and seek help from Fatima. Rebekah finds them there and explains to them that John is the one who betrayed the agency. Rebekah explains that John has spent the last few decades secretly building his own network within the agency after he was passed over to succeed the late Charlie Townsend (John Forsythe). Rebekah also explains that she planted the subdermal implant to track John's movements.
Meanwhile, John takes Elena to a party hosted by Brok in Chamonix. Brok reveals himself to be the person behind the assassination attempts on Elena. However, Brok is unaware of John's plan to weaponize Calisto. John uses Elena's work colleague Langston (Noah Centineo) as a hostage to force her to program a Calisto device to kill Langston and herself before leaving. The Angels arrive having been provided information provided by Smith, who is revealed to have defected to their side. The Angels rescue both Elena and Langston. Elena disables the Calisto device. Jane gets revenge for the death of Edgar by impaling Hodak with a spike. Rebekah catches up with John and his men. She appears outnumbered, but she soon reveals that she has other Angels posing as guests at the party. They subdue John's men, and Sabina knocks out John with a punch. Brok is arrested for conspiracy, and Jane and Langston start a relationship. Elena is recruited as an Angel by the Townsend Agency after passing a serious of training exercises.
In the mid-credits scene, Elena receives an official Angels tattoo and congratulations from Charlie.
Additional Film Information
Rate the Film!
Sony Pictures released Charlie's Angels on November 15, 2019. Elizabeth Banks directed the film starring Kristen Stewart, Naomi Scott, and Ella Balinska.