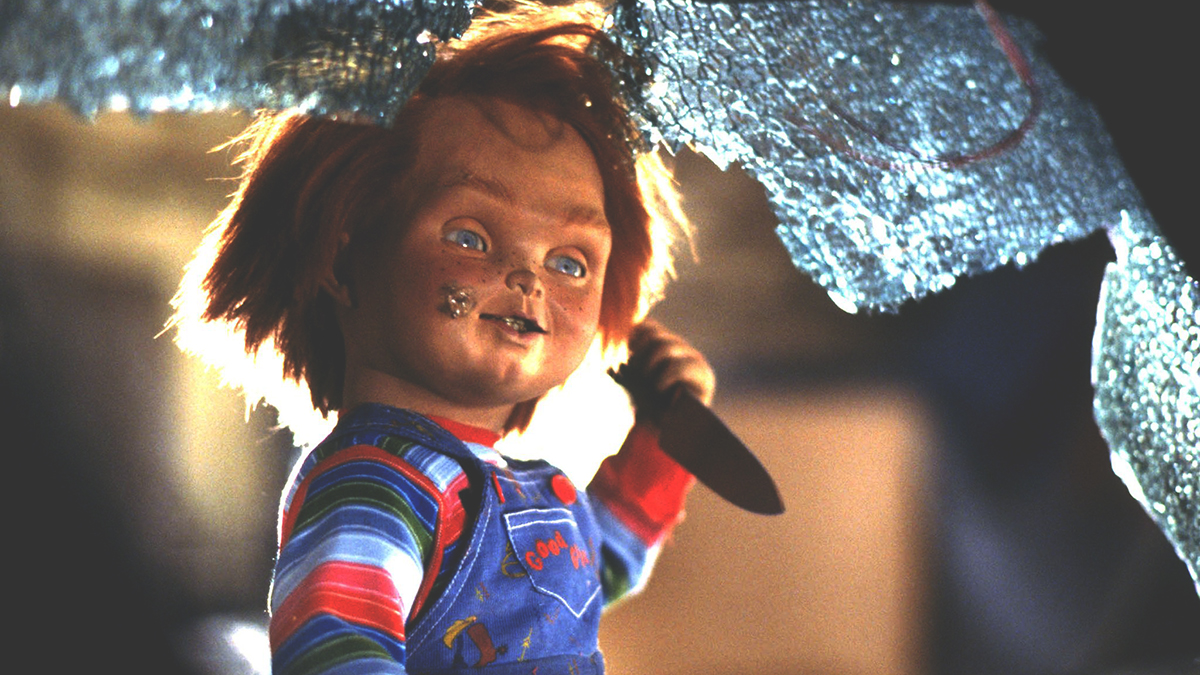 Film and Plot Synopsis
In Child's Play, police mortally wound the serial killer Charles Lee Ray during a shoot-out. Before he dies, he uses a voodoo spell to transfer his soul into a child's doll named Chucky. Soon after, a little boy receives the doll as a birthday gift, and Chucky is able to resume his killing spree. However, Charles doesn't want to be trapped in the body of a doll forever. His only escape is to transfer into the first human he reveales his true identity to, and that places Andy in grave danger.
Buy the Film
Child's Play (1988) - Collector's Edition 4K Ultra HD + Blu-ray [4K UHD]
15 new from $23.00
5 used from $33.71
Free shipping
as of December 7, 2022 11:25 pm
*As an Amazon Associate we earn from qualifying purchases.
'Child's Play' Movie Summary
The summary below contains spoilers.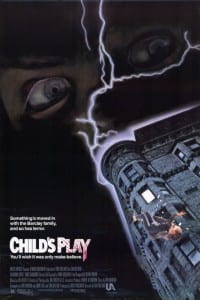 In
Child's Play
, Andy Barclay is a sweet, loving, yet lonely six-year-old boy, who lives at home with his "older than she should looks", single mother Karen Barclay. Karen is a hard working department store clerk, who by the looks of her apartment is getting paid way too much to act as if she has it so hard.
Using all her money to pay for a nice Chicago apartment has left Karen strapped for cash, unable to buy Andy any decent birthday presents. She opts for some lame "Good Guy" tools instead of an actual Good Guy, Chucky doll. She presents the subpar presents to Andy on his big day and he is clearly bummed. After all, he is obsessed with Good Guy cartoons and anything related to it. Watching reruns, reciting the credo; He even dons the Good Guy ski bibs and lame sneakers in order to pay tribute to the Good Guy brand.
Since Karen blew her wad on Good Guy accessories and furnishings for her place, she is reduced to demean herself by purchasing a Chucky doll through the Chicago black market. Luckily, there looms a seedy underbelly of upscale Chicago shopping just outside the backdoor of the department store where she works. Her friend Maggie helps middle the deal for this one of a kind Chucky. One of a kind is right, you see this Chucky doll got possessed by the soul of the infamous Lakeshore Strangler, Charles Lee Ray. Any legitimate killer has to have three names.
Ok, so prior to his purchase, Chucky was just a doll sitting in a toy store with other equally disturbing, loveable dolls just like him. Pursued by police, Charles Lee Ray busts into the store after he shoots the lock off. He is being pursued by what appears to be the only detective in Chicago, Mike Norris played by Prince Humperdinck. David Lee then seeks some much needed concealment amongst the creepy Chuckies but it's no use, Detective Norris (no relation to Chuck) always gets his man.
The two shoot it out and Billy Ray gets hit. When it becomes clear he is circling the drain he grabs a Chucky doll, bleeds all over it and chants aloud as ominous, Ghostbusters style clouds loom above the toy store. Mekaleka hi meka chinee ho! Shouts John Wayne Gacey and shazaam! His soul vacates his mortal carcass and enters into the already disturbing, ginger haired Chucky doll. The very same doll to be sold back alley style to Andy's loving mother a few scenes later.
The terror begins as Maggie (mom's friend and co-worker) babysits Andy since mom has to work late at the insistence of her effeminate boss. Maggie, Andy and Chucky hang out at the apartment until Andy has to go to bed. Once Andy is asleep, Maggie is stalked by Chucky then she falls into every 1980's horror movie cliché. "Is that you Andy?", she calls as the pitter patter of Chucky's feet pass by. We are even treated to a loud phone ringing right by her head during a tense moment.
Next, Chucky lands a sweet face shot to Maggie's mug using a Good Guy hammer. The powerful force of a 2 foot, rigid plastic puppet, is so intense, Maggie is blasted back so hard it looked like she jumped out the window. Mom comes home to find non-confrontational police at her door and another patrol man reading the paper. Oddly enough, this homicide is investigated by Humperdinck who is confused by the small footprints left behind at the crime scene.
Shortly after the murder, Chucky and Andy take the "L" train to the south side ghetto. Chucky has a score to settle with his old partner Eddie Caputo (his partner? or driver?). Caputo lives in the house and is blown up by the rubberized assassin, Chucky. The cops catch up with Chucky and Andy and they interrogate them at headquarters. Andy blames the whole thing on Chucky not knowing the Chicago rule, "snitches get stitches".
Dr. Idenone, the police psychologist decides it's best to keep Andy and won't let him return home. I suppose they held him because they think it was his tiny footprints at the crime scene and his tiny hands which opened the gas valve that snuffed out Caputo. We the viewers learn that the only thing Andy is truly guilty of is bad acting.
Karen drags Chucky home with her while Andy stays in lock up. It is back at the apartment where she makes the frightening discovery that Chucky does not have batteries installed! He is running on a much more sinister alternative fuel….EVIL. Chucky springs to life and attacks Karen. After calling her profane names and biting her arm, he makes an exceedingly long elevator getaway. Chucky is free.
Karen sets out to find Chucky and prove her case. She catches Detective Norris as he exits work, but he doesn't believe her battery story. Not only is Norris the only detective working homicide, but he also has the loosest lips. He tells Karen where to find Lee Harvey by giving her his address in the ghetto. He then yells at her for going there "this time of night".
Upon arrival to the hood, Karen speaks to people who can only speak in pantomime until she finds the guy who sold her the shady doll. Karen gets in over her head and is nearly raped when Norris arrives to save her. Note: this is the ONLY time Norris saves anyone. He watches like a bitch any time there is violence from this point until the rest of the movie.
Nonetheless, his Spidey senses are tingling and he goes back to the precinct to get Wilkes Booth's file. The only detective in Chicago also becomes the most lax and forgets to lock his doors; this offers Chucky a prime ambush spot in the back seat.
Detective Norris, the only detective and most lax is ALSO the least adept at defensive tactics. He has his ass handed to him by a two foot puppet. (Evidently they don't teach you how to use the breaks in police academy). Norris swerves all over damn the place then crashes the car by rolling it. Chucky easily escapes and taunts Norris. In defense of Norris, he does manage to shoot Chuck once.
Meanwhile, mom finds her way to an ancient shaman temple where she learns of Dambalah some voodoo sky deity . Norris arrives seconds later ( a continuing theme throughout the film) and tells her of his attack by Chucky. She then learns of the mysterious John, teacher of Gri Gri. In the next scene Chucky goes to see John who tells him that he is becoming human inside and that he is an abomination.
John tries to extinguish Chucky but he is no match for Chuckles who is equipped with a voodoo doll of John. The audience is then treated to a very dumbed-down explanation of how Chucky can get back to his human self. Who would have thunk it, but he has to take the body of the first person he disclosed that he was really human. OH NO, that's Andy!
Detective Norris and Karen rush across town to find John bleeding out. He warns Karen that she must kill Chucky before he says the chant. John also lets Karen know that she needs to get Chucky's heart in order to kill him. The race is on, Karen and Detective Norris must get to Andy before Chucky does. Andy escapes custody and flees to a hospital operating room complete with sharp scalpels.
Dr. Idunno re-captures Andy but before he can sedate him, he is hamstrung by Chucky who scalpels the poor doc's Achilles. Next, he as luck would have it, Chucky finds shock treatment equipment and electrocutes Idunno to death. Andy narrowly escapes but Chucky is on fast on his heels. Knowing that Andy will go home, Karen and Detective Norris haul butt to save him.
A very long, non-suspenseful scene ensues where Chucky stalks Andy around the apartment. He clocks Andy on the head with a little baseball bat, knocking him cold. He begins his chant and another Ghostbusters storm rolls in. Before he can put the mojo on and completely shape shift back to human form, Mom and Norris bust in and break up the supernatural party. Chucky cuts up and beats the crap out of Norris, Karen shoots Chucky and her gun jams .
They fight some more and she barbeques Chucky to death in their apartment's fireplace. Karen and Andy have to go to rescue Norris and a burned up, melty Chucky returns to get Andy. Miraculously, Karen finds another gun and slowly blasts Chucky limb from limb, emptying the gun. Norris' dumbass partner shows up to save him and has the whole, no batteries, evil doll thing explained to him. He balks, again until he is choked out by a resurrected limb. Karen pleads, shoot him in the heart and Norris lays waste to Chucky.
The end…..Or is it?
Additional Film Information
Rate the Film!
United Artists released Child's Play on November 9, 1988. Tom Holland directed the film starring Catherine Hicks, Chris Sarandon, and Alex Vincent.