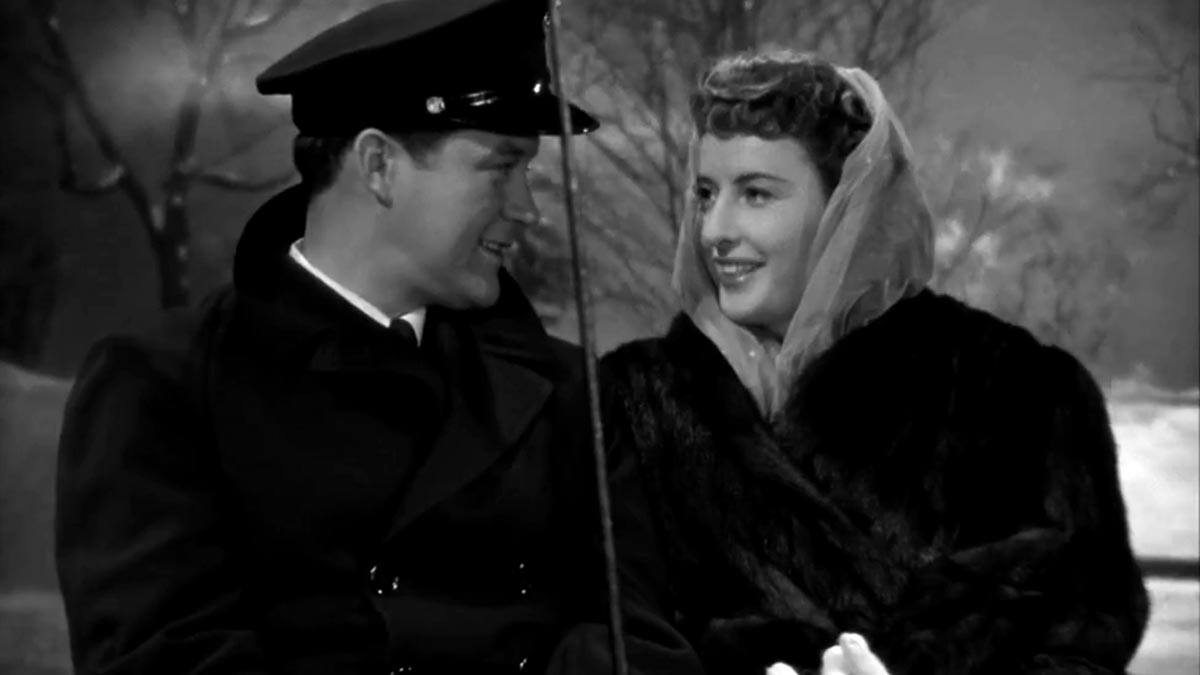 Film and Plot Synopsis
Journalist Elizabeth Lane is one of the country's most famous food columnists. In her columns, she describes herself as a hard-working farm woman, taking care of her children and being an excellent cook. But this is all fabrication created by Elizabeth and editor. In reality, she is an unmarried New Yorker who can't cook in the slightest. The recipes come from Felix Bassenak, a talented chef and Elizabeth's uncle. The publisher of the magazine, Alexander Yardley, has decided that a heroic sailor will spend his Christmas on "her" farm. Elizabeth knows that her career is over if the truth comes out, so she builds upon the deception. However, Elizabeth does not count on falling in love with the mysterious veteran, Jefferson Jones.
Buy the Film
Christmas in Connecticut (Blu-ray)
10 new from $14.98
10 used from $7.99
Free shipping
as of September 27, 2022 8:04 am
*As an Amazon Associate we earn from qualifying purchases.
'Christmas in Connecticut' Movie Summary
The summary below contains spoilers.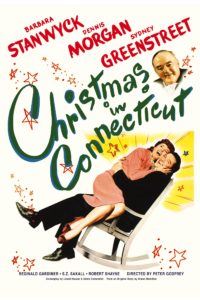 Elizabeth Lane (
Barbara Stanwyck
) is a columnist for the Smart Housekeeping magazine where she contributes by writing house making hints and amazing recipes. Her articles include many anecdotes about her Connecticut farm, her husband and her new baby. Elizabeth is admired by housewives across the United States. However, it is all a fabrication. In reality, Elizabeth is a single New Yorker who not only can't cook but needs a recipe to boil water.
Elizabeth's publisher, Alexander Yardley (Sydney Greenstreet), is unaware of the charade and orders Elizabeth to host a Christmas dinner for himself and returning war hero Jefferson Jones (Dennis Morgan). Jones was injured during the war when his destroyer was bombed and insisted the nurses bring him food from Elizabeth's recipes while he recovered in the hospital. Jones' nurse wrote a letter to the publisher expressing his interest in Elizabeth's work. Yardley believes it will be great publicity to get Jones and Elizabeth together. Yardley is a man who values truth above all else. Facing a career-ending scandal for herself and her complicit editor, Dudley Beecham (Robert Shayne), Elizabeth is forced to agree to host the dinner.
Additionally, she agrees to marry her friend and long-suffering suitor, architect John Sloan (Reginald Gardiner), to complete the ruse. Conveniently, John owns a farm in Connecticut. Elizabeth also enlists the help of her uncle, Chef Felix Bassenak (S.Z. Sakall), to help with the meal preparation. Felix has secretly been providing Elizabeth with all her recipes for her articles over the years.
Elizabeth arrives at John's farm on Christmas Eve. Once there, she meets the housekeeper, Norah (Una O'Connor) as well as a neighbor's baby whom Elizabeth and John will pretend is their child. Elizabeth and John plan to get married immediately in front of Judge Crowthers (Dick Elliot), but the ceremony is interrupted when Jones shows up early. Elizabeth and Jones immediately fall in love with each other even though Elizabeth is supposed to be married to John.
On Christmas morning, Judge Crowthers returns to complete the wedding, but the ceremony is postponed again when a different neighbor's baby is presented instead of the one from the day before. The occupants of the house become alarmed when Felix falsely claims that the new baby has swallowed his watch. Once the judge leaves, Felix confesses to Elizabeth that he interrupted the ceremony to prevent Elizabeth from marrying John, since he knows that she is attracted to Jones.
Later, most of the members of the household and guests attend a local dance. Yardley stays behind and sees the baby's real mother picking up her child. Yardley assumes that someone is kidnapping the baby. The holiday is further complicated when Elizabeth and Jones are arrested and spend the night in jail after they are mistakenly charged with stealing a neighbor's horse and sleigh. The couple return to the farm early the next morning. Yardley chastises Elizabeth for being out all night and neglecting the welfare of her child, a baby who Yardley believes was nearly kidnapped. Feeling trapped by circumstances and her emotions, Elizabeth confesses to her deceptions. Not surprisingly, Yardley fires her on the spot.
Meanwhile, Jones' fiancée, Mary Lee (Joyce Compton), arrives at the farm unexpectedly. Unaware of a fiancée, Elizabeth begins packing her tings to leave the farm. Felix learns that Mary Lee has already married someone else and has come to break off the engagement with Jones. Additionally, Felix fabricates a plan to have Yardley hire back Elizabeth. The chef entices Yardley into the kitchen with the smell of some good food. Felix creates a story about a competing magazine's attempts to hire Elizabeth. The publisher decides to hire her back rather than let her go to his competition.
Afterwards, Felix tells Jones that he is free to pursue Elizabeth since neither of them are now encumbered with a relationship. Meanwhile, Elizabeth's packing is interrupted first by Yardley and then by Jones. Jones teases Elizabeth that he is the type of man who woos married women before he reveals that he knows the truth. The couple kiss and plan their marriage.
Additional Film Information
Rate the Film!
Warner Bros. released Christmas in Connecticut on August 11, 1945. Peter Godfrey directed the film starring Barbara Stanwyck, Dennis Morgan, and Sydney Greenstreet.