Summaries
Cinema Paradiso (1988)
Original title: Nuovo Cinema Paradiso
Film and Plot Synopsis
After three decades, a filmmaker finally revisits his Sicilian hometown, reflecting on the memories of his life, particularly the period he spent assisting the projectionist at the local movie theater.
Buy the Film
Cinema Paradiso [4K UHD]
17 new from $22.91
2 used from $26.54
Free shipping
as of September 24, 2023 3:59 pm
*As an Amazon Associate we earn from qualifying purchases.
'Cinema Paradiso' Movie Summary
The summary below contains spoilers.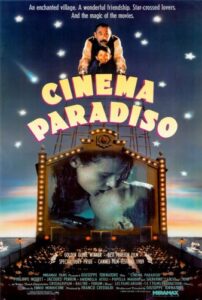 In 1988 Rome, Salvatore Di Vita, a renowned film director, receives a late-night call from his girlfriend, informing him of his mother's message about the death of a man named Alfredo. Salvatore, who avoids committed relationships, has not returned to his hometown of Giancaldo, Sicily, for thirty years. As his girlfriend asks about Alfredo, Salvatore finds himself unable to sleep and begins to flashback to his childhood.
Several years after World War II, eight-year-old Salvatore, nicknamed Toto, is the clever and mischievous son of a war widow. He discovers his love for films and spends all his free time at the local movie house, Cinema Paradiso. Initially at odds with the middle-aged projectionist, Alfredo, Toto eventually befriends him, and Alfredo allows him to watch movies from the projection booth. The films shown at Cinema Paradiso are often booed by the audience due to missing sections, cut out by the local priest to censor romantic kissing or embracing scenes. Alfredo keeps these deleted scenes in the projection room until he can splice them back into the film for screenings in the next town.
Alfredo becomes a mentor to Salvatore and teaches him how to operate the film projector. One day, a fire breaks out at Cinema Paradiso while Alfredo is projecting a film after hours. Salvatore rescues Alfredo, but Alfredo is left permanently blind after a reel of nitrate film explodes in his face. The town citizen, Ciccio Spaccafico, who won a large football lottery, rebuilds the movie house, and Salvatore, now a child, becomes the new projectionist due to his expertise.
A decade later, Salvatore is in high school and still operating the projector at the "Nuovo Cinema Paradiso." His bond with the blind Alfredo has grown strong, and Salvatore often seeks advice from him, which Alfredo imparts through quotes from classic films. Salvatore falls in love with Elena Mendola, the daughter of a wealthy banker, and captures her on film using a home movie camera. However, their romance is cut short due to Elena's father disapproving of their relationship.
Elena and her family move away, and Salvatore leaves for compulsory military service despite being a war orphan and theoretically exempt. His attempts to contact Elena are in vain, and upon his return, Alfredo advises him to leave Giancaldo permanently, as the town is too small for Salvatore to fulfill his dreams. Alfredo emphasizes that Salvatore must pursue his destiny wholeheartedly without looking back or returning to visit; he must resist nostalgia and not even think or write about them. Tearfully, they part ways, and Salvatore sets out to pursue his future as a filmmaker.
Back in the present, Salvatore realizes that while he is content professionally, he feels unfulfilled personally. He decides to return home for Alfredo's funeral. Despite the significant changes in the town, he now understands Alfredo's reasons for urging him to leave. Alfredo's widow informs him that the old man took pride in Salvatore's successes and left him something: an unlabeled film reel and the old stool Salvatore used to operate the projector. Salvatore learns that Cinema Paradiso is slated for demolition to make way for a parking lot. At the funeral, he recognizes the faces of many people who used to attend the cinema during his time as the projectionist.
Returning to Rome, Salvatore watches Alfredo's reel and discovers that it contains all the romantic scenes that the priest had ordered Alfredo to cut from the movies. Alfredo had skillfully spliced the sequences together, forming an unreduced film filled with desire and passion. In the final scenes, Salvatore finds solace in his past, shedding tears as he makes peace with it.
Titanus released Cinema Paradiso on November 17, 1988. Giuseppe Tornatore directed the film starring Philippe Noiret, Enzo Cannavale, and Antonella Attili.