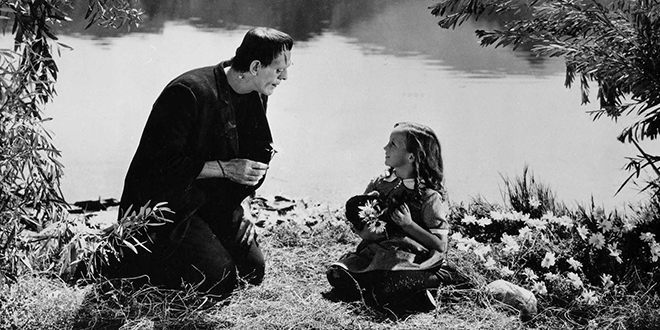 MHM Mart
Classic Frankenstein (1931) Coming To Blu-ray
Frankenstein [Blu-ray]
18 new from $8.99
14 used from $4.45
Free shipping
as of May 8, 2022 2:28 pm
Universal Pictures Home Entertainment has announced that addition of the classic horror film Frankenstein to their upcoming slate of Blu-ray releases. The film was directed by James Whale and starred Boris Karloff, Colin Clive, Mae Clarke, John Boles, Edward Van Sloan, and Frederick Kerr. Frankenstein will be available for purchase online and in stores beginning on September 17th.
An unforgettable masterpiece, the original Frankenstein released in 1931, stars Karloff as the screen's most tragic and iconic monster in what many consider to be the greatest horror film ever made. Tampering with life and death, Dr. Frankenstein (Clive) pieces together salvaged body parts to bring a human monster to life. The mad scientist's dreams are shattered by his creation's violent rage as the monster awakens to a world in which he is unwelcome. Featuring groundbreaking makeup by Jack Pierce, director Whale's adaptation of Mary Shelley's masterpiece novel blends themes of horror, isolation and compassion, and remains one of the most shocking movies of all time.
The Blu-ray edition of Frankenstein features a DTS-HD Master Audio 2.0 Mono track and the following extras:
Feature Commentary with Film Historian Rudy Behlmer
Feature Commentary with Historian Sir Christopher Frayling
The Frankenstein Files: How Hollywood Made a Monster
Karloff: The Gentle Monster
Monster Tracks
Universal Horror
Frankenstein Archives
Boo! A Short Film
Trailer Gallery
100 Years of Universal: Restoring the Classics
Disclaimer: Affiliate links are contained in this post. This means when you click a link, and purchase an item, Movie House Memories will receive an affiliate commission. Advertisers and Affiliate Partnerships do not influence our content. See our
Terms of Use
about the inclusion of affiliate links on this site for more information.