Summaries
Clerks (1994)
Movie review coming on 11/27/2023
Film and Plot Synopsis
Clerks is a day in the lives of two convenience clerks named Dante and Randal as they annoy customers, discuss movies, and play hockey on the store roof.
Buy the Film
Clerks
11 new from $12.98
2 used from $18.06
Free shipping
as of May 31, 2023 11:38 am
*As an Amazon Associate we earn from qualifying purchases.
'Clerks' Movie Summary
The summary below contains spoilers.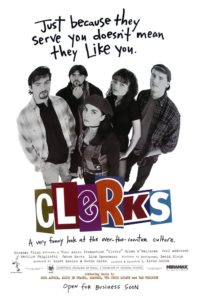 Dante Hicks (Brian O'Halloran) is a clerk at a convenience store named the
Quick Stop
in Leonardo, New Jersey. It's Dante's day off but his boss calls him in at 6AM to cover for another employee who's out sick—even though Dante closed the night before.
He arrives to find someone stuck chewing gum in the padlocks to the security shutters covering the store's windows. So he posts a sign to assure customers they are open. Dante spends the rest of the day helping your typical pain-in-the-ass customers all while complaining that he's not even supposed to be there today.
His first customer (Scott Schiaffo) is out to convince the smokers of the world to buy Chewlies chewing gum instead of cigarettes. He shows one customer a diseased lung in a bag as the line to check out grows. These annoyed customers then bitch to Dante, who couldn't care less because he's not supposed to be here today, but when they start pelting him with cigarettes, Dante's girlfriend, Veronica (Marilyn Ghigliotti), appears and opens up a can of whoop ass via a spray from a fire extinguisher.
Veronica then argues with Mr. Lung-in-a-bag to find out he's a rep for Chewlies chewing gum in a weak effort to increase local sales. She tosses him and the remaining customers out of the store and tells them to get a life.
Dante and Veronica then start a casual chat about past relationships It's then that Veronica runs into an ex of hers nicknamed "Snowball". She tells Dante how she performed oral sex on him to give him the nickname which starts an argument. This argument leads to her telling him that she went down on 37 other guys before she dated Dante—not in a row in case you were wondering. This makes Dante sick, jealous, and disgusted, and Veronica storms out in a huff.
Next door to the Quick Stop is the RST Video Store where Dante's buddy Randal (Jeff Anderson) works. You wouldn't know he works there though as Randal spends much of the day bs-ing it with Dante as Dante tries to work. The two argue over important matters such as whether or not the independent contractors working on the second Death Star when it was destroyed at the end of Return of the Jedi were innocent victims of the Rebels' efforts to defeat the Empire.
When Veronica pops back in to bring Dante a lasagna lunch, the two reconcile. Dante's just frustrated about his current rut with work, school, and his slutty ex-girlfriend, Caitlin (Lisa Spoonauer), who was recently engaged.
Dante soon learns that he's not working for just a few hours, but the whole day because his relief skipped town to Vermont and the store's owner is nowhere to be found. So Dante and his buddies decide to close the store for a bit and play hockey on the roof. Unfortunately the game doesn't last long because an irate customer (Scott Mosier) climbs the ladder to the roof and begins heckling Dante's playing skills. Dante invites him to do better and the guy accepts. He immediately knocks Dante over in the face off and smacks their only ball off the roof and into a storm drain.
With nothing else to do, Dante re-opens the store.
It's then Dante finds out one of his ex-girlfriends has died and her memorial service is today. Randal talks him into closing the store again and the two go to the wake. However, the wake doesn't go well for the boys and we see them quickly leave the funeral home before driving away. We learn a little later that Randal "accidentally" knocked over the casket, but Randal is like a honey badger—he doesn't give a shit.
When Dante's former high-school classmate, Rick Derris (Ernest O'Donnell), comes into the store, Dante learns that Caitlin cheated on him with Rick while the two were still dating. As deals with this news, another man enters the store (Ken Clark) and asks Dante if he's been working there all day. After Dante says yes, the man hands Dante a court summons because he allegedly sold cigarettes to an underage girl (Frances Cresci). That girl's mother then called the authorities. Dante, however, had not been at the counter at the time. It was actually Randal who sold the girl the cigarettes, but Dante is now on the hook for the fine and any related charges. To make matters worse, as Dante confronts both Rick and the local official, Caitlin pops in for a little visit.
The two head over to the video store for a private conversation because no body is there. Caitlin insists the announcement of her engagement was premature and her overbearing mother arranged it. With Dante conflicted between Caitlin and Veronica, Dante uses his other head to make the decisions and he decides to take Caitlin on a date. He goes home real quick to change but when he returns, he discovers that Caitlin has had sex with a dead man in the bathroom after she mistook him for Dante—this lucky fellow had previously gone to the bathroom with a pornographic magazine and suffered a fatal heart attack while masturbating—an ambulance takes a catatonic Caitlin and the corpse away.
Then two stoners named Jay and Silent Bob (Jason Mewes and Kevin Smith)—who have been hanging out front of the Quick Stop all day and selling marijuana—pop in to the store to shoplift. After Dante turns down Jay's offer to party with them, Silent Bob offers Dante some advise, "You know, there's a million fine-looking women in the world, dude. But they don't all bring you lasagna at work. Most of 'em just cheat on you."
Upon reflection, Dante realizes that he loves Veronica. Unfortunately, when she returns to the Quick Stop, she breaks up with Dante because Randal told her of his other head's desire to be with Caitlin. Dante snaps and gets in a fight with Randal inside the store. Afterwards, as the beat up boys sit in the mess they created, Dante bitches once more about his job, his ex who fucked a dead guy, and his girlfriend who sucked 37 dicks. This causes Randall to snap and he yells at Dante that he's sick of hearing him whine about how rotten his life is and that he needs to start making serious changes in his life if he wants it to improve.
The film ends with the two friends reconciling and putting a "You're closed!" sign on the door for a happy ending—snowballs all around.
The End.
Rate the Film!
Miramax Films released Clerks on October 19, 1994. Kevin Smith directed the film starring Brian O'Halloran, Jeff Anderson, and Marilyn Ghigliotti.