Film and Plot Synopsis
Based on the book, "Cry Macho" stars Clint Eastwood as a one-time rodeo star and washed-up horse breeder who, in 1978, takes a job from an ex-boss to bring the man's young son home and away from his alcoholic mom. Crossing rural Mexico on their way back to Texas, the unlikely pair faces an unexpectedly challenging journey, during which the world-weary horseman may find his own sense of redemption through teaching the boy what it means to be a good man. (Courtesy of Warner Bros. Pictures)
Buy the Film
Cry Macho [4K UHD] [Blu-ray]
11 new from $15.99
5 used from $11.58
Free shipping
as of September 26, 2023 6:12 pm
*As an Amazon Associate we earn from qualifying purchases.
'Cry Macho' Movie Summary
The summary below contains spoilers.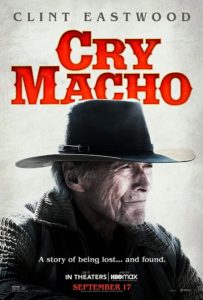 Mike Milo (Clint Eastwood) is an elderly former rodeo star in Texas who was forced to retire after an accident where his horse fell on his leg. After retirement, Mike spends years working for Howard Polk (Dwight Yoakam) as a ranch hand. After showing up to work late one day, Howard fires Mike who parts company with his former boss by sharing some unkind words.
A year later, Howard approaches Mike and offers to hire him to travel to Mexico City and retrieve Howard's estranged 13-year-old son, Rafael "Rafo" Polk (Eduardo Minett). Howard explains that Rafo is mistreated by his mother and Howard's ex-wife, Leta (Fernanda Urrejola). Howard tells Mike that he wants to provide a better life for his son. Howard explains that his legal troubles in Mexico prevent him from retrieving Rafo himself. Mike reluctantly agrees and travels to Mexico City.
Once in Mexico, he meets Leta and her thugs Aurelio (Horacio Garcia Rojas) and Lucas (Ivan Hernandez). Mike surmises that Leta is involved in something illegal. Leta shows disinterest in her son and tells Mike that Rafo is a troublemaker. She informs the American that Rafo runs the streets and is usually involved in cockfighting. She tells Mike that if he can find Rafo that he can take him back to America. She also informs Mike that he is not the only person that Howard has sent to find Rafo. Soon after, Mike finds Rafo participating in a cockfight with his rooster named Macho. The cockfight is raided by police, but after the police depart, Mike finds Rafo and informs him that his father wants him to return to Texas with Mike. Initially skeptical, Rafo agrees to go with Mike so that he can see his father's ranch and ride horses. Rafo leaves to pack his stuff and agrees to meet Mike later to leave.
Not long after, Mike is brought back to the Leta's house by her goons. A drunk Leta tells Mike that she never thought he would find Rafo and that she has no intention of letting him take her son back to Texas. Leta threatens Mike if he tries to take Rafo and then orders him to leave Mexico. Mike, not wanting a fight, gets in his car and begins to leave. Leta orders her henchmen to follow him. Along the way back to Texas, Mike discovers Rafo hiding in the back of his car with Macho. Mike orders Rafo out of his car and tells him that he will not take him to Texas. After Rafo reveals that he has stolen Mike's wallet and shares his true desire to spend time with his father, Mike reluctantly agrees to drive him to the border.
This macho thing is overrated. Just people trying to show that they've got grit. That's about all they end up with. It's like anything else in life: you think you got all the answers, then you realize, as you get older, you don't have any of them. Mike Milo (Clint Eastwood)
On their journey, Mike and Rafo share stories about their lives, including how Leta's henchmen used to abuse Rafo and how Mike's wife and child were killed in a car accident. They also discuss what it means to be "macho." They stop for a meal at a restaurant and Mike takes the opportunity to call Howard to let him know that they are on the way. Aurelio arrives and tries to forcefully take Rafo back to his mother. The henchman informs some locals that Mike is attempting to kidnap Rafo. However, Rafo turns the tables and tells the locals that Aurelio beats him up and shows injuries that are on his back. The locals proceed to assault Aurelio while Mike and Rafo make a timely exit from the area.
Not long after, Mike and Rafo stop for a rest along the side of road and Mike's vehicle is stolen by some banditos. The pair begin to walk until they find an abandoned car that they hot wire and begin driving to Texas. Before they reach the border, Mike sees that Mexican police are stopping cars and suspects that Leta has involved the lawful authorities in a search for them. Mike takes a detour that leads them to a small town. They stop and eat at a café run by a woman named Marta (Natalia Traven). Marta's notices that Mike and Rafo are avoiding the authorities. After they spend the night in a small prayer chapel, Marta invites them to stay with her. The following day, Mike learns that Rafo has become friends with Marta after telling her the truth. Mike also discovers that the car that they drove into town has sprung a leak and that they are now stranded.
Needing money to continue their travels, Mike takes a job at a nearby ranch breaking horses. At the same time, Mike teaches Rafo how to ride a horse and shares his love for animals. The pair continue to stay with Marta and her grandchildren. Marta and Mike show romantic interest in each other, although neither makes any moves on the other. Mike contacts Howard who shows impatience for the delay. Mike learns that Howard's main motive for wanting Rafo in Texas is to get Leta to give him half of his share of their investments in Mexico. Mike is disturbed by the information despite Howard's protests that he truly does want to see his son. Mike keeps the information from Rafo.
Not long after, Mike sees the authorities looking for him and Rafo. Despite Rafo expressing some interest in staying with Marta and her family, Mike and Rafo leave suddenly. They are followed by two officers in a police car. Mike tries to lose the officers by taking a dirt road. Mike admits to Rafo what Howard told him. Rafo gets angry with Mike and threatens to leave. The pursuing police officers find them and suspect them of smuggling drugs. They search the car and find nothing. Rafo pays one of the officers off to leave them alone.
Mike and Rafo continue their journey to the border. While driving, Mike tells Rafo that being macho is overrated and encourages the young boy to make his own decisions in life. Rafo tells Mike that he still wants to be with his father. Aurelio reappears in his car and runs Mike's car off the road. Aurelio holds them at gunpoint and threatens Mike's life. Macho jumps up and attacks Aurelio, momentarily distracting him. Mike punches Aurelio and steals the henchman's gun. Mike and Rafo take Aurelio's car and Mike takes Rafo to the Texas/Mexico border. Once there, Mike tells Rafo that he is not returning to Texas and that he is going back to Marta. Rafo gives Macho to Mike and the pair say a final goodbye before Rafo crosses the border to reunite with his father. The film ends with a scene of Mike and Marta dancing together.
Additional Film Information
Rate the Film!
Warner Bros. Pictures released Cry Macho on September 17, 2021. Clint Eastwood directed the film starring Clint Eastwood, Dwight Yoakam, and Natalia Traven.