Film and Plot Synopsis
After the events of the first Daddy's Home, Brad Whitaker and Dusty Mayron have become good friends and have developed a highly effective co-dad system for Dusty's children, Megan and Dylan. However, when Dusty's estranged father Kurt and Brad's overbearing father Don show up to spend a combined Christmas with the families, things begin to become volatile again. Stuck in a cabin in the woods together, the four fathers engage in a contest to see who the best father is while also trying to keep the spirit of the season.
Buy the Film
Daddy's Home 2 [Blu-ray]
11 new from $18.50
16 used from $7.84
Free shipping
as of September 19, 2023 9:42 am
*As an Amazon Associate we earn from qualifying purchases.
'Daddy's Home 2' Movie Summary
The summary below contains spoilers.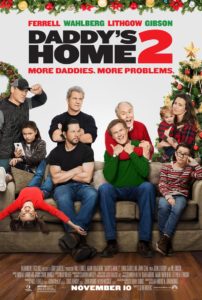 After the events of the first Daddy's Home, Brad Whitaker (
Will Ferrell
) and Dusty Mayron (
Mark Wahlberg
) have become good friends and have developed a highly effective co-dad system for Dusty's children, Megan (
Scarlett Estevez
) and Dylan (
Owen Vaccaro
). Dusty has also remarried to doctor/writer Karen (
Alessandra Ambrosio
) and is himself a stepfather to Adrianna (
Didi Costine
), Karen's daughter. Adrianna does like Dusty and virtually ignores him. Even worse, Megan worships Adrianna even though she is a bad influence on her.
The families attend Megan's school holiday recital where she reads a letter to the crowd that she does not like Christmas anymore due to the dual house arrangement. Brad and Dusty decide to do away with having two separate celebrations and instead decide to do one Christmas altogether. However, Dusty is disturbed when his estranged astronaut father Kurt Mayron (Mel Gibson) announces that he plans to join Dusty and his family for Christmas. Even worse, Brad's overly cheerful father Don Whitaker (John Lithgow) also informs his son that he is coming for Christmas. When the fathers arrive, things begin to get uncomfortable as it is apparent that Don is involved in his grandchildren's' lives while and Kurt is very distant with the kids. Even worse, Kurt does not approve of Brad and Dusty's co-dad system and takes every opportunity to criticize the arrangement.
Kurt immediately begins to meddle with the co-dad plan by renting a large cabin in the mountains for everyone to stay at during the holiday week. Kurt's needling begins to get to Dusty as he becomes jealous of the close relationship that Brad has with his father. Dusty reveals to Brad that Kurt was not always there for him, and once abandoned Dusty for a quick hook-up during a school holiday recital where Dusty had the "Bono" solo during a "Do They Know It's Christmas?" performance. Due to his father's absence, Dusty forgot his lyrics and was publicly embarrassed. Dusty has never forgiven his father for it.
Meanwhile, Sara Whitaker (Linda Cardellini) tries to bond with Karen, but is taken back when she finds that Dusty's new wife shoplifts clothes and allows Adriana and Megan to drink alcoholic eggnog. Sara also becomes suspicious of Don's wife's absence from the proceedings. At the same time, Dylan develops a crush on the girl staying in the cabin next door which causes Adrianna and Megan to constantly tease him. Brad tries to give his stepson some advice, but Dusty interjects when he believes that Brad is having "the talk" with Dylan, which was agreed that Dusty would handle that conversation.
Soon after, the guys go out looking for a Christmas tree and find the trees in a nearby tree farm too small. They decide to go onto private property and illegally cut one down. Brad mistakes a camouflaged cell tower for a pine tree and tries to cut it down, electrocuting himself. Brad is forced to pay for the damage done to the tower, and they use it anyways for their Christmas tree. Once back at the cabin, they realize that they left Don behind and return to find him. They rescue Don from a pack of grey wolves. That night, the family goes bowling. Dylan struggles to hit any pins until he is encouraged by Kurt to keep trying. On his last try, Dylan knocks over one pin and celebrates his achievement.
Later, the group takes the kids to see Santa Claus. Kurt encourages his grandson to ask Santa for a shotgun, but Don talks Dylan out of it. Megan asks for a gun instead. Sara gives the okay for the purchase after Kurt makes a sexist comment. Kurt takes Megan out hunting the next day, but she accidentally shoots Kurt in the shoulder. Kurt ends up in the hospital, but Megan manages to shoot two turkeys while he is gone, surprising everyone. The next day, Sara confronts Brad about Don's strange behavior, but Brad refuses to acknowledge his father's odd behavior. Brad then destroys the Christmas lights with his snowblower which also damages Dusty's car. Kurt records the entire incident and laughs hysterically.
That night, Brad, Dusty, Don, and Kurt go to an improv comedy club. Dusty and Kurt bond over the lameness of Don, but when Kurt suddenly leaves with a woman at the bar, Dusty becomes annoyed again. Brad convinces Don to take the stage with the improv group, and Dusty chooses a topic of a husband confronting his unfaithful wife as the improv skit, suspecting that there are problems in Don's marriage. As the skit progresses, Don has a meltdown on the stage as he reveals that he has separated from Brad's mother in real life. Brad is devasted and distances himself from his father afterwards. Sara tries to comfort her father-in-law but learns that Dusty intentionally tried to push Don. Dusty and Sara's relationship becomes strained. At the same time, Megan and Adrianna begin drinking the alcoholic eggnog behind Sara's back. The next day, Brad confronts Dusty for forcing his father to reveal his separation. Brad decides to get back at Dusty by inviting Adrianna's biological father, Roger (John Cena), to the cabin for Christmas. Roger does not like Dusty.
The next day, the entire family takes part in a Christmas manger representation. During the supposed silent presentation, Brad gets into a fight with Dusty because he wants play Joseph, which Dusty is playing. Adrianna falls over drunk from the eggnog, and Megan begins swearing in front of the family. Dusty and Roger almost get into fight about Dusty being a stepfather. Roger takes Adrianna and tries to leave the mountain. The next day is Christmas, and each of the families all pack up to leave. On the way down from the mountains, the families are forced to turn back to town due to blizzard conditions. Worse, they are forced to shelter in a movie theater that is playing Liam Neeson's latest holiday action comedy, Missile Tow. The blizzard knocks out power to the theater and everyone is forced to huddle in the lobby. They find that Roger and Adrianna are also stuck in the theater.
Dusty and Brad begin to confront their fathers about their secrets and attitudes, and generally air their grievances out. Eventually all the men patch things up between each other. After remembering some advice given to him by Kurt, Dylan walks over to kiss the girl he has the crush on. However, he kisses Adrianna by mistake. Adrianna acts up, and Kurt pushes Dusty to discipline his stepdaughter. Instead, Dusty tells Adrianna that he loves her, and in turn, that he loves Roger as well since Dusty recognizes him as part of his family. Disgusted by the emotional display, Roger turns to leave, without Adrianna, until Brad and Dusty begin singing a cover of "Do They Know Its's Christmas?", Roger's all time favorite song. Roger turns to join them, and all the families are reconciled.
A few days later, at the airport, Don and Kurt are preparing to leave to head back home. Adrianna, having grown close to Don, signs him up for a dating app. Kurt suggests to Don that they fly to Las Vegas to spend the New Year. At the same time, Brad's mothers' flight arrives, and Dusty and Brad are shocked to discover that Brad's mom is married to Chesley "Sully" Sullenberger, the pilot of the Miracle on Hudson flight. Brad rejects Sully as his new stepdad and runs away in the airport.
Additional Film Information
Rate the Film!
Paramount Pictures released Daddy's Home 2 on November 10, 2017. Sean Anders directed the film starring Will Ferrell, Mark Wahlberg, and Mel Gibson.