Summaries
Dead Poets Society (1989)
Movie review coming on 6/19/2023
Film and Plot Synopsis
In 1959 Vermont, a new English teacher, John Keating, joins the staff of the prestigious all boys preparatory school Welton Academy. Keating has an unusual approach to teaching and encourages individual thought over conformity. The boys take their teacher's lessons to heart and begin to "seize the day" while also forming a secret poetry appreciation group, the Dead Poets Society. However, Keating's lessons begin to draw the attention and ire of the school's headmaster who believes that the boys are not ready for the dangerous idea of independent though.
Buy the Film
Dead Poets Society
21 new from $4.80
34 used from $3.00
Free shipping
as of February 6, 2023 3:04 pm
*As an Amazon Associate we earn from qualifying purchases.
'Dead Poets Society' Movie Summary
The summary below contains spoilers.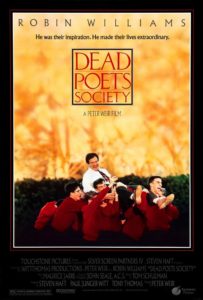 In 1959 Vermont, the Welton Academy is a prestigious all male college preparatory school. New student Todd Anderson (Ethan Hawke) enters the school as a junior and is assigned to be roommates with continuing senior Neil Perry (Robert Sean Leonard). Todd is introduced to Neil's friends and study partners Knox Overstreet (Josh Charles), Charlie Dalton (Gale Hansen), Richard Cameron (Dylan Kussman), Steven Meeks (Alleglon Ruggiero), and Gerard Pitts (James Waterston). Todd is friendly with the other boys but remains a little stand offish and nervous.
The new year begins with a newly hired English teacher, John Keating (Robin Williams), who is a former student himself of the notorious "Hell-ton". Keating's approach to teaching is extremely unorthodox as he directs his students to rip pages out of their textbooks and challenges each of them to "seize the day" and make their lives extraordinary. In additional classroom sessions, Keating has his students take turns standing on his desk to teach them to look at life differently and invites them to make up their individual styles for walking to not fall into conformity. Keating's unusual approach to education draws the attention and disapproval of the headmaster of the school Gale Nolan (Norman Lloyd). Nolan believes that the boys are not ready to handle individual thought and that Keating's methods will only lead them to disappointment and failure. Obviously, Keating disagrees and continues his approach.
The students take a liking to Keating and Neil's group of friends begin to investigate his past at Welton. They discover that Keating was a member of the Dead Poets Society, an unsanctioned club that looked to expand their minds with poetry. Neil and his group decide to restart the club and sneak off campus at night to read poetry in a nearby cave. At the same time, Keating continues to push his students to find their own voices and to avoid, or at least recognize, conformity.
Keating's teachings encourage Knox to pursue a beautiful cheerleader from a nearby school, Chris Noel (Alexandra Powers), who happens to be dating the school's starting quarterback, Chet Danbury (Colin Irving). Keating's lessons also inspire Neil to follow his love for acting and to try out for the role of Puck in a local production of A Midsummer Night's Dream. Neil knows that his father (Kurtwood Smith) would never approve, so he forges his father's signature on the permission form. Keating takes a special interest in Todd and forces the young boy to realize his potential and escape his introverted shell.
However, Charlie goes overboard with Keating's lessons and writes an article in the school newspaper that advocates for women to be admitted to Welton. When the students are confronted about the anonymous article, Charlie accepts responsibility by making a joke of the issue in front of the entire school. Charlie is confronted about the Dead Poets Society and is paddled by Nolan but refuses to give up the names of his friends. Charlie is allowed to remain in the school, and Keating warns him and the other boys about being reckless and understanding that they must appreciate all their potential consequences when making their choices.
Weeks later, Knox attends a party at the Danbury house. After drinking alcohol, Knox kisses an unconscious Chris. Chet sees the incident and punches Knox in the face. A few days later, Knox confronts Chris at school and confesses his love. However, Chris rejects Knox and chooses to stay with Chet. Not long after, Neil's father learns of Neil's participation in the play. Mr. Perry demands that his son withdraw from the play immediately, even though the performance is the next night. Neil goes to Keating for assistance, but Keating refuses to advocate for Neil, but encourages his student to prove to his father that his love of acting is something he must take seriously. Neil does not confront his father, although he tells Keating that his father gave him permission to remain in the play.
The next night, Keating takes the students to Neil's play. Neil gives a stellar performance, but Mr. Perry attends the performance. Mr. Perry angrily takes Neil home after the play and confronts Keating as he believes that the English teacher is the one responsible for Neil's disobedience. Mr. Perry informs Neil that he is withdrawing his son from Wellton and enrolling him into a military school. Feeling imprisoned and misunderstood, a devastated Neil kills himself that night with his father's gun.
In the aftermath of Neil's death, Mr. Perry and Nolan look for someone to lay blame on. Their focus turns to Keating, and the school begins interrogating all the students. The school threatens expulsion for those involved. Cameron blames Neil's death on Keating to escape any punishment and encourages the others to follow suit. Charlie punches Cameron and accepts the expulsion. Each of the boys are called to Nolan's office with their respective parents and sign a letter confirming the veracity of Cameron's statements, despite their own knowledge of their untruthfulness. One of the last to be interviewed, Todd is forced to sign by his parents.
Keating is fired by the school, and Nolan takes over teaching the class. Keating interrupts the class to gather his leftover personal belongings. As he leaves, Todd reveals to Keating that they were all forced to sign the paper. Keating tells his former student that he believes him before being commanded to leave the classroom by Nolan. In an act of defiance, Todd stands up on his desk with the words "O Captain! My Captain!" Nolan threatens to expel Todd, but he is soon joined by half the class, including Pitts, Knox, and Meeks, who show their support for the teacher who changed their lives. A pleased Keaton thanks the boys and leaves.
Rate the Film!
Buena Vista Pictures Distribution released Dead Poets Society on June 2, 1989. Peter Weir directed the film starring Robin Williams, Robert Sean Leonard, and Ethan Hawke.