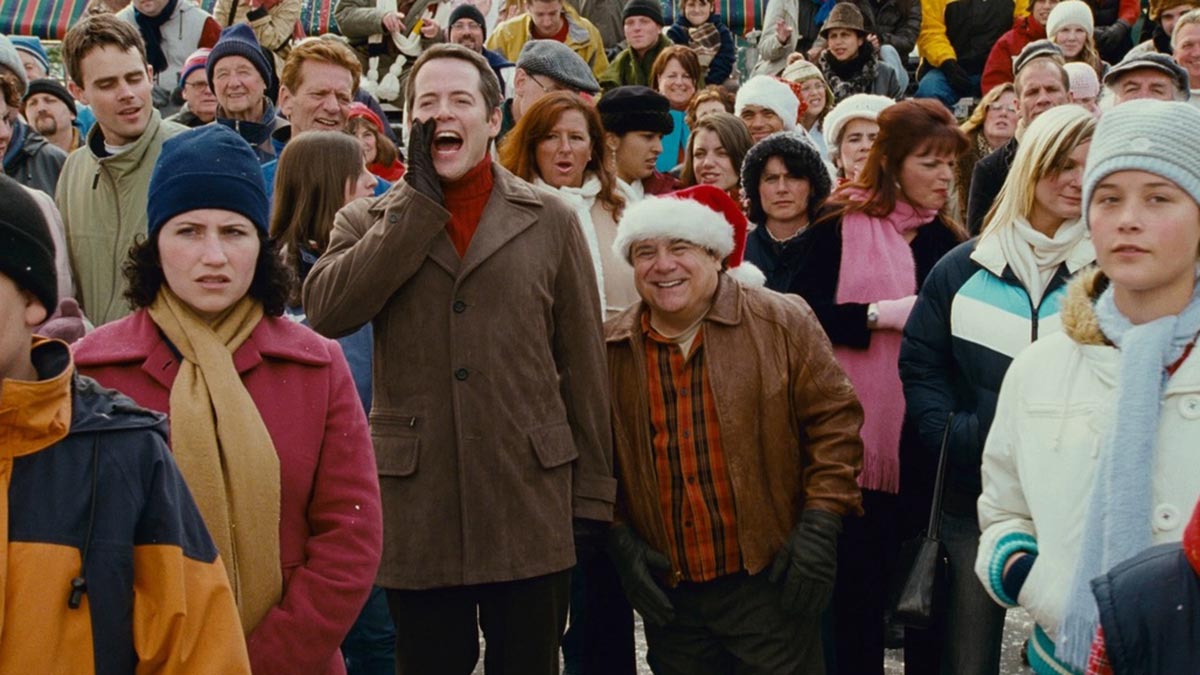 Film and Plot Synopsis
Steve Finch is the "King of Christmas" in Cloverdale, Massachusetts. He meticulously plans out each year's holiday festivities, much to the chagrin of his family who have grown tired of the constant holiday events. When a new family moves into the neighborhood and begins to set up an intricate lighting display around their house, Steve begins to feel his title as "King" slipping and begins to take steps to retain his crown. Soon, the neighborhood is turned upside-down as the families try to discover the true meaning of Christmas.
Buy the Film
Deck the Halls [Blu-ray]
10 used from $4.98

as of November 26, 2022 9:31 am
*As an Amazon Associate we earn from qualifying purchases.
'Deck the Halls' Movie Summary
The summary below contains spoilers.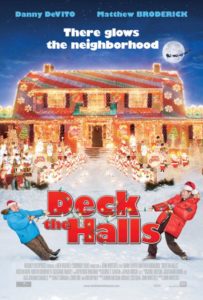 Steve Finch (
Matthew Broderick
) is an optometrist and self-proclaimed Christmas expert who lives in Cloverdale, Massachusetts. The neighborhood refers to Steve as the "King of Christmas." Every year, Steve wants his children to have a great Christmas. He wishes for them to have the traditions that Steve grew up with such as using an Advent calendar, taking Christmas card pictures with the entire family in matching sweaters, and buying a huge Christmas tree. However, the rest of his family does not share his Christmas zeal and grow tired of the constant Christmas schedule that Steve wants them to keep.
On December 1st, new neighbors move in across the street in the middle of the night. The new neighbors are Buddy Hall (Danny DeVito) and his wife Tia (Kristin Chenoweth). Buddy is a car salesman and an electrical engineer. Steve initially plans on being welcoming to the newcomers until he sees Buddy steal Steve's newspaper. Later that day, Steve's wife Kelly (Kristin Davis) and her two children Madison (Alia Shawkat) and Carter (Dylan Blue) go over to the Hall house to introduce themselves to the neighbors. They meet the Halls' teenage twin daughters Ashley (Sabrina Aldridge) and Emily (Kelly Aldridge). Tia and Kelly immediately become friends with each other, and Ashley, Emily, and Madison become fast friends as well.
Soon after, Buddy goes to work as a used car salesman. On the job, he is teased and bullied by some of his younger colleagues. One of the other salesmen (Lochlyn Munro) challenges Buddy to try and sell a car that he believes that Buddy will not be able to sell. Buddy sells the car and as a result, Buddy is given a promotion, much to the surprise of his three co-workers.
That night, Buddy complains to his wife that he can sell anything, but he gets bored easily. When Buddy learns that the neighborhood can be seen from satellites in space, but his house is not visible, Buddy decides to focus his energy into making his house visible. He begins placing Christmas lights all over the house. Buddy's Christmas display begins to grow larger each day and includes live animals. The Christmas display begins to draw attention to Buddy and away from Steve, threatening his "King of Christmas" title and his role as chairman for Cloverdale's Winterfest.
The two men begin to become competitive with each other. As a result of the competition, Steve's Christmas card photo is ruined, his car doors are ripped off, and his private Christmas-tree lot is destroyed. Buddy continues to build his Christmas display and even synchronizes it to music. Steve's jealousy gets the better of him and he attempts to sabotage Buddy's display by filling the newcomer's fuse box with snow. However, Buddy has planned ahead and has a backup generator to provide power to the display. Buddy learns of Steve's sabotage and gets back at Steve by stealing the town's Christmas tree and putting it in Steve's house. He also "buys" Steve a car.
As their competition continues, the two men make a bet with each other. If Steve beats Buddy in the Winterfest speed skating race, then Buddy will take down all the lights. If Buddy wins the race, then Steve will pay for the car. Surprisingly, Buddy wins the race, and poor loser Steve yells at Buddy that he is still a nobody since his house is still not visible from space. Buddy responds by buying a huge supply of programmable LED lights. Buddy can't afford the lights, so he pawns Tia's expensive heirloom vase. Once his wife learns what Buddy has done, she takes their daughters and leaves the house.
Meanwhile, Steve too becomes desperate to improve his display. He buys a variety of fireworks, including a large, illegal, military-grade rocket from a gangster that he plans to use to destroy Buddy's house. Unfortunately, the rocket misfires and sets Steve's living room on fire. As a result, Kelly and the kids leave the Finch house. Without their families, Steve and Buddy set aside their rivalry and build a winter wonderland with all of Buddy's lights. They convince Tia, Kelly, and all of their kids to come home and sit down to a nice meal.
Soon after, the whole town rallies together to put Buddy's lights back up in time for a story about the town of Cloverdale on MTV. However, the lights do not work and all the townspeople begin to sing Christmas carols and use their cell phones as flashlights. As everyone is singing, Carter notices that one of the plugs is not plugged in correctly. He plugs the cord into the outlet which causes all the lights to shine brightly. The MTV reporter confirms that the lights can be seen from space and the crowd, including Steve and Buddy, celebrate.
Additional Film Information
Rate the Film!
20th Century Fox released Deck the Halls (2006) on November 22, 2006. John Whitesell directed the film starring Matthew Broderick, Danny DeVito, and Kristin Chenoweth.