Universal Pictures' Film and Plot Synopsis
The Grinch tells the story of a cynical grump who goes on a mission to steal Christmas, only to have his heart changed by a young girl's generous holiday spirit. Funny, heartwarming, and visually stunning, it's a universal story about the spirit of Christmas and the indomitable power of optimism.
Academy Award nominee Benedict Cumberbatch lends his voice to the infamous Grinch, who lives a solitary life inside a cave on Mt. Crumpet with only his loyal dog, Max, for company. With a cave rigged with inventions and contraptions for his day-to-day needs, the Grinch only sees his neighbors in Whoville when he runs out of food. Each year at Christmas they disrupt his tranquil solitude with their increasingly bigger, brighter, and louder celebrations.
When the Whos declare they are going to make Christmas three times bigger this year, the Grinch realizes there is only one way for him to gain some peace and quiet: he must steal Christmas. To do so, he decides to pose as Santa Claus on Christmas Eve, even going so far as to trap a lackadaisical misfit reindeer to pull his sleigh. Meanwhile, down in Whoville, Cindy-Lou Who, a young girl overflowing with holiday cheer, plots with her gang of friends to trap Santa Claus as he makes his Christmas Eve rounds so that she can thank him for help for her overworked single mother.
As Christmas approaches, however, her good-natured scheme threatens to collide with the Grinch's more nefarious one. Will Cindy-Lou achieve her goal of finally meeting Santa Claus? Will the Grinch succeed in silencing the Whos' holiday cheer once and for all?
Buy the Film
Illumination Presents: Dr. Seuss' The Grinch [Blu-ray]
15 new from $9.99
16 used from $5.00
Free shipping
as of November 27, 2023 9:19 pm
*As an Amazon Associate we earn from qualifying purchases.
'Dr. Seuss' the Grinch' Movie Summary
The summary below contains spoilers.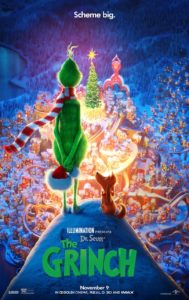 Whoville is wondrous little town where the residents, the human-like Whos, celebrate and keep the joy of Christmas close to their hearts all year round. But at Christmas time, the Whos pronounce their joy for the season loud and proud. However, not far from Whoville lives a creature who despises everything about Christmas. The creature, known as the Grinch (
Benedict Cumberbatch
), is a green furred outcast whose only company in his lonely cave is his loyal dog Max. The Grinch wishes he could stop Christmas from coming, but he has not quite found a way how.
Meanwhile back in Whoville, little Cindy Lou Who (Cameron Seely) grows concerned for her mother Donna (Rashida Jones) who struggles to take care of six-year-old Cindy and her two twin baby brothers, Buster and Bean. Cindy decides to send a letter to Santa to ask for help for her mother. However, Cindy encounters the Grinch who comes into town for his shopping. The Grinch sarcastically tells her that she should try to talk to Santa face to face if the matter is so urgent. Cindy takes the Grinch's advice to heart and attempts to go to the North Pole until her mother explains to her that it would take a month to travel there. Cindy instead decides to trap Santa with the help of her friends when he comes to her house on Christmas Eve.
The Grinch hates Christmas so much that he doesn't pass up an opportunity to sabotage it when he can. The Grinch tries to ruin a tree-lighting ceremony in Whoville, but only causes himself to have a flashback of his childhood sitting unwanted in an orphanage. The approaching holiday drives the Grinch into a frenzy. When the Whos plan to increase their holiday celebration by three times over the previous year, the Grinch formulates a plan to steal the entire holiday from Whoville so that he will not be tormented by holiday festivities.
The Grinch and Max acquire a fat reindeer whom the Grinch dubs Fred. They also steal a sleigh from the Grinch's friendly neighbor and lover of all things Christmas, Mr. Bricklebaum (Kenan Thompson). The trio soon begin making test runs to prepare for Christmas Eve. However, when the Grinch learns that Fred has a family, he lets his reindeer go home with them.
On the night of Christmas Eve, the Grinch creates a Santa suit and several devices to help him with his plan to steal Christmas from Whoville. Sans reindeer, Max is drafted into pulling the Grinch's sleigh. The pair head down from Mt. Crumpit to Whoville to steal all the decorations, food, and presents from the sleeping residents. The Grinch is successful in his endeavors until he runs into Cindy's trap. Hearing her trap spring, Cindy runs downstairs to ask for "Santa's" help in lightening her mother's workload. Cindy's kindness and description of the Whos' singing to alleviate sadness begins to touch the Grinch's heart, but nevertheless, he proceeds with his mission to steal Christmas after he puts Cindy back to bed.
After he steals every Christmas present and decoration in Whoville, the Grinch and Max go back up to the top of the mountain to destroy them by throwing them off a cliff. The Grinch listens as the Whos begin to wake up and discover all of their Christmas items have been stolen. Cindy blames herself due to her Santa trap, but her mother tells her that Christmas is not centered on presents. Donna tells her young daughter that she is best thing that ever happened to her. The Whos join together to sing which puzzles the Grinch on the mountaintop. Suddenly, the Grinch immerses himself into the Who singing, causing his small heart to triple in size.
Unfortunately, the sleigh begins to fall off Mt. Crumpit and the reformed Grinch and Max desperately try to save it. They are aided by Fred and his family who help pull the sleigh back from the edge. The Grinch and Max then ride the sleigh back down the mountain to Whoville to return all of the stolen items. Sheepishly, the Grinch admits to his crimes and apologizes to all of the villagers before he sulks back to his cave, ashamed of what he has done.
Later, Cindy trudges up the mountain to the Grinch's lair. Feeling sorry for the Grinch, she invites him to celebrate Christmas at her house. The Grinch reluctantly agrees. While seated for dinner with Cindy and her family, the Grinch admits that it was not Christmas that he hated, but the fact that he was alone and neglected. With that, the Grinch finally accepts the Whos' friendship and enjoys Christmas with them.
Additional Film Information
Rate the Film!
Universal Pictures released Dr. Seuss' the Grinch on November 9, 2018. Yarrow Cheney and Scott Mosier directed the film starring Benedict Cumberbatch, Cameron Seely, and Rashida Jones.