Film and Plot Synopsis
Frank and Nancy Teagarten are facing a series of financial crises: Frank's once successful company is about to go bankrupt, their house is in foreclosure, and they have just sent their daughter Betty to an Ivy League college they can't possibly afford. Desperate, they try to sell everything they own and rent to anyone with money – including, unbeknownst to them, a convicted sex offender – all while drowning their sorrows in red wine.
Buy the Film
Drunk Parents [Blu-ray]
10 new from $8.79
2 used from $16.77
Free shipping
as of September 12, 2023 4:06 am
*As an Amazon Associate we earn from qualifying purchases.
'Drunk Parents' Movie Summary
The summary below contains spoilers.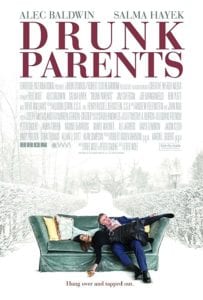 Frank and Nancy Teagarten (
Alec Baldwin
and
Salma Hayek
) are a couple of empty nesters who have just dropped their daughter Rachel (
Michelle Veintimilla
) off at college. When they return home, Frank and Nancy begin working on the financial crisis that they have kept hidden from their daughter. Frank convinces a repossession agent (
Kid Cudi
) not to repo their leased car. Frank and Nancy decide to sell some of their things in an impromptu yard sale. Their neighbor Nigel (
Aasif Mandvi
) calls Frank and tells him that he will be out of the country for an extended time and asks if they can watch his house. Frank goes over to Nigel's vacant house and steals a bottle of wine. The couple decides to get drunk on the wine will sitting on their living room furniture in the front yard.
The next morning, Frank is out in the front yard when he is approached by Carl Mancini (Jim Gaffigan). Carl tells Frank that he is responding to the Craigslist ad to rent Nigel's house. Frank realizes that either he or his wife posted a Craigslist ad while they were drunk the night before. However, Frank is desperate so he agrees to rent out Nigel's house for a large amount of money that will cover Rachel's college tuition for her first year. However, things get worse the next day when Carl comes over to his house the next day with his parole officer (Peter Gaulke). Carl is a registered sex offender and is required to inform everyone in the neighborhood of his status.
Frank realizes that they have a problem since everyone in the neighborhood will know that the Teagartens rented Nigel's house to a sex offender. Their solution is to switch houses with Carl and have him live in the Teagarten house while they live in Nigel's house. After the switch, some neighborhood vigilantes kidnap Frank and Nancy thinking that they are sex offenders. They take them to the middle of nowhere, videotape them and threaten to kill them if they ever return to Nigel's house.
Frank and Nancy go to Nancy's sister's house to stay the night since they can't stay at Nigel's. Betty Donnelly (Natalie Cigliuti) is married to avid hunter Bob Donnelly (Joseph Manganiello) and has two boys, Trey and Tristan (Jeremy Shinder and Eddie Schweighardt). The Teagartens have to sleep in the boys' room, but Tristan makes it look like they made him perform sexual acts during the night, so they are kicked out of the Donnelly house.
Frank and Nancy decide to rent Nigel's house again since they can't live in it for fear of being killed by the vigilantes. They post another Craigslist ad and a man named Wayne (Brian Donahue) shows up to rent it. Wayne has a moving truck and doesn't even look at the house, but does provide the Teagartens with a large check. Now with money to pay for a place for them to live, they go to have lunch with one of Frank's friends. He takes pity on them, and promises to set Frank up with a lunch interview with someone for a job. Next, Frank and Nancy find out that Wayne has robbed Nigel's house of all the furniture.
Frank goes to his lunch interview. However, Frank is disappointed to learn that the employer is hiring thieves to steal catalytic converters off cars. Frank reluctantly accepts the job. During the lunch, Frank sees Wayne's truck driving down the street. Franks chases the moving truck down. During the chase, Frank observes a video of his and Nancy's abduction that has been posted on the internet which identifies Frank as a sex offender. Nevertheless, Frank catches Wayne's truck and steals the vehicle along with Nigel's things back from the thief.
Meanwhile, Nancy returns home to take a shower. She discovers that Carl has been going through their personal things and has become fascinated with the Teagartens. While she is showering, the Teagarten's vehicle is repossessed and the police show up at Nigel's house to investigate a burglary. Frank arrives and convinces the police that everything is okay at Nigel's.
That night, Frank and Nancy are arrested by the police at a gas station when they get into a fight with a drug dealer named Shope (Sasha Mitchell). Frank, Nancy, and Shope are placed in adjoining cells. Shope tells the Teagartens that they don't know what a hard life is, and Nancy realizes that she has lost perspective as to what is important. Shope laments that his arrest will likely result in a long prison sentence and leave his daughter without a parent. Frank is questioned by police who believe he is a wealthy drug dealer, but let Frank and Nancy go after they hear all the calls from creditors on Frank's phone. Later, Frank and Nancy spend the night in the back of the moving truck in a dark alley. They are harassed by a couple of bums named Colin and Will (Colin Quinn and Will Ferrell) who continually set themselves on fire. After a couple of drinks with Colin and Will, the Teagartens start to remember what is important.
The next day, the Teagartens solicit the help of Rachel's handicapped boyfriend, Jason Johnson (Ben Platt), to try to convince Rachel from returning home. However, Rachel becomes more convinced that she needs to return home. During their time with Jason, they express an idea of selling things out of the back of the moving truck in an online format like eBay. Jason thinks they have a great idea that might be worthy of investment.
Frank and Nancy decide to see if they can get some people to invest in their idea. They go down to their country club and meet up with some of Frank's wealthy friends, including Dan Henderson (Treat Williams). Nancy acts intoxicated to try to con some of the guys into investing. Dan shows interest in their business model and agrees to invest. Meanwhile, Rachel returns home with her drunk dorm mate. She discovers Carl in the house, and he tells her what is going on. The dorm mate becomes attracted to Carl and they begin a relationship.
Frank and Nancy return back to their home with the moving truck with Nigel's furniture. The vigilantes return and threaten to kill the Teagartens. Bob and Betty arrive at the same time, just as Rachel, Carl, and Rachel's dorm mate come out of the house. Outnumbered, the vigilantes run away afraid. Nigel calls Frank and tells him he is returning home because he has been told his house has been robbed. Frank tells Nigel that the police caught the thieves and placed all the furniture back into the house. Nigel demands a photo as proof, and Frank, his family, and friends place all of Nigel's things back into his house.
Several months later, Frank and Nancy host a Thanksgiving dinner with Rachel, Jason, Carl, Betty, Bob, Trey, Tristan, and Rachel's dorm mate in attendance. Nancy has adopted Shope's little girl, Rose Shope (JoJo Kushner) since her father was sentenced to a long prison sentence. The new business is a success, and they all toast their good fortune before eating their wonderful dinner.
Additional Film Information
Rate the Film!
Vertical Entertainment released Drunk Parents on April 19, 2019. Fred Wolf directed the film starring Alec Baldwin, Salma Hayek, and Jim Gaffigan.