Film and Plot Synopsis
John Hughes brings this Thanksgiving comedy to the big screen. Dutch Dooley is the working-class owner of a construction company who is the current boyfriend of a wealthy, snobbish tycoon's ex-wife, Natalie Standish. When the ex-husband bails on Thanksgiving plans with Natalie's son, Doyle, Dutch volunteers to drive from Chicago to Georgia to pick up the snobbish Doyle at his private school and bring him to his mother's home for the holiday. However, the angry Doyle is unwilling to go with the buffoonish Dutch and resists the older man's attempts to bond on every step of the journey.
Buy the Film
*As an Amazon Associate we earn from qualifying purchases.
'Dutch' Movie Summary
The summary below contains spoilers.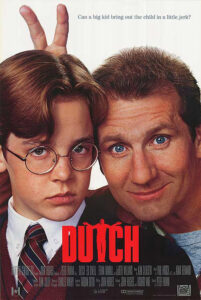 Natalie Standish (JoBeth Williams) is the ex-wife to the wealthy but arrogant Reed Standish (Christopher McDonald). After their divorce, the couple agreed to split custody with their son Doyle Standish (Ethan Embry), whom the couple has attending a private boarding school in Georgia. Doyle is very angry with his mother and blames her for the end of his parents' marriage. He generally refuses to talk to her and regrets any time he must spend with her. Doyle is also angry that his mother has begun a relationship with Dutch Dooley (Ed O'Neill), an owner of a construction company that Doyle believes stature in society is beneath both himself and his mother.
As the film begins, Natalie and Dutch are attending a ritzy party that is also being attended by Reed. Reed informs his ex-wife that he will be traveling to Europe for the Thanksgiving weekend, a time he was supposed to spend with Doyle. Reed leaves it to Natalie to inform their son of the change in plans. Natalie regrets having to cover for her ex-husband because she knows that Doyle will blame her for his father's actions. Natalie calls Doyle at school to inform him of Reed's trip and offers for Doyle to come visit with her instead. Doyle refuses the offer and chooses to stay on campus alone.
Dutch offers to drive down to Georgia and pick up Doyle. Natalie is reluctant to ask Dutch to make that trip, but Dutch sees it as an opportunity for him to get to know Doyle while also strengthening his relationship with Natalie. Not long after, Dutch makes the long road trip from Chicago to Georgia. Upon arriving at Doyle's school, Dutch finds the younger Standish to be like his father – snobbish, selfish, and elitist. Uncertain who Dutch is, Doyle acts out violently against the older man by hitting him with a golf club, karate kicking him, and shooting Dutch in the groin with a BB gun. Dutch eventually gets the better of Doyle and hogties the child to a hockey stick. Dutch promises Doyle that he will get revenge on the child for the BB gun.
The pair begin the long trip back to Chicago. Dutch tries to make conversation and to bond with Doyle, but the young boy rebuffs every attempt. Dutch buys hundreds of dollars in fireworks to entertain Doyle, but the older man ultimately destroys his own winter coat when the fireworks burn out of control. At the end of the first night, Doyle throws a lit cigar in Dutch's lap while he is driving. Dutch responds by throwing Doyle out of the car and making him walk to the next motel where the pair were going to stop for the night. Doyle responds by stealing Dutch's car and parking it in the middle of the highway where it is hit by a semi-truck. Dutch initially panics, believing that Doyle may have been killed in the crash. However, when he sees Doyle alive, he covers for Doyle with the authorities and impersonates Doyle's father so that the young boy can avoid legal trouble. Once the police are gone, Dutch lectures Doyle as the danger that he placed the semi-truck driver (Mickey Jones) in.
However, the accident causes Dutch and Doyle to become stranded with no means of transportation. While they are sitting along the side of the road in the cold, the two are picked up by two young girls, Hailey (E.G. Daily) and Brock (Ari Meyers), who offer to give them a ride in the direction of Chicago. Dutch and Doyle find out that the two girls are prostitutes while on the road. Doyle takes an interest in Brock while Dutch falls asleep in the front seat as Hailey is driving. Hailey steals Dutch's wallet, and the two girls abandon the boys at the next gas station.
You might be the toughest little whacker at the junior high but in my world, you're about as worrisome as a cloudy day. Dutch Dooley (Ed O'Neill)
Now without money, Doyle and Dutch become desperate. Dutch tells Doyle to call his mom for help and insists that he will end his relationship with her as he wanted to make it stronger by bonding with Doyle. Instead, Doyle calls his father and discovers that his father didn't travel to Europe, but instead spent the holiday with his girlfriend. Realizing that his father has lied to him and bothered by Dutch's allegation that he hates his mother, Doyle decides that he wants to continue the trip with Dutch to Chicago without any assistance. The two sneak a ride on the back of a semi-truck which takes them to trailer drop yard. Once there, Doyle and Dutch are assaulted by two security guards (Pat Asanti and Barry Doe) who mistakenly believe that the pair are vagrants. Doyle grabs his BB gun from Dutch's coat and feigns insanity which frightens the guards long enough for Doyle and Dutch to get away.
Not long after, Doyle and Dutch attempt to use a restroom at a local restaurant, but the waitress (Patrika Darbo) orders them to leave, once again believing that they are vagrants. A kind married couple (J.C. MacKenzie and Ann Hearn) take Doyle and Dutch to a homeless shelter in Hammond, Indiana where they get a hot meal and a warm place to sleep for the night. Doyle befriends a small girl (Jesshaye Callier) who is staying in the shelter with her parents (Gene Whittington and L. Scott Caldwell). Doyle grows fond of the girl and her family and realizes that he has been angry with his mother for the wrong reasons and comes to the realization that he wants to spend Thanksgiving with her.
On Thanksgiving morning, the homeless family drives Dutch and Doyle the rest of the way to Chicago and delivers them to Natalie's home. Dutch offers the homeless father a job with his construction company. When Doyle enters his mother's house, he is surprised to find his father waiting for him. Doyle embraces his mother and informs his father that he knows that he lied to him about his trip to London. Doyle tells his father that he is going to spend Thanksgiving with his mother and Dutch. Reed responds by evicting Natalie from the house, which he still owns, before turning to leave.
Dutch follows Reed outside and hits the wealthy snob in the head with his pinky ring, leaving a mark on Reed's forehead. Dutch demands that Reed show more respect to Natalie, as she is the mother of his child, and orders Reed to be a better father to Doyle. The dazed Reed agrees while also giving Natalie several months to move out of the house. Dutch returns to the house and sits down to have Thanksgiving dinner with Doyle and Natalie. Before they eat, Dutch asks Doyle to get his coat so that he can give Natalie a gift from his pocket. As Doyle walks away, Dutch pulls out the BB gun that Doyle originally shot him with and aims it at Doyle. Doyle laughs, believing that Dutch is bluffing. Unfortunately for Doyle, Dutch was not.
Rate the Film!
20th Century Fox released Dutch on July 19, 1991. Peter Faiman directed the film starring Ed O'Neill, Ethan Embry, and JoBeth Williams.