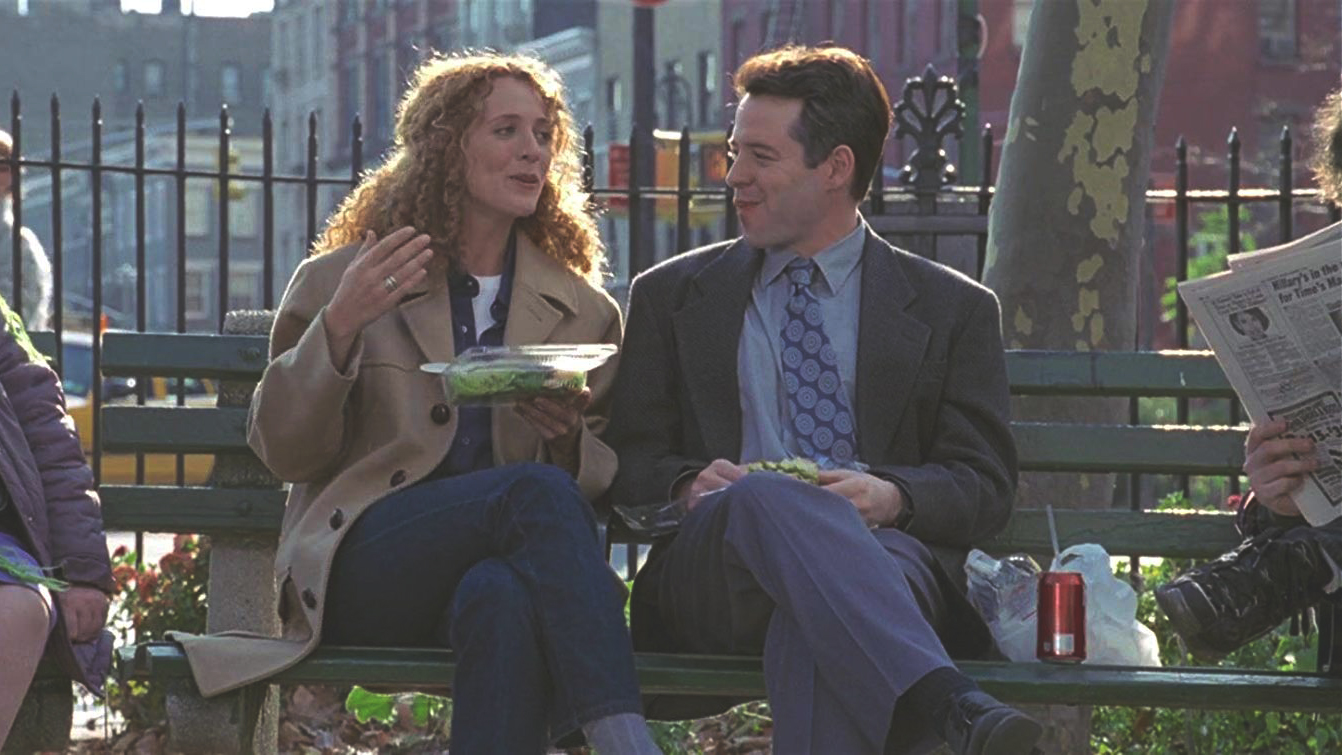 Film and Plot Synopsis
In Election, Jim McAllister is a Social Studies teacher at George Washington Carver High School. One of the students there named Tracy Flick is one of those ambitious loners who tends to rub him the wrong way. After she decides to run for class president, Jim convinces a football player named Paul to run against her. His lesbian sister, Tammy, joins the election after her girlfriend dumps her for Paul. During the campaign, Tracy plays dirty, but Tammy's anarchist attitude catches the student body's attention. Meanwhile, Paul has few skills to offer his campaign, and Jim isn't able to help him as he finds his marriage in shambles.
Buy the Film
*As an Amazon Associate we earn from qualifying purchases.
'Election' Movie Summary
The summary below contains spoilers.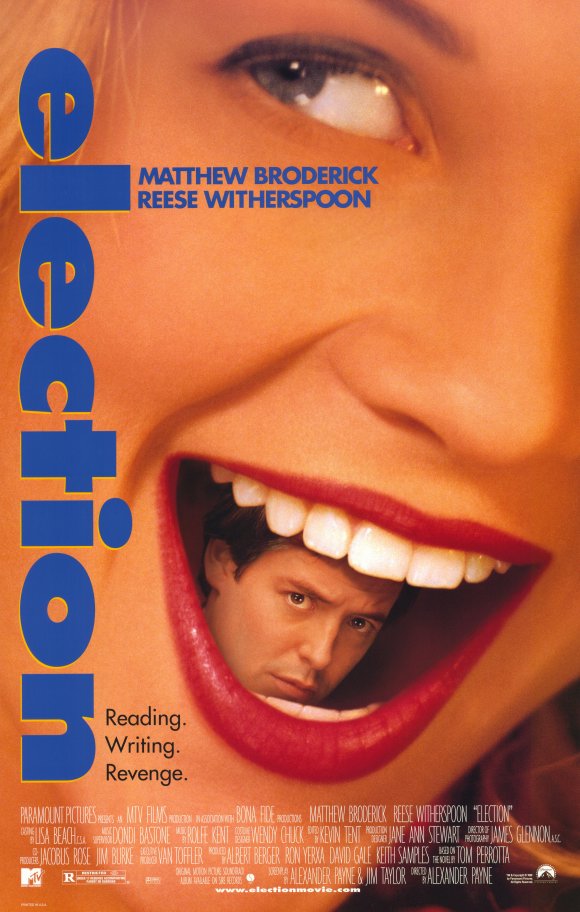 Election
is a story set in the highly competitive world of high school student council politics. Inspired by the 1992 United States presidential election, the film tells the story of Tracy Flick (
Reese Witherspoon
), an aspiring student who wants to become student council president, and Jim McAllister (
Matthew Broderick
), the high school teacher who wants to see her fail.
Jim is a well-liked teacher living in Omaha, Nebraska who loves his job. He involves himself in both the community and the culture of his school, George Washington Carver High School. He also cares for his students as much as they seem to care for him. However, his immersion into the ongoing activities in his school appears to mask a dissatisfaction in his personal life, including his marriage.
Tracy is your typical over-achieving student with a bubbly attitude and obsession for involving herself in every extracurricular activity in high school. She does this to hide her sense of loneliness and isolation from her peers. Jim's colleague, Dave Novotny (Mark Harelik), is a math teacher at the school who senses Tracy's loneliness. When he begins an affair with her, it destroys his career and marriage to his wife, Linda (Delaney Driscoll). After the school fires Dave, Tracy appears to escape any consequences for her involvement in the affair, which upsets Jim.
The campaign begins dirty
When Tracy announces that she is running unopposed for student body president, Jim feels threatened by the move since he would have to work closely with Tracy as he is the faculty advisor to the student government. Disturbed by Tracy's uncontrolled ambition and her perceived sexual manipulation, Jim sets out to prevent Tracy from winning the election.
Jim approaches the high school quarterback, Paul Metzler (Chris Klein) to encourage him to run for president. While Paul is currently out the year with a leg injury from a skiing accident, he's reluctant to run. However, with Jim's insistence the position would give Paul new purpose, he ultimately enters the race.
The introduction of a competitor brings out Tracy's vindictiveness. Paul is effortlessly popular in sharp contrast to Tracy's isolation. She resents his likability which further fuels her frustration.
Meanwhile at the Metzler house, Paul's younger adopted sister Tammy (Jessica Campbell) is having frustrations of her own. Tammy is gay, and in love with Lisa (Frankie Ingrassia), a girl who has engaged in a romantic relationship with Tammy but doesn't want anyone to know about it.
Professing herself straight, Lisa ends her relationship with Tammy, and begins a new sexual relationship with Paul. Displeased with this betrayal, Tammy decides the best way to get back at the two is to run against her brother for student body president.
Only one speech rouses the student body
During a school assembly to hear the candidates' campaign speeches, Tracy and Paul make their arguments for their candidacy to a smattering of applause. However, Tammy's defiant speech, where she denounces the entire election process and condemns the student government, finds riotous applause; especially after she announces her intentions to dissolve the entire student government if they elect her. The administration is unhappy with her speech, and decides to suspend her for three days.
That weekend, while working alone on a yearbook project at the school, Tracy notices that one of her campaign posters has come untaped from the wall. When she tries to fix it, she unfortunately tears it by accident. This unleashes the bottled-up rage inside Tracy, and she proceeds to rip all of Paul's posters off the wall and tear them up.
Once she has regained her composure and sees the devastation and her bloody hands, she tries to cover up her crime by taking all the shards of the posters and throwing them into the trash. Tammy sees Tracy trying to hide the evidence and retrieves the destroyed posters.
The next day at school, Jim confronts Tracy with his suspicions that she tore down all the posters; secretly wishing that Tracy will finally face some consequences for her behavior. Her defiance catches Jim off guard when she threatens legal action against the school if he chooses to continue to accuse her of the crime.
Tammy interrupts the conversation, and confesses to Tracy's crime; letting Tracy off the hook. While Jim knows that Tammy's lying, he doesn't have any evidence to prove it. The school removes Tammy from the election and expels her. Tammy's parents decide to send her to Immaculate Heart High School, an all-girls preparatory school, much to her delight.
Jim has an affair
The day before the election, Jim visits Linda Novotny's house to help her with some home repairs. While there, she initiates a kiss with him; something that he has desired for some time. Linda asks Jim to orchestrate a secret rendezvous with her next day at a motel. Jim gets the room, and makes plans to have sex with Linda, convinced that he is now in love with her and not his wife.
When Linda fails to show up at the motel, Jim drives over to Linda's house to find it empty. Unfortunately, a bee stings him near his eye while there; causing a severe allergic reaction and swelling. Jim returns home to find Linda confessing the extra-marital couple's actions to Jim's wife. With the truth out, Jim quietly leaves his home to sleep in his car.
The next morning is election day. Jim find his eye now nearly swollen shut. Despite his life being in complete turmoil, he must oversee the counting of the election ballots. Initially the process disinterests him, but surprised to find out that Tracy received on more vote than Paul.
When one of the ballot counters tips Tracy off that she won, she begins to dance and jump through the hallways. Jim sees her, and his own frustrations that Tracy never received her comeuppance overcomes him. While verifying the results, Jim removes two of the ballots voting for Tracy. He places them in the trash, and they declare Paul the winner.
That afternoon, Jim announces Paul as the newly elected student body president in a school assembly; much to Tracy's shock. However, the next day, the janitor finds the discarded ballots, and brings them to the principal's attention. The principal declares Tracy the winner of the election, and accepts Jim's resignation.
Paul isn't the only loser in the election
Once Jim leaves the school, he attempts to apologize to his wife for his actions towards Linda, but she shuts the door in his face. With his reputation destroyed, Jim leaves Omaha and moves to New York City.
Once there, he becomes a tour guide at the American Museum of Natural History begins dating a new woman. Paul and Tracy move on as well, with Tracy attending Georgetown University and Paul attending the University of Nebraska after high school. Tammy finds a new girlfriend at her all-girls school.
Jim and Tracy encounter each other one last time years later. Jim is visiting Washington D.C. and sees Tracy getting into a limousine with a male politician. All the feelings and resentment that Jim had towards Tracy suddenly come flooding back to the former teacher. In his frustration, Jim throws a cup of soda at the limousine, hitting the car. When it stops, Jim runs away.
The film ends with Jim giving a tour at his job at the museum. He asks a group of elementary school students a question. When an overly ambitious little girl, cut from the same cloth as Tracy, is the only one to raise her hand, Jim ignores her; refusing to call on her to answer the question.
Additional Film Information
Rate the Film!
Paramount Pictures released Election on May 7, 1999. Alexander Payne directed the film starring Matthew Broderick, Reese Witherspoon, and Chris Klein.