Film and Plot Synopsis
Jane Austen's beloved comedy about finding your equal and earning your happy ending, is reimagined in this. Handsome, clever, and rich, Emma Woodhouse is a restless queen bee without rivals in her sleepy little town. In this glittering satire of social class and the pain of growing up, Emma must adventure through misguided matches and romantic missteps to find the love that has been there all along. (Courtesy of Focus Features)
Buy the Film
Emma (2020) [Blu-ray]
12 new from $9.69
10 used from $3.50
Free shipping
as of May 29, 2023 9:36 am
*As an Amazon Associate we earn from qualifying purchases.
'Emma.' Movie Summary
The summary below contains spoilers.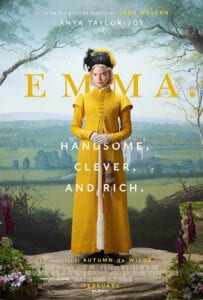 Based on the novel by Jane Austen, Emma. is set in Regency-era England. Emma Woodhouse (
Anya Taylor-Joy
) is a wealthy and beautiful teenage girl who searches for a new companion after her previous governess, Miss Taylor (
Gemma Whelan
), marries and becomes Mrs. Weston. Emma chooses Harriet Smith (
Mia Goth
), a young girl whom Emma supposes is the unclaimed child of a gentleman. Emma bases this on the fact that Harriet's parents are unknown, but her education has been provided for by someone with some money.
A short time later, Robert Martin (Connor Swindells) proposes marriage to Harriet. Robert is the tenant farmer of George Knightly (Johnny Flynn), the brother of Emma's brother-in-law, John Knightly (Oliver Chris). Emma does not approve of the match and manipulates Harriet into declining Robert's proposal, much to Harriet's distress. Emma believes that Harriet would make a better match with Reverend Elton (Josh O'Connor), the local vicar. Emma believes Elton is in love with Harriet and encourages her to pursue that relationship. George warns Emma not to involve herself in the situation and is disappointed in Emma when he perceives her involvement.
I lay it down as a general rule, Harriet, that if a woman doubts whether she should accept a man or not, she certainly ought to refuse him. Emma Woodhouse
Later, during the Christmas holiday, Emma's older sister Isabella (Chloe Pirrie) and her husband John come to visit Emma and her father, Mr. Woodhouse (Bill Nighy). Isabella is a hypochondriac and when she learns that it is beginning to snow, she forces everyone to leave early from a dinner at Mr. Weston's (Rupert Graves) house. In the departure, Emma finds herself alone in a carriage with Reverend Elton, who declares his love for her. Loyal to Harriet, Emma promptly refuses him, and Elton leaves for six weeks in disappointment. When he returns, Elton is married to Augusta Elton (Tanya Reynolds).
Nearly at the same time, two other members of Emma's social circle return after a long absence. Jane Fairfax (Amber Anderson) is the governess niece of Miss Bates (Miranda Hart), a frequent acquaintance of Emma's. Frank Churchill (Callum Turner), Mr. Weston's son from his first marriage also returns. Emma finds herself attracted to Frank but becomes increasingly jealous of Jane.
Frank's arrival in town prompts the Westons to hold a ball in his honor. At the ball, Elton embarrasses Harriet by overtly refusing to dance with her. George rescues Harriet from complete embarrassment by asking her to dance. Emma begins the ball dancing with Frank, but later, she dances with George, awakening romantic feelings between them. Emma leaves the ball suddenly before George can speak with her. However, he immediately runs to her home to talk to her.
Before he can express his feelings, the couple is interrupted by Frank, who has rescued Harriet from being attacked by gypsies. During the chaos, Harriet informs Emma that she has fallen in love again, and Emma believes her affections are directed towards Frank. Emma vows not to interfere, but once again manipulates the circumstances so that Harriet and Frank can spend some time together. George misunderstands Emma's insistence on Frank's presence and believes that she loves Frank.
Nevertheless, Emma tries to spend more time with George, but is surprised when he repeatedly ignores her. During a picnic with most of the social acquaintances, the nefarious Frank urges them to play a game to amuse Emma. Emma unthinkingly insults Miss Bates during the game which leads the party to disband in discomfort. George chastises Emma for her behavior after the incident which causes Emma to become despondent. A short time later, a humbled Emma apologizes to Miss Bates. The socially lower Miss Bates accepts the apology without question.
Not long after, Frank's wealthy aunt dies after a protracted illness. No longer required to be at her beck at call, Frank and the Westons announce that he has been secretly engaged to Jane. The couple was waiting for Frank's aunt, who was opposed to the marriage, to die. The Westons communicate their disappointment to Emma, who they would have preferred for Frank to marry. Emma informs them that she was not in love with Frank and that she is only disappointed for Harriet who she believes loves Frank. Emma breaks the news to her friend but is shocked to learn that Harriet instead loves George. Seeing the disappointment on Emma's face, Harriet realizes that Emma is in love with George as well.
At the same time, George seeks out Emma to console her over the announcement of Frank's engagement. George also reveals his love for Emma and his wish to marry her. Emma is pleased with the proposal, but suddenly develops a nosebleed when she realizes how upset Harriet will be. George offers to approach Robert to see if he will re-urge his proposal to Harriet, but Emma takes on the responsibility herself. Emma goes to Robert and apologizes for potentially interfering in his happiness with Harriet. A short time later, Harriet informs Emma that she has accepted Robert's offer of marriage. Additionally, Harriet reveals that her father has revealed himself now that she is of age. Her father is not a gentleman as Emma suspected, but rather a tradesman who makes galoshes. Emma congratulates her friend and invites Harriet and her father to her home.
A short time later, Emma and George discuss a potential marriage. Emma is distressed at the thought of leaving her father alone in the house. George offers to move in with Emma and her father. Emma agrees to the living arrangement proposal and the two are married a short time later by Reverend Elton in front of all their friends and family.
Additional Film Information
Rate the Film!
Focus Features released Emma. on February 21, 2020. Autumn de Wilde directed the film starring Anya Taylor-Joy, Johnny Flynn, and Mia Goth.