Film and Plot Synopsis
Frank Goode is a retired widower who misses his adult children who are spread out across the country. After Frank's adult children all fail to visit for a planned family get together, Frank sets out on a cross country trip to visit his children. Along the way, Frank discovers that his children are not the people that he believed they were. He also surmises that his kids are keeping things from him concerning his son David. Is Frank ready for the truth about his children or will he choose to believe the myth that everybody's fine?
Buy the Film
Everybody's Fine [Blu-ray]
3 used from $36.00
Free shipping
as of February 6, 2023 2:31 pm
*As an Amazon Associate we earn from qualifying purchases.
'Everybody's Fine' Movie Summary
The summary below contains spoilers.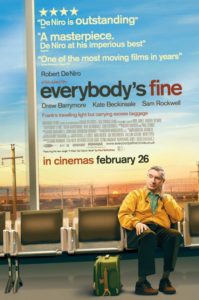 Frank Goode (Robert DeNiro) is a recently widowed retiree who is preparing for a visit from his four adult children. After making elaborate preparations, Frank is disappointed when each of his children call and cancel the visit with him at the last minute. Feeling alone and rejected, Frank decides to head out on a cross-country trip to visit each of his kids at their respective home. Frank's doctor (James Murtaugh) warns Frank against the trip due to his underlying health conditions.
Frank's first stop is to visit his son David (Austin Lysy) who is an artist who lives in New York City. David does not appear to be home, but Frank waits for awhile for his son to come home. While waiting for David, Frank sees one of David's paintings in a nearby art gallery window. After several hours, Frank gives up and leaves David a card with a handwritten note on the outside informing his son that he had been there. Frank then proceeds to his next stop on his itinerary.
Next, Frank visits his daughter Amy (Kate Beckinsale) in Chicago. Amy informs Frank that it is an inconvenient time for a visit. Amy had cancelled her visit to see Frank at his house due to her son Jack (Lucian Maisal) being sick. However, Frank quickly learns that Jack was not sick and that it was a ruse not to visit him. Frank has dinner with Jack, Amy, and Amy's husband Jeff (Damian Young). Frank notices a tension surrounding the family, but especially between Jeff and Jack. The next morning, Frank accompanies Amy to her job at her advertising agency. Afterwards, Amy takes Frank to the station so that he can catch his train to Denver to visit his son Robert (Sam Rockwell). While waiting for the train, Amy introduces Frank to her business partner Tom (James Frain).
Between each visit, the film relays phones calls between the Goode siblings detailing some issue with David in Mexico. After Frank leaves Chicago, Amy tells her siblings that she is traveling to Mexico to find out what is going on with their brother. The sisters and Robert agree not to tell Frank about David until they know what is going on with him.
I tell you the good news and spare you the bad. Isn't that what mom used to do for you when we were kids? Amy Goode (Kate Beckinsale)
Once in Denver, Frank goes to visit Robert at the city's orchestra. Frank expects to see Robert conducting the orchestra and is surprised to learn that Robert is a percussionist. Robert tells Frank that his visit is at a bad time as the entire orchestra is flying to Europe the next day. However, Frank knows that it is a lie. Frank decides to leave Denver within hours of arriving and heads to see his last daughter, Rosie (Drew Barrymore) in Las Vegas. This time, Frank takes a bus. He asks Robert to not tell Rosie that he is coming so that it can be a surprise, but Robert calls his sister and informs her of their father's travel itinerary.
Frank misses his bus and is forced to catch a ride part-way from Colleen, a friendly female truck driver (Melissa Leo). Frank gets a ticket on a train for the second half of the trip to Las Vegas. At the train station, Frank has an encounter with a drug addict (Brendan Sexton III) in an empty hallway. Frank offers the addict money, but the addict becomes angry with Frank after the elder man states that the addict did not express appropriate gratitude for Frank's kind gesture. The addict attempts to take all of Frank's money, but only succeeds in knocking Frank's medicine bottle onto the floor. In frustration, the drug addict stomps on the medicine, crushing the bottle before running away.
Frank scrapes up the crushed pills since he is required to take the pills daily. Frank tries calling his doctor for a refill, but he does not tell his doctor that he is hundreds of miles from home against the advice of his doctor. That night, Frank has a dream that David is in trouble.
When Frank arrives in Las Vegas, Rosie meets him at the station in a limo. Rosie tells her father that she was in a big show that ended the previous week. Rosie takes Frank back to her extravagant apartment where Frank is introduced to Rosie's friend Jilly (Katherine Moennig) and Jilly's baby. Jilly asks Rosie to watch her baby for a few hours. Frank overhears a phone message that indicates the apartment belongs to one of Rosie's friends. Later, during dinner, Frank asks Rosie why his children never talked to him or told him things, while they always talked to their mother. Rosie confesses that the kids were not comfortable opening up to him because he always expected too much of them and he never listened to them. Frank is uncomfortable with the answer which further fuels his fears that his children are lying to him about David.
After Las Vegas, Frank flies back home. However, Frank has depleted his medication and has a heart attack in the plane's bathroom. The plane lands and Frank is taken to a hospital. While in the hospital, Frank has a dream of having a meal with all his adult kids as children. In the dream, he reveals their secrets that they were keeping from him. Amy is separated from Jeff which has caused the problems between Jack and his father. Additionally, Amy's business partner Tom is the new man in her life. Robert lied to Frank about traveling to Europe with the orchestra. Rosie is bisexual, and Jilly's baby is Rosie's baby.
Frank wakes in the hospital with Amy, Robert, and Rosie around his bedside. He confronts them about what is wrong with David and the lies they have told him. Amy reveals that David died from an overdose in Mexico and that he had been battling depression. Frank has difficulty excepting the truth. That night, Frank has a dream about a young David visiting him in the hospital. Frank tells his son that he would have been happy about whatever he chose to do in life and that he was sorry for contributing to David's depression. An adult David assures his father that it was not his fault and then leaves.
Some time later, Frank has recovered and visits his wife's grave. He talks to his deceased wife and tells her about the kids and the regrets he has about pushing them too much. Frank returns to the New York to visit the art gallery where he saw David's work hanging in. He inquires about buying the piece and is informed that it has been sold. He leaves his name in case any additional pieces of David's are found. The gallery girl recognizes the last name and compliments David's talent to Frank. She also informs him that she might have another of David's paintings in storage. She shows him another painting by David which is a landscape showing PVC-covered power lines in homage to Frank's career.
The film ends with the Goode family reuniting at Christmas time. All three adult children help Frank cook and decorate the Christmas tree. Rosie and Jilly are happy together as an openly gay couple who are raising Rosie's child together. Amy and Tom are happy together, and Robert is content with his place in life. In closing, Frank tells his deceased wife that everybody is fine.
Additional Film Information
Rate the Film!
Miramax Films released Everybody's Fine on December 4, 2009. Kirk Jones directed the film starring Robert De Niro, Kate Beckinsale, and Sam Rockwell.