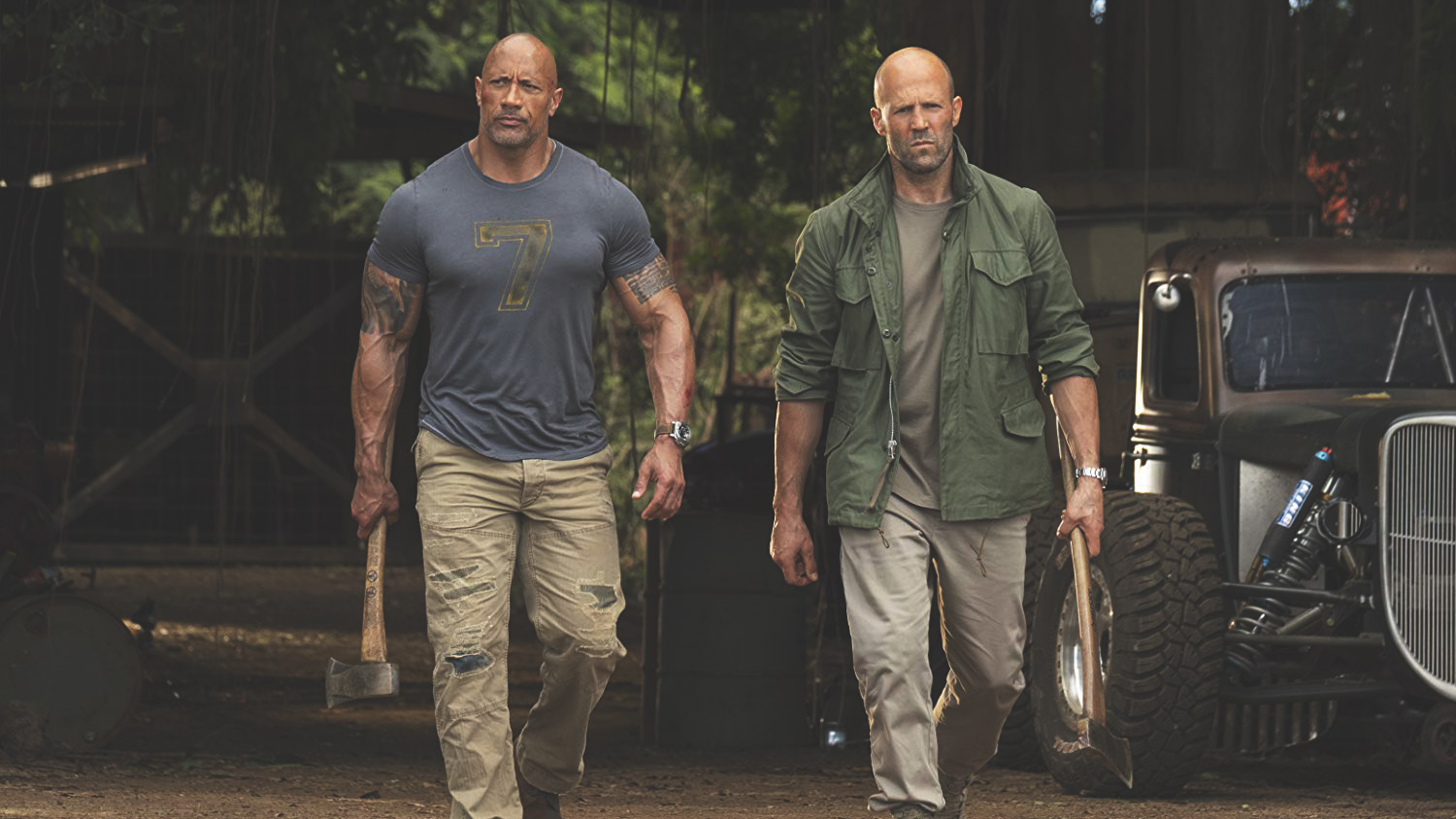 Summaries
Fast & Furious Presents: Hobbs & Shaw (2019)
Film and Plot Synopsis
In Fast & Furious Presents: Hobbs & Shaw, ever since hulking lawman Hobbs; a loyal agent of America's Diplomatic Security Service, and lawless outcast Shaw; a former British military elite operative, first faced off, the two have swapped smack talk and body blows as they've tried to take each other down. However, when cyber-genetically enhanced anarchist named Brixton gains control of an insidious bio-threat that could alter humanity forever, these two sworn enemies have to partner up to bring down the only guy who might be badder than themselves.
Buy the Film
Fast & Furious Presents: Hobbs & Shaw [Blu-ray]
21 new from $8.96
22 used from $3.01
Free shipping
as of December 7, 2022 9:41 pm
*As an Amazon Associate we earn from qualifying purchases.
'Fast & Furious Presents: Hobbs & Shaw' Movie Summary
The summary below contains spoilers.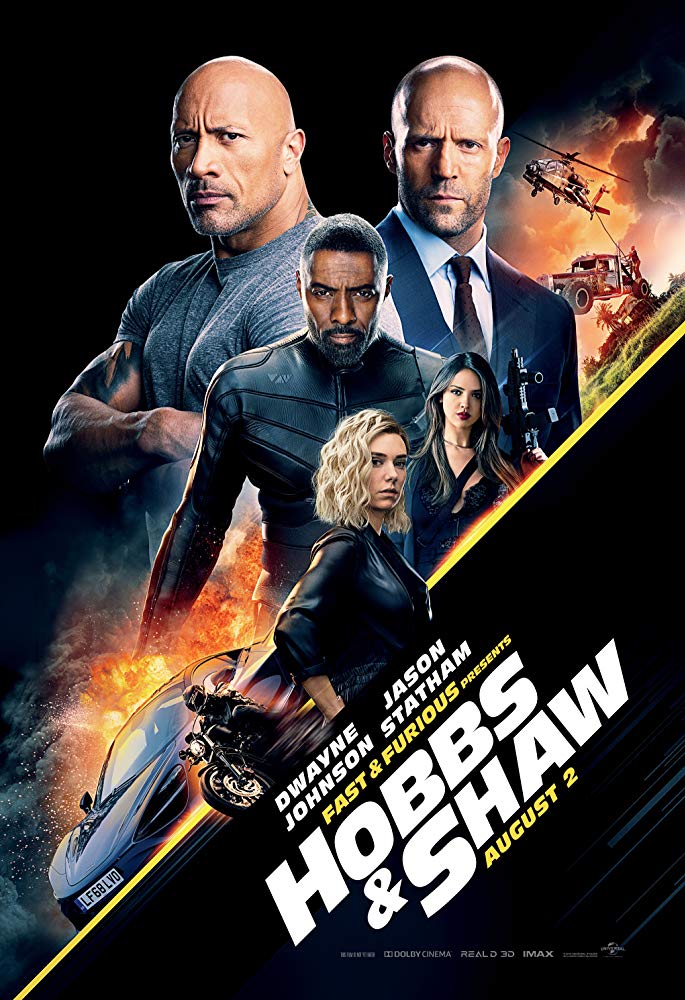 Fast & Furious Presents: Hobbs & Shaw
begins in London. Hattie Shaw (
Vanessa Kirby
) and her team of MI6 agents are dispatched to retrieve a programmable super virus, codenamed Snowflake, from a terrorist organization named Eteon. Before the team is able to safely extract the virus, Brixton Lore (
Idris Elba
), an Eteon soldier with cybernetic implants, arrives and kills all the MI6 agents with the exception of Hattie. Hattie is barely able to get out of the warehouse and has to inject the super virus capsules into herself to prevent it from falling into Brixton's hands. After Hattie escapes, Brixton calls into MI6, posing as one of the dead agents, and reports that Hattie betrayed the team and took Snowflake.
Luke Hobbs (Dwayne Johnson) is at breakfast with his daughter when he is approached by CIA Agent Locke (Ryan Reynolds) who tells Hobbs about Snowflake and its destructive potential. Hobbs agrees to take the assignment. Meanwhile, Deckard Shaw (Jason Statham) is visiting his mother (Helen Mirren), who is currently incarcerated in prison. When he leaves the prison, Shaw encounters CIA Agent Loeb (Rob Delaney) who tells him about the super virus, but most importantly tells Shaw that his sister, Hattie is the one accused of stealing it. Loeb tells Shaw that if he brings in his sister he can guarantee her safety, but if someone else brings her in, she will probably end up dead. Shaw agrees to take the assignment, not knowing that he will have to work with Hobbs. Once Hobbs and Shaw find out they are supposed to be partners, they both refuse to work with each other and start their own independent investigations.
Shaw heads to Hattie's house to gather information and fights several thugs in black leather outfits. Hobbs is able to track down Hattie, and after a brief fight, brings her back to the secret CIA black site for information. When the interrogation is interrupted by Shaw showing up and demanding that Hobbs release his sister, Hattie reveals that she injected capsules of the virus into her body and needs to get it out. Suddenly, the secret black site is attacked by several men repelling from the roof. Brixton enters the building and takes Hattie. Hobbs and Shaw pursue.
Once in the street, Brixton quickly takes out Hobbs with surprising ease. Shaw recognizes Brixton as a former colleague that he previously shot and supposedly killed. Hobbs and Shaw are able to reacquire Hattie and make their getaway in a car chase through London. Brixton returns to his base and has his hackers create a story through Eteon that Hobbs, Shaw, and Hattie are all traitors and have it broadcast all over the world. Additionally, Brixton talks to the leader of Eteon who tells Brixton that he wants Hobbs and Shaw recruited for Eteon. Brixton tells the secret leader of Eteon that he thinks that is highly unlikely.
Meanwhile, Hobbs, Shaw, and Hattie successfully track down Professor Andreiko (Eddie Marsan), the creator of Snowflake. Andreiko informs them that to prevent Snowflake from eradicating humanity, they either need to burn Hattie alive or extract the virus capsules while the virus is still dormant and burn the virus. To remove the virus capsule, they need a specialized extraction device, located in Eteon's headquarters in Chernobyl. The three heroes fly undercover to Moscow and go to Margarita (Elza Gonzalez), Shaw's girlfriend. Meanwhile, Brixton kidnaps Andreiko and takes him back to the Eteon base for interrogation.
Margarita rearms the three, and they make a plan to infiltrate the Eteon facility. Hattie allows herself to be captured so that the boys can track her to the extraction device. Hobbs and Shaw are captured after entering the base and subjected to torture by Brixton. Hattie is able to free herself, and with the help of Andreiko is able to free Hobbs and Shaw. They acquire the extraction device and destroy the facility. However, Andreiko is killed and the extraction device is damaged during their escape.
Not willing to kill Hattie to save the world, Hobbs and Shaw look for a safe place to hide so they can repair the extraction device. Hobbs takes the trio to his childhood home in Samoa to visit his family. Hobbs has not been home in years to due to problems with his brother Jonah (Cliff Curtis), a talented mechanic. Hobbs has a tense confrontation with his family, but ultimately, Hobbs' mother directs the family to help their blood. Jonah works on the extraction device while the remaining members of the family work on the defenses around the property. Jonah repairs the device and begins the virus extraction, just as Brixton arrives with his army.
In the battle, all of Brixton's soldiers' electronic weapons are deactivated so that they have to fight hand to hand. They are no match for the Samoan family and are easily defeated. Brixton captures Hattie again as the virus is still being extracted from her. He tries to make his getaway on a helicopter, but Hobbs and Shaw are able to get a chain onto the copter and keep it from getting away. They eventually bring the helicopter down and Brixton, Hobbs, and Shaw fight. By working together, Hobbs and Shaw are able to defeat Brixton. The virus is successfully extracted from Hattie and is safely contained in a vial. The Eteon director remotely terminates Brixton after his failure. Over the speaker system from the crashed helicopter, the director makes his presence known to Hobbs and Shaw, who vow to find him and take down Eteon. The director also insinuates that he and Hobbs have a history.
The trio celebrate their victory with Hobbs' family. In the mid-credits scene, Hobbs brings his daughter to meet his extended family in Samoa. Shaw and Hattie go to visit their mother in prison and break her out. We then see Agent Locke fighting off henchmen while he desperately attempts to call Hobbs on his cellphone. Once he reaches Hobbs, he tells him the Snowflake virus is secured, but there is a new virus that is even worse that he needs Hobbs' help in stopping. Finally, Hobbs calls Shaw in London to let him know that he called police to conduct a raid at his pub to apprehend the master criminal Hugh Janus who just happens to look like Shaw.
Add the film to your collection today!
Additional Film Information
Rate the Film!
Universal Pictures released Fast & Furious Presents: Hobbs & Shaw on August 2, 2019. David Leitch directed the film starring Dwayne Johnson, Jason Statham, and Idris Elba.