Summaries
Fast Times at Ridgemont High (1982)
Film and Plot Synopsis
Fast Times at Ridgemont High is a film about the lives and loves of a group of high school students. In his final year, Brad Hamilton decides he should break up with his longtime girlfriend to play the field. However, she breaks up with him first. Jeff Spicoli continues to get under the skin of his teacher, Mr. Hand who thinks everyone's on dope. The rest are just looking for love in al the wrong places. Thank god for red-hot bikinis and ice-cold pools!
Buy the Film
Fast Times at Ridgemont High (the Criterion Collection) [Blu-ray]
14 new from $28.11
6 used from $19.99
Free shipping
as of October 2, 2023 9:29 am
*As an Amazon Associate we earn from qualifying purchases.
'Fast Times at Ridgemont High' Movie Summary
The summary below contains spoilers.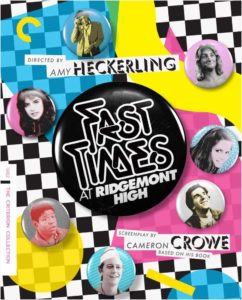 Fast Times at Ridgemont High follows a year in the life of freshman Stacy Hamilton, her older brother Brad, a senior; the shy Mark "Rat" Ratner, and the lovable stoner, Jeff Spicoli.
Stacy works at Perry's Pizza, the hottest food stand at Ridgemont Mall. She's nervous about starting high school, but luckily for her, Satan himself sent her a guardian angel in the form of Linda to give her some of the worst advice imaginable. Linda is an upperclassman who prefers "mature men" who can go 30 to 40 minutes at a time if you know what I mean. Wink, wink!! Nudge, nudge. Say no more! She doesn't waist her time on those sexually inexperienced high school boys.
Linda teaches Stacy on the art of giving head using carrots, and she encourages Stacy to lose her virginity ASAP! Luckily for her, the 26 year-old pedi stereo salesman Ron Johnson works at the mall too. Stacy agrees to a date with him, and being the die-hard romantic he is, he takes Stacy to a grimy baseball dugout known as "The Point". Stacy quickly learns why it's called the point because that's where Ron gives her the point of his penis straight into her vagina.
The next day, Stacy tells Linda the experience wasn't what she thought it'd be, and that it was rather painful. Linda, being the evil bitch she is, tells Stacy to keep doing it because it just gets better with time.
Over at the mall's movie theater, the assistant to the assistant manager, Mark "Rat" Ratner dreams about Stacy. While he's infatuated with her, he lacks the cajones to ask her out. Rat turns to his slime-ball friend, Mike Damone for advice. Damone is an upperclassman who straddles the line between high school acceptance and being a total outcast.
While Damone's life revolves around scalping concert tickets and romancing the ladies, his advice isn't much better than Linda's. Yet, he tries to school Rat in the ways of the Demone. You see, it's about the attitude; "The attitude dictates that you don't care whether she comes, stays, lays, or prays. I mean whatever happens, your toes are still tappin'. Now, when you got that, then you have the attitude."
After hearing this rousing speech, Rat musters up the courage to ask Stacy out on a date. Stacy says yes, but the date is pretty much a disaster for both. Of course, Rat forgets his wallet, and has to call Demone to bail him out. Later at Stacy's place, she makes a move on Rat, which freaks him out, and he scampers away.
Later, Rat attempts to rekindle his romance with Stacy, but by now, she's set her sites on Demone, and the Demone has no scruples. He's more than willing to take Stacy to Pound Town. He doesn't hesitate betraying Rat, and bangs Stacy in less than five seconds flat.
Guess what? As quick as you can say premature ejaculation, Demone rejects Stacy, and begins ignoring her at school and outside of it. Stacy's rejection worsens when she learns that she's pregnant with Demone's child. Abandoned, Stacy terminates her pregnancy on her own. Eventually, word gets out that Demone's a real slime ball, and Linda starts a rumor he has a small dick. Once Rat hears about Demone knocking up Stacy, he ends his friendship with the guy.
While all of this goes on, Stacy's brother, Brad has been working his ass off at All American Burger. He has it all; a great job, a great car, and a great girlfriend. However, the one thing he doesn't have is a girlfriend that will go to "The Point" with him.
Brad sees his senior as the year where he gets it all. Unfortunately for him, his senior year doesn't work out the way he wants. He ends up losing his job, his friends, and his girlfriend. He finds himself serving from a pirate costume at a fast food seafood restaurant, but eventually quits that job. To make matters even worse, Linda walks in on Brad rubbing his rubber gremlin to the thought of her naked body glistening poolside.
While Stacy, Brad, and Rat experience the trials and tribulations of early adulthood, Jeff Spicoli cruises through life in a cloud of Mary Jane with best buds Rocky and a nerd named Gilbert. Spicoli's been high as a kite since the 6th grade, and despite not having a job, girlfriend, or any academic accomplishments, he finds himself living a life without consequences. All Spicoli needs are some tasty waves, a cool buzz, and he's fine. Life is good…that is until Spicoli takes Mr. Hand's U.S. History class.
Mr. Hand believes all teenagers are high, and all the teachers at Ridgemont High are willing to look the other way at a student's misguidedness. Spicoli quickly learns that Mr. Hand is not playing, and isn't going to let him coast by U.S History.
When Spicoli orders a pizza to be delivered to Mr. Hand's class, he helplessly watches on as Mr. Hand gives his sausage pizza with extra-cheese to his fellow students. Mr. Hand then teaches Spicoli that his actions have consequences outside of the class room too when he shows up at Spicoli's house to teach him U.S. History on his time. Mr. Hand chooses the night of the big dance to show up. After much talking between the two, Spicoli learns he will squeaks by, and passes Mr. Hand's class.
The big movie ends with Stacy and Rat beginning a real relationship based on an emotional connection rather than sex. Brad ends up working at a convenience store where he thwarts an armed robbery; leading him on a path where he will one day be an officer of the Beverly Hills Police Department. Linda and Demone, well, fuck them, they are horrible people, and we don't care what becomes of them. Mr. Hand and Spicoli go their separate ways, and live happily ever after.
Additional Film Information
Rate the Film!
Universal Pictures released Fast Times at Ridgemont High on August 13, 1982. Amy Heckerling directed the film starring Sean Penn, Jennifer Jason Leigh, and Judge Reinhold.