Summaries
Fear and Loathing in Las Vegas (1998)
Film and Plot Synopsis
The film adaptation of the infamous Hunter S. Thompson's novel of the same name, writer Raoul Duke and his attorney friend Dr. Gonzo head to Las Vegas in 1971 to cover the Mint 400 motorcycle race for Rolling Stone magazine. With a suitcase full of various drugs, the two instead begin a journey in search for the "American Dream" but instead find fear, loathing, and hilarious adventures with lonely hitchhikers, dust covered racers, out of touch police officers, and the various characters that you expect to encounter in Sin City.
Buy the Film
Fear and Loathing in Las Vegas (The Criterion Collection) [Blu-ray]
8 used from $16.41
Free shipping
as of September 30, 2023 10:33 am
*As an Amazon Associate we earn from qualifying purchases.
'Fear and Loathing in Las Vegas' Movie Summary
The summary below contains spoilers.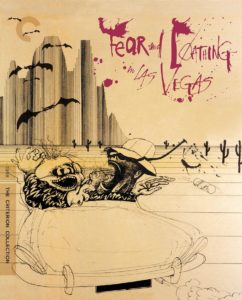 The year is 1971 and writer Raoul Duke (
Johnny Depp
) and his attorney Dr. Gonzo (
Benicio del Toro
) are on their way to Las Vegas so that Duke can write a story about the Mint 400 motorcycle race for Rolling Stone magazine. Duke and Gonzo are the fictional character names for the real life Hunter S. Thompson and Oscar Acosta. Both Duke and Gonzo are drugged out of their minds as the story begins. The men have a suitcase full of drugs including mescaline, acid, cocaine, and a bottle of ether. Duke's mind sees bats flying all over the desert so he has Gonzo drive for a while. They pick up a hitchhiker (
Tobey Maguire
) along the side of the road, who Duke explains how they ended up on the way to Vegas. Duke describes how they rented their red Chevy Impala convertible and how they acquired their drugs to the young hitchhiker. Their paranoia and random behavior freak out the hitchhiker who takes his first opportunity to escape into the desert.
The men must reach Vegas before check in registration for the press ends, so Gonzo gives Duke part of a sheet of acid. The good doctor informs Duke that there is little chance of him making it to Vegas before the drug kicks in so he recommends that he drive faster. The men make it before the check-in deadline, but Duke is in a deeply bad trip. Duke is barely able to check-in to the hotel due to his visions of giant lizards and a hotel clerk (Katherine Helmond) with the head of a moray eel.
The next day, Duke arrives at the race and meets up with his assigned photographer, Lacerda (Craig Bierko). Duke is unable to see the race due to the copious amounts of dust in the air and is suitably unimpressed. His drug fueled mind sees the race course as a battlefield. When his photographer refuses to take him back to the starting line, he fires Lacerda and returns to the hotel. Once there, he takes some more mescaline and huffs some ether with Gonzo. The two men go to a Circus casino, but leave soon after due to Gonzo getting the "fear".
Once back at the Mint Hotel, Duke leaves a freaked out Gonzo in the room while he ventures out on his own on the casino floor. When Duke returns to the hotel room, he finds that Gonzo has trashed the room and gotten high on LSD. Gonzo is sitting in the bathtub and requests that Duke throw a recording machine into the water when the song "White Rabbit" reaches its climax. Duke agrees, but instead throws a grapefruit at Gonzo's head before running outside and locking Gonzo in the bathroom. Duke tries to fall asleep while keeping one eye open for the dangerous Gonzo. During his sleep, he reminisces about the 60's hippie culture and flashes back to one night at the club called The Matrix in San Francisco where he encountered his elder self (Hunter S. Thompson) and a hippie (Flea) who licked spilled LSD off his sleeve.
The next morning, Duke awakens to find that Gonzo has returned to Los Angeles, leaving Duke with an exorbitant room service bill. Duke sneaks out of the hotel with as many hotel items as he can steal and tries to leave town. As he nears Baker, California, a highway patrol officer (Gary Busey) tries to pull him over for speeding. Once stopped, the officer advises Duke to get some sleep at a nearby rest stop. Once again, Duke's drug addled mind convinces himself that the officer is setting him up.
He stops in Baker and calls Gonzo in Los Angeles. The attorney tells Duke that he should have read his telegram before leaving Las Vegas. Gonzo tells Duke that he has a room at the Flamingo so he can cover a district attorney's convention on narcotics. Duke turns around and heads back to Las Vegas. He checks into a suite only to discover Gonzo in the room with a young teenage girl named Lucy (Christina Ricci). Gonzo is again under the influence of LSD and has given some to the young aspiring artist. Duke convinces Gonzo to ditch Lucy in another hotel before her acid trip wears off.
Later, Gonzo and Duke attend the police convention while high on drugs. They snort cocaine while a deeply out of touch speaker talks about dope addicts. However, the entertainment value wears off and the two drug users leave early. They head back to their room and discover that Lucy has called. Gonzo deals with Lucy on the phone while the paranoid Duke attempts to calm down using some of Gonzo's adrenochrome. Duke takes too much and turns in to an incoherent mess seeing demonic visions. Eventually, he blacks out.
Duke wakes up sometime later and finds his hotel suite trashed beyond recognition. He listens to his tape recorder and tries to piece together what happened while he was blacked out. As he discovers brief moments of mayhem, including Gonzo threatening a waitress (Ellen Barkin) in a North Las Vegas diner, a confrontation with a cleaning woman, and a half-assed attempt to buy an orangutan. The film ends with Duke rushing Gonzo to the airport before returning to his hotel room one last time to finish his article about the demise of the 60's and the failure of the counter culture movement. Duke then loads up his car and heads back to Los Angeles.
Additional Film Information
Rate the Film!
Universal Pictures released Fear and Loathing in Las Vegas on May 22, 1998. Terry Gilliam directed the film starring Johnny Depp, Benicio Del Toro, and Tobey Maguire.