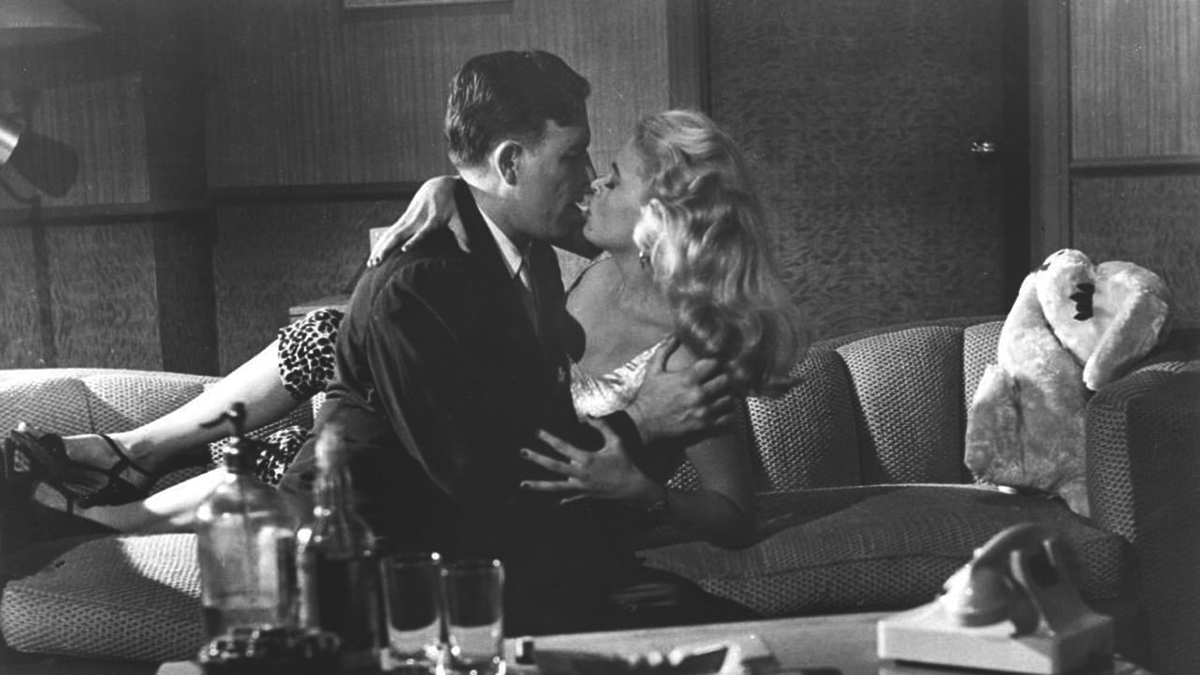 Film and Plot Synopsis
As blonde actress is murdered across from a bar, an off-duty cop has been inside getting white-girl wasted. However, he starts to worry about his innocence when he finds out he was seen leaving the establishment with a blonde, but doesn't remember. During his own investigation, he interviews a columnist, who was dating the woman; a caricaturist, who drew the victim; the caricaturist's wife, who works at the bar; and the caricaturist's lover. Slowly, he begins putting the pieces of the puzzle together.
Buy the Film
*As an Amazon Associate we earn from qualifying purchases.
'Female Jungle' Movie Summary
The summary below contains spoilers.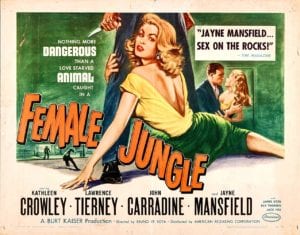 When movie star, Monica Madison, gets out of her cab outside the Can Can Club, someone strangles her to death. The killer rips her diamond choker off her neck in the confrontation, and flees.
The police arrive, and Captain Kroger sits in a squad car while the coroner examines the body. Detective Sergeant Jack Stevens arrives to the scene—drunk—white girl wasted. Although he was off-duty and hanging out at the Can Can Club, Stevens doesn't witness the murder. In fact, he can't even place his own whereabouts for the past four hours of his life.
For all he knows, after this recent alcohol-induced blackout, he could have killed Monica. When he spots the club's janitor, George, in the alley, George reveals that Stevens left the club a few hours earlier with an unnamed blonde woman. The two share a smoke, and Stevens goes on his way.
Across the street lives sketchy artist, Alex Voe and his wife, Peggy; a waitress at the Can Can Club. Alex is one of the many bystanders at the scene of the crime, but he splits after finding out his wife left work early without his knowledge.
It's now two in the morning, and Peggy finally arrives home, but as she unlocks her door, Claude Almstead walks up behind her. Frightened, she tries to rush inside her apartment. Alex arrives at the same time too, and Almstead asks him to draw his caricature.
Alex invites him inside, and Peggy goes off to the kitchen to make them coffee. However, Alex excuses himself and goes to the kitchen after her. While the two argue about money and alcohol, Almstead steals one of Alex's drawings. Alex leaves the apartment in a fit of rage. Almstead then invites Peggy out for some drinks. She agrees to go with him.
With or without violins, I'd call this a brush-off.Candy Price
Back at the Can Can Club, Stevens conducts his own investigation to get back in Captain Kroger's good graces. Sergeant Duane leads the investigation now, and he tells Stevens that Monica scratched the killer.
Stevens then questions Connie, a co-worker of Peggy's. As the two sit, she accidentally smacks Stevens' arm which begins dripping blood. While he tries to hide the injury, George pops up with a mop, and cleans the blood off the floor to cover for Stevens.
Connie tells Stevens that he left the club with a blond woman named Candy Price. She lives downstairs from Alex and Peggy, so he heads across the street to pay Candy a visit. He finds Candy sleeping on the couch. After waiting for him to return for four hours, she fell asleep. Her phone rings, and while she talks to someone on the other end, her radio re-broadcasts an interview with Monica and Almstead. The two appeared on the show earlier in the evening while at her movie premier, and Stevens now wants to talk to Almstead.
Across town, Almstead and Peggy relax at his lavish home. While he watches Peggy swim, the phone rings. Stevens asks him to come down to the Can Can Club for questioning in Monica's murder.
Now back at the Can Can Club, Stevens gets Sergeant Duane to lighten up, and let him continue investigating so he can make things right with the Captain. He then calls radio announcer, Larry Jackson, the man who interviewed Monica and Almstead. He informs Stevens that the two argued about something at the premier.
Alex finally returns home to find his wife and Almstead gone. He flips through his sketchbook, and finds a sketch of Almstead from a night he sketched Monica as well. He darts across the street to the Can Can Club to show the cops his drawing. The club's owner, Joe, recognizes the man in it, and he gives them a copy of a photo taken a few weeks prior—it's a photo of Alex, Almstead, and Monica together there. Alex becomes worried that Peggy is somewhere alone with Almstead (which she is), and that she's in grave danger.
Alex leaves to go find Peggy, but Candy stops him. The two are having an affair, and she tries again to get Alex to leave his wife, but now, Alex is so concerned for Peggy's safety, he can't continue the affair. As the two bicker in the street, Almstead arrives with Peggy.
In a rage, Alex accuses her of cheating on him. She runs home to cry, and Alex follows Almstead into the Can Can Club. Although Almstead arrives to talk to the police, he refuses to do so without his lawyer present. This doesn't faze Stevens, and he questions Almstead anyway.
Eventually, when Almstead admits he loved Monica, Sergeant Duane snaps and threatens force to get a confession out of him. Stevens punches Duane to get him to chill out, and a fight between the two cops ensues. In the melee, Almstead leaves, and Stevens and Duane run off to find him.
Alex, still fearful that Almstead wants to kill Peggy, calls her up to warn her that Almstead is a murderer and that she's in danger. Unfortunately, Almstead is already in their apartment, and he approaches Peggy. She runs out of the place in terror, and straight into Alex's arms. By now, he's an angry, hypocritical mess. Candy comes up to the two, and Peggy runs off. Alex then grabs Candy, and orders her to get him the sketch that Almstead stole from him.
Candy says she will do it, she will do anything for him, but Alex doesn't believe her. He strangles her to death. Candy's cries for help alert Stevens to the scene, and he and Duane pursue Alex through buildings until Duane shoots and kills Alex.
Back at the Can Can Club, Almstead reveals that he visited Peggy originally to warn her that Alex was having an affair with Monica, and that Alex killed her after Monica ended their relationship, and then threatened to go to the police over Alex's blackmailing her.
Almstead was merely jealous and angry at the premier because Monica told him she was marrying a producer, and he was SOL. By the time Almstead arrived at the club, Monica was already dead. Alex murdered her and stole her diamond choker most likely because he had sketched her at an unknown time in the past wearing the very choker he stole. His story to the police was that he only met Monica one time; the night Joe photographed Almstead, Alex and Monica together. However, in that photo, Monica was not wearing the diamond choker. That means that Alex sketched her wearing the diamond sometime during their affair.
Sergeant Duane takes Almstead and Peggy to the station to make written statements, leaving Stevens with Joe and George. There, George reveals that during Stevens' lost hours, he didn't kill Monica, but fought a bunch of punks—one of whom cut his hand with a knife. With the murder solved, Joe and George can finally go home, but who will cover for Joe when his wife doesn't believe his story for coming home six hours late?
Additional Film Information
Rate the Film!
American Releasing Corporation released Female Jungle on June 16, 1956. Bruno VeSota directed the film which starred Lawrence Tierney, Jayne Mansfield, and John Carradine.