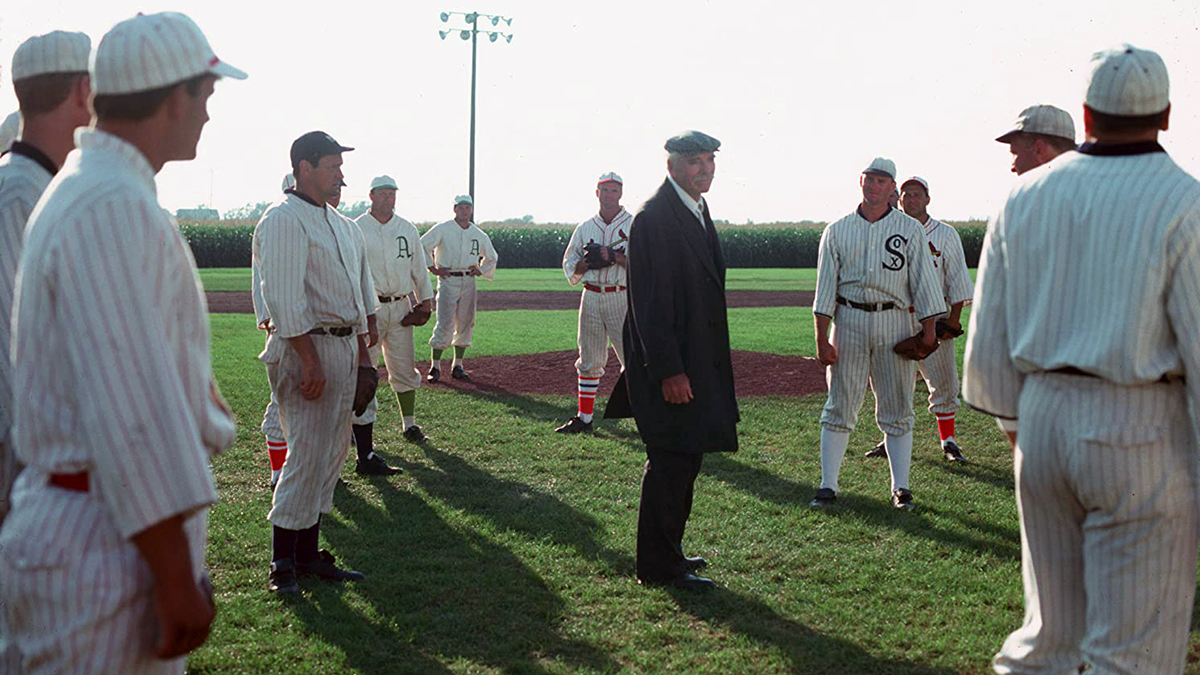 Film and Plot Synopsis
Field of Dreams takes place in Iowa. A farmer named Ray Kinsella hears a voice in his corn field that says, "If you build it, he will come." Of course Ray interprets it as an instruction to build a baseball field on his farm. Upon doing so, the ghosts of Shoeless Joe Jackson and the other seven Chicago White Sox players banned from the game for throwing the 1919 World Series appear. However, when the voices continue, Ray seeks out a reclusive author to help him understand the meaning of the messages and the purpose for his field.
Buy the Film
Field of Dreams [Blu-ray]
11 new from $14.97
7 used from $9.86
Free shipping
as of December 2, 2021 3:29 pm
*As an Amazon Associate we earn from qualifying purchases.
'Field of Dreams' Movie Summary
The summary below contains many spoilers and feeble attempts at humor.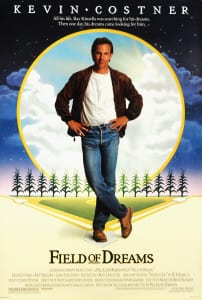 Brothers and sisters, brothers and sisters, gather around as I recount the tale of the Field of Dreams.  The supernatural, time-traveling, baseball, family, drama that depicts the return of our left-fielder and savior, Shoeless Joe Jackson.
Our tale begins with a small Iowa farmer, Ray Kinsella.  Now, Brother Ray is a farmer of corn, and not a good one at that.  One day, while tending his crop, Ray began hearing voices.  Voices that tell him, "If you build it, he will come."  Now many good Christians in the Bible belt would take such a command to build a church for the return of Jesus Christ.  But Brother Ray knows what the voice wants, and instead builds a baseball field for the ghost of Shoeless Joe to play on.  (Praise Be To Joe.)
Now many of you already know of the tale of Shoeless Joe Jackson, the god of the baseball diamond in pure mortal form.  Joe, who had his own demons in life to fight, the demons of temptation and the hanging curve.  You see, brothers and sisters, Joe gave into temptation, and took money from the devil in exchange for throwing the 1919 World Series, in defiance of God's will.  And although Joe took the devil's money, he still batted .375 and collected 12 hits in the series.  But, Joe attempted to repent for his crimes, by getting liquored up and confessing his sins to a grand jury that he threw the game by letting catchable balls drop and throwing balls short in order to the let the Devil's team, the Reds, score more runs.  For his sins, Joe and seven others were cast out of the Major League Baseball Association of America, never to know the divine grace that is Cooperstown.
So, Brother Ray put in much hard work and sacrifice to build this shrine to the aforementioned Shoeless Joe.  And his work and sacrifice are soon rewarded when Shoeless Joe and his seven disciples soon come to play at Rhea Stadium.  However, not everyone can see the baseball playing spirits.  You see, brothers and sisters, only those who truly believe can see them.  Those that don't, such as Ray's brother in law, played by some nerd named Poindexter, can't see the ghosts.  Why?  I don't know.  There just has to be some strife in our tale before we come to the ultimate conclusion.  But, to this point, all is good for Ray and his family.  (Praise Be To Joe.)
However, Brother Ray is soon hearing voices again.  I know what you are thinking, brothers and sisters, but no, Ray is not going to build an ark, and to collect all the animals in pairs.  He has to find Terrance Mann, the fictional black equivalent to J.D. Salinger, played by Darth Vader himself, James Earl Jones.  Once Ray finds Darth, he has to take him to see God's team, the Boston Red Sox.  And although many would expect our spiritual duo to seek out and punish the one named Buckner for allowing that slower roller to go between his legs in the 86 series, that mustachioed devil went the way of the Angels of California in 1987.  No, you see, brothers Ray and Darth are there to for a different purpose.  And that purpose was to get a message from the mysterious voice to tell the two of them to go to Minnesota to find a man who has been dead for 17 years, "Moonlight" Graham. (Praise Be To Joe)
Once in Minnesota, Brother Ray, apparently affected by the power of Shoeless Joe, travels through time to have a conversation with Dr. Moonlight.  They discuss the Doctor's ultimate regret of not having a major league at bat during his playing days.  Generously, Ray offers Moonlight a chance to remove his ultimate regret.  Ray tells him he can take someplace where he can fulfill that wish, but Moonlight turns him down, and stays dead in Minnesota.  Ray and Darth are left to wonder what is Joe's purpose for them in the small town of Chisholm truly was as they head back to Iowa.
Along the way, Ray and Darth pick up a young hitchhiker by the name of "Moonlight" Graham.  What??  You may be asking yourself.  Well, brothers and sisters, it is best not to think to hard about such things.  Baseball playing ghosts work in mysterious ways, and sometimes their true purpose may not be revealed to us until the end of the film, if ever.  Meanwhile back at the farm, the forces of evil are organizing to strike against Ray in order to prevent him from completing his mysterious task.  They take the form Ray's brother in law and his partners, who attempt to take Ray's farm via a vile foreclosure.
When Brother Ray gets to his farm, he finds out that Shoeless Joe has brought more disciples to the blessed diamond.  Moonlight is invited to play with them, and ultimately gets to fulfill his one wish of having one big league at bat.  However, he has suddenly called back into to service as doctor to help Ray's choking daughter.  Unfortunately, Moonlight cannot return to his midseason form after crossing the gravel, so he is sent to the farm team out in the corn.  But Moonlight's sacrifice is not in vain, for not only does he save Ray's daughter, but he has shown Poindexter the light and made a believer of him.  And now even the nerds can see the heavenly tobacco chewing spirits.  (Praise Be To Joe)  The converted Poindexter tells Ray not to sell, for as Darth has foretold, "People will come."
Our leftfielder and savior Joe then invites Darth to join them out in the cornfield.  Because, brothers and sisters, in Shoeless Joe's day, that is where the black man would often be found. You see, racism was another one of Joe's sins in life.  With Darth's departure, this leaves Ray with his wife and child to ponder what this has all been about. Shoeless Joe finally reveals his plan to Ray.  You see, this entire task has been Brother Ray's penance for disrespecting his father when he was a teenager. Joe has brought back the spirit of Ray's young, baseball playing father in order for Ray to make amends.  Something Ray was not able to in life because he was young and his father was old, and Ray could not forgive his father for that. 
The film ends with a tearful Ray asking his father if he would like to have a catch, the very thing that Ray himself refused to do with his father when he was a teenager.  In the background, cars are seen to be driving to the field, just as Darth predicted.  The people will come, the farm will be saved, and Ray's father's pain is eased.  (Praise Be To Joe)
Additional Film Information
Rate the Film!
Universal Pictures released Field of Dreams on May 5, 1989. Phil Alden Robinson directed the film starring Kevin Costner, James Earl Jones, and Ray Liotta.