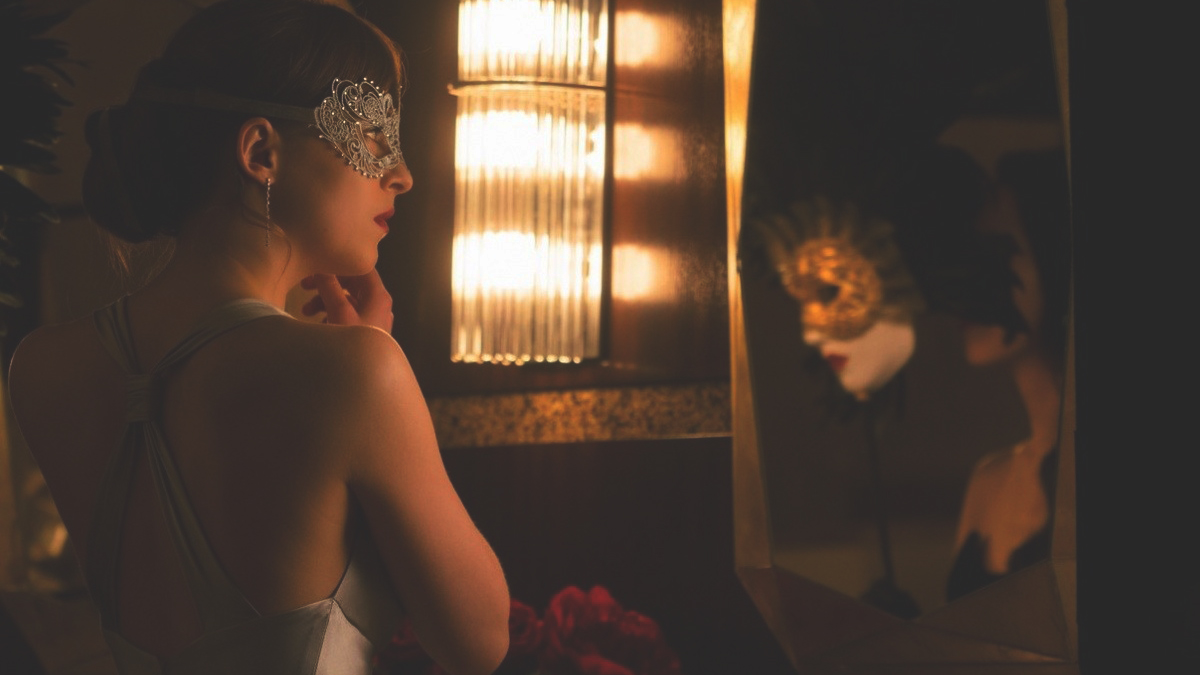 Film and Plot Synopsis
In Fifty Shades Darker, after establishing her independence from Christian Grey, Anastasia "Ana" Steele begins a new life as an assistant to an editor at an up and coming publishing company. However, when Christian returns and begs for her affections, Ana is unsure of what to do. Has Christian really changed? Is Christian capable of having the normal romantic relationship that Ana truly wants? Or is Ana truly attracted to alternative lifestyle that Christian represents?
Buy the Film
Fifty Shades Of Grey / Fifty Shades Darker (Unrated Edition) (4k Ultra HD + Blu-ray)
5 new from $22.99
1 used from $25.99
Free shipping
as of August 26, 2022 9:54 pm
*As an Amazon Associate we earn from qualifying purchases.
'Fifty Shades Darker' Movie Summary
The summary below contains spoilers.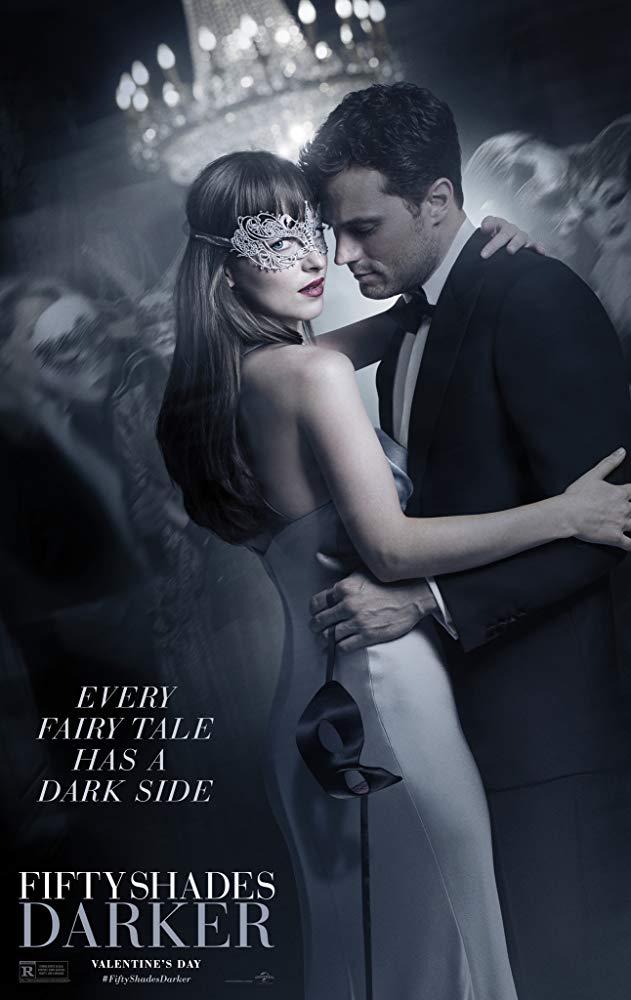 Fifty Shades Darker
begins as Christian Grey (
Jamie Dornan
) struggles with life after the departure of Anastasia "Ana" Steele (
Dakota Johnson
) from his life. He has reoccurring nightmares about his abusive childhood. The millionaire looks for ways to win back his lost love. Meanwhile, Ana has begun a new job as an assistant to Jack Hyde (
Eric Johnson
). Jack is an editor at Seattle Independent Publishing (SIP) whose previous three assistants have all quit suddenly.
Ana attends a photography exhibit of her good friend Jose Rodriguez (Victor Rasuk) who used Ana as a model in many of his portraits. Jose is excited when someone purchases all the work with Ana as the model, but Ana is dismayed when she learns that it is Christian who purchased all of the portraits. Christian pleads with Ana for her to come back with him and agrees to her no rules, no punishments, and no more secrets terms. Ana is skeptical, but she is definitely interested.
A few days later, Ana agrees to have an after-work drink with Jack after he pressures her to socialize more. Anna is approached by a mysterious woman on the street who resembles her but she is pulled away before she can find out what she wants. At the bar, Ana is surprised to find out that no one else from SIP is at that bar and it is only her and Jack. Christian arrives at the bar and treats Jack rudely before leaving with Ana. Christian warns Ana about Jack's history with his assistants, but Ana disregards him. Ana figures out that Christian is considering buying SIP which angers her since she wants to build her own career outside of Christian.
Shortly thereafter, Jack tells Ana that she needs to go to New York with him for a book expo. When Ana hesitates, Jack tells her that it is part of her job. Christian disapproves of the trip and insists that if she has to go, she can go with him. Ana decides not to attend the book expo and tells Jack no, which angers him. He attempts to seduce Ana while they are alone in his office. Jack becomes sexually aggressive with her insisting that he can satisfy her like no man ever has. Frightened, Ana runs from Jack's office and into Christian's arms just outside the building. She tells Christian what happened, and Christian uses his influence over SIP to have Jack fired. SIP decides to promote Ana to acting editor in Jack's place.
A few days later, Ana notices the same woman who approached her on the street watching her and Christian from a distance. Christian reveals that the woman is Leila Williams (Bella Heathcote), a former submissive of Christian's. Christian explains that Leila wanted more from the relationship after their contract ended, but Christian decided to end the relationship. He reveals that Leila later married a man who died, which caused the young woman to have a mental breakdown. Christian reveals that she has been stalking Ana and Christian ever since.
Christian asks Ana to attend his family's annual charity ball as his date. He takes Ana to Escala, a beauty salon owned by Elena Lincoln (Kim Basinger). Elena is a family friend, but she is also a former dominant who introduced Christian to the BDSM lifestyle by seducing him when he was younger. Ana is disgusted by Elena and is angered that Christian and Elena are still business partners.
At the ball, Christian reveals that his biological mother killed herself will he was very young, and that he was alone with her body for three days. Once he was found, he was taken to the hospital where Grace Trevelyan Grey (Marcia Gay Harden) worked. Grace took him home and eventually adopted him. While in the restroom, Ana is approached by Elena who tells Ana to leave Christian because they will never be happy together. Ana refuses and tells Elena to stay away from them. Later that night, Ana discovers that Leila has vandalized her car. Christian insists that Ana stay at his place for her safety. Shortly thereafter, Christian asks Ana to move in with him and she agrees. Christian and Ann have sex.
A few weeks later, Ana returns to her apartment to gather some things. She finds Leila in her apartment with a gun. Christian enters the apartment with his bodyguard, Jason Taylor (Max Martini) and controls Leila by becoming her dominant. Ana is disturbed at how easy it was for Christian to resume being a dominant so she leaves, not returning to his place for several hours.
Ana tells Christian that she is not sure of their relationship. Christian drops to his knees and confesses to Ana that he is not a dominant, but a sadist who enjoys hurting women who look like his birth mother, which Ana and Leila both resemble. He pleads with Ana and tells her that he wants to change. Ana forgives him and they have sex. Christian later proposes, but Ana is still hesitant and tells him that she needs more time to think about it.
A few days later, Christian leaves on a business trip and flies his own helicopter. While in route, the helicopter's engine fails and forces Christian to crash land the craft near Mount Saint Helens. Ana learns of the crash and Christian's disappearance while she is out with friends. She returns to Christian's home and waits for news of Christian with his family. A short time later, Christian is found alive and he returns home. Ana accepts his marriage proposal realizing that she truly loves him after contemplating life without him. Ana and Christian have sex.
The next night at Christian's birthday party, Christian announces the engagement to everyone, and the couple are congratulated by almost everyone. Elena is at the party and once again tells Ana that she will never make him happy and that she is only with him for the money. Ana throws a drink in Elena's face, which Christian sees. Christian tells Elena that she taught him how to have sex, but Ana taught him how to love. Grace overhears the conversation and slaps Elena in the face. Christian's mother than demands that Elena leave her house and her family for good. Later, Christian tells Ana that he is cutting all financial ties with Elena as well.
A short time later, Christian gets down on a knee and formally proposes to Ana with an extravagant ring. She once again accepts, and the two rejoin Christian's family to watch fireworks on the bay. Some distance away, Jack Hyde watches the fireworks with evil intent in his eyes.
Add the film to your collection today!
Additional Film Information
Rate the Film!
Universal Pictures released Fifty Shades Darker on February 10, 2017. James Foley directed the film starring Dakota Johnson, Jamie Dornan, and Eric Johnson.