Film and Plot Synopsis
Medical students begin to explore the realm of near death experiences, hoping for insights. Each has their heart stopped and is revived. They begin having flashes of walking nightmares from their childhood, reflecting sins they committed or had committed against them. The experiences continue to intensify, and they begin to be physically beaten by their visions as they try and go deeper into the death experience to find a cure.
Buy the Film
Flatliners - Blu-ray
15 new from $4.91
11 used from $2.99
Free shipping
as of November 25, 2023 8:01 am
*As an Amazon Associate we earn from qualifying purchases.
'Flatliners' Movie Summary
The summary below contains spoilers.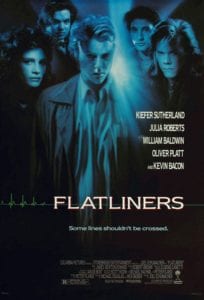 When medical student Nelson Wright decides, it is "a good day to die," he plans to literally die. See, Nelson (Kiefer Sutherland), wants to explore what it is like to be dead and experience any type of afterlife activity. Nelson recruits four of his fellow students to help him execute his experiment.
Julia Roberts, Kevin Bacon, William Baldwin, and Oliver Platt portray Rachel, David, Joe, and Randy respectively. The group completes their task of making sure Nelson dies. Once he experiences death for exactly one minute, they successfully resurrect him.
While going through death, Nelson sees the image of a boy he "bullied" as a child. This boy, Billy Mahoney, somehow establishes a spiritual presence in Nelson's life, and begins tormenting him both physically and psychologically. However, Nelson chooses to hide this fact from his colleagues.
Astonished by Nelson's successful experiment, Joe, David, and Rachel all follow in his footsteps and flatline themselves. Each of the trio visit the afterlife and, like Nelson, stir up sins of their pasts. Joe, a cad who secretly video tapes his countless sexual escapades, has visions of women he has taken advantage of over the years.
Next, David has flashbacks of his childhood, when he and his friends tormented a young girl named Winnie Hicks in the school yard. Lastly, Rachel revisits the day she walked into a room while her Vietnam veteran father was shooting up heroin. This incident leads her father to commit suicide.
In time, David comes to realization that this quartet must atone for their sins, or their respective torments will never leave. So, David seeks out Winnie Hicks in attempt to apologize to her for his bullying. Rachel has a confrontation with the spirit of her deceased father and attempts to make peace with him. Meanwhile, the women Joe videotaped haunt him around town, and never really atones for his action.
His fiancé finds the tapes in an awkward moment. OOPS! Most importantly, Nelson has lethal encounters with "Billy Mahoney" where we learn that you should never resurrect old demons, even if you believe you have paid for the sins in the past.
In the end, these "Flatliners" determine there is never a good day to die. Unfortunately, they never answer one very important question: Why in the hell was Oliver Platt even in this movie?
The End
Additional Film Information
Rate the Film!
Columbia Pictures released Flatliners on August 10, 1990. Joel Schumacher directed the film starring Kiefer Sutherland, Kevin Bacon, and Julia Roberts.