Summaries
Fletch Lives (1989)
Movie review coming on 3/14/2022
Film and Plot Synopsis
Investigative reporter Irwin M. "Fletch" Fletcher is back! This time Fletch inherits a mansion estate in Louisiana from his deceased aunt. However, when he arrives, he finds the estate in bad condition and unseen forces pressuring Fletch to sell the property. When Fletch is framed for the murder of a local attorney, Fletch begins digging into what is going on around his Belle Isle estate. Will Fletch unravel the mystery before he finds himself in prison, or worse, dead?
Buy the Film
Fletch Lives [Blu-ray]
13 new from $19.99
3 used from $27.23
Free shipping
as of May 26, 2023 6:17 pm
*As an Amazon Associate we earn from qualifying purchases.
'Fletch Lives' Movie Summary
The summary below contains spoilers.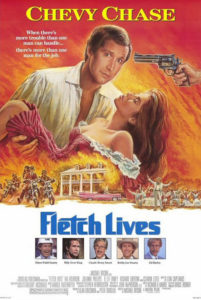 Investigative reporter Irwin M. "Fletch" Fletcher is back. Fletch has finished a big story about the mafia for the Los Angeles Times and needs a vacation. However, Fletch's editor, Frank Walker (Richard Libertini), tells Fletch that he cannot afford to let him go for a while. During the argument, Fletch receives a phone call from attorney Amanda Ray Ross (Patricia Kalember) who represents Fletch's aunt. Ross is the executor to Fletch's aunt estate and informs Fletch that he has inherited his aunt's 80-acre plantation, Belle Isle, in Thibodaux, Louisiana. Fletch immediately quits and heads off to the Deep South.
Upon arriving in Thibodaux, Fletch is disappointed to find the mansion in ruins and located in a swamp. He meets his aunt's caretaker, Calculus Entropy (Cleavon Little), who Fletch decides to keep on his "staff." That night, Fletch has dinner with Ross at her home. Ross informs Fletch that an anonymous buyer has offered $225,000 for Belle Isle. Fletch rejects the offer. Ross and Fletch hit it off and Fletch ends up spending the night with his aunt's attorney.
During the night, someone sneaks into Ross' bedroom and injects her with a drug. The next morning, Fletch awakens to find Ross dead. Fletch calls the police who arrest Fletch and charge him with Ross' murder. While in jail, Fletch is nearly raped by his cellmate Ben Dover (Randall "Tex" Cobb) before he is bailed out by criminal attorney Hamilton "Ham" Johnson (Hal Holbrook). Ham advises Fletch to watch out for himself and to leave town. Soon after, Fletch is approached by a realtor, Becky Culpepper (Julianne Phillips), who offers another anonymous offer for Belle Isle. This time the amount is $250,000. Once again, Fletch rejects the offer suspecting that there is a story behind Ross' death and the anonymous offers for Belle Isle.
Not long after, Fletch begins to get harassed. First, a group of hired Ku Klux Klansmen and their leader (Geoffrey Lewis) show up on the property to burn a cross. Next, someone sets fire to the Belle Isle mansion itself. Not long after that, Ben Dover tries to kill Fletch during a raccoon with some Thibodaux locals. During the raccoon hunt, Fletch steps into something unusual. He sends his sneakers off to Los Angeles for examination. The results show that Belle Isle is polluted by toxic waste. Fletch sets out to discover the identity of the mysterious anonymous buyer.
All I needed now was a computer. And a ten-year-old kid to teach me how to use it. I.M. Fletcher (Chevy Chase)
Fletch learns that the local megachurch, Farnsworth Ministries, and its charismatic leader Jimmy Lee Farnsworth (R. Lee Ermey) are interested in obtaining the Belle Isle property to expand their religious theme park. Fletch also learns that Becky is Farnsworth's daughter. Fletch also learns that the chemicals found on Belle Isle originated from a chemical waste facility in Mississippi. Fletch infiltrates the facility as a trucking tycoon and obtains an invoice from the plant's manager which shows that Ham ordered the waste that was dumped on the Belle Isle land.
Fletch returns to Thibodaux and crashes Ham's costume party. He confronts Ham with his evidence to which Ham admits that he polluted Belle Isle out of revenge for the way he feels Farnsworth took advantage of Ham's mother before she died. Ham believes that Farnsworth persuaded his mother in her confused mental state to give away her land to the church which allowed Farnsworth Ministries to build their garish amusement park. Ham's evil intent is to devalue the land owned by Farnworth Ministries. Ham admits to killing Ross because she learned of his plan. Dover enters the room with a kidnapped Becky. Ham orders Dover to kill both Fletch and Becky. Fletch creates a diversion by spilling the urn that contains Ham's mother's ashes, one of Ham's most prized possessions. Fletch and Becky escape during the chaos.
Fletch and Becky flee to the church theme park nearby and to the Ministries itself. Farnsworth is in the middle of a broadcast when Fletch and Becky arrive. Ham follows them and the trio interrupt the broadcast. Fletch announces to the television audience Ham's involvement in Ross' murder, and Ham states his intention to kill Fletch no matter what. Calculus arrives and shots Ham. He reveals to Fletch that he is FBI Special Agent Goldstein who has been working undercover as part of an investigation of Farnsworth Ministries' financial dealings.
In the fall out, Fletch writes a news story about his adventures in Louisiana and decides to return to his old job at the Los Angeles Times. Becky decides to return with him. Upon his return, Fletch is thrown a welcome home party by his grateful co-workers and receives a $100,000 insurance check for the fire on Belle Isle. Marvin Gillett (George Wyner), Fletch's ex-wife's divorce attorney and current boyfriend, shows up at the party and offers to waive any future alimony payments if Fletch agrees to sign over the rights to Belle Isle to his former wife. Fletch signs over the polluted, unhabitable plot of land with glee.
Additional Film Information
Rate the Film!
Universal Pictures released Fletch Lives on March 17, 1989. Michael Ritchie directed the film starring Chevy Chase, Hal Holbrook, and Julianne Phillips.