Film and Plot Synopsis
Brad and Kate have been dating for three years. They are having fun and doing all sorts of things together with no intention of marriage or children. Most importantly, they are in love. They have also successfully avoided each set of their divorced parents for two years, but the weather and the news prevent them from escaping for the Christmas holiday. With their families aware that they are still in town, Brad and Kate must now run the gauntlet of four Christmas celebrations in one day. During the course of the day, Brad and Kate learn more about each other, but more importantly, they learn more about what they want in life.
Buy the Film
Four Christmases [Blu-ray]
13 new from $4.95
42 used from $2.49
Free shipping
as of September 20, 2023 2:19 pm
*As an Amazon Associate we earn from qualifying purchases.
'Four Christmases' Movie Summary
The summary below contains spoilers.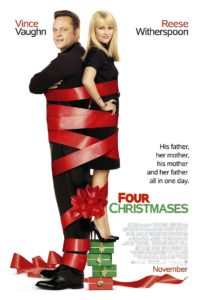 Brad McVie (
Vince Vaughn
) and Kate Kinkaid (
Reese Witherspoon
) are a couple who live in an upscale San Francisco neighborhood. Both Brad and Kate come from divorced parents and have extremely dysfunctional families. Due to their issues with broken families and custody battles over children, Brad and Kate have decided not to ever get married or have children. Additionally, they make every attempt to avoid their families, including their siblings and their out of control nieces and nephews. That especially applies around Christmas time. Brad and Kate usually attempt to travel during Christmas and tell their families that they are doing charity work to avoid spending the holidays with them.
During their third Christmas holiday as a couple, Brad and Kate plan a trip to Fiji, but end up getting trapped in San Francisco by a large fog bank that cancels every outbound flight. While stranded at the airport, they are interviewed by a news crew about their flight being canceled. Unfortunately, their mutual families see the interview and are alerted that Brad and Kate are stuck at home for the holidays. The couple suddenly realize that they can't get out of visiting their families for the holiday. Bracing themselves for four Christmas homecomings in one day, Brad and Kate plan to expect the worst, but are still unable to prepare themselves quite enough.
Brad and Kate visit Brad's father Howard (Robert Duvall) first. Also present at Howard's house are Brad's brothers Dallas (Tim McGraw) and Denver (Jon Favreau) and their mutual families. Brad's brothers immediately begin to beat on Brad and call him Orlando. Kate is shocked to learn that Brad's real name is Orlando since each of Howard's children are named after the city they were conceived in. Brad angers his family when he inadvertently exceeds the dollar amount for gifts and ends up getting everyone extravagant gifts. His family, especially his brothers, believe that Brad is trying to show off. However, Kate gets an opportunity to hold Denver's baby while at the house and finds that she is suddenly not opposed to having children which is good since she thinks she is pregnant. The couple leave after Brad gets into a fight with his father and Kate accidentally bangs the baby's head into a cabinet door.
Next, Brad and Kate visit Kate's mother Marilyn (Mary Steenburgen). Marilyn has embraced religion since her divorce and has a large statute of Jesus Christ in her front yard. Marilyn is now dating Pastor Phil (Dwight Yoakam) who runs a flashy church. At Marilyn's house, Kate's mother shows Brad a photo album with pictures of Kate as a child. Brad is shocked to learn that Kate was overweight when she was a child and had to attend a fat camp. Additionally, Kate's closest friend was a lesbian. Kate takes a pregnancy test while she is at her mother's house but does not tell Brad. Marilyn volunteers Kate to perform at Phil's church's Christmas play. When Kate gets stage fright and forgets her lines, Brad heckles her from the audience causing the crowd to laugh out loud. After the performance, Kate is furious with Brad.
After visiting Marilyn, the couple visits Brad's mother Paula (Sissy Spacek). Paula is somewhat of a hippie and has married Brad's old friend from high school, Darryl (Patrick Van Horn). Brad is not happy about his mother's new relationship and is disgusted when Darryl and Paula talk about their sex life. Denver and his family are also present, and Denver is still angry with Brad for what happen at their father's house. The three couples play a game of Taboo together. Brad and Kate begin to lose horribly during the game and it becomes apparent that Brad does not know that much about Kate. As they begin to leave, Kate reveals that she took a pregnancy test which freaks Brad out. Kate reveals that the test was negative, but taking the test made Kate realize that she wanted something more from their relationship. Brad disagrees and states that he wants things to stay the same.
Finally to close out the day, the couple visits Kate's father Creighton (Jon Voight). Kate tells Brad that he doesn't have to come in to her father's house, stating that she doesn't want to lie to her family about their relationship since Brad is unwilling to evolve. Brad leaves. Kate goes inside and is shocked to find Marilyn and Pastor Phil inside her father's house. Kate's sister, Courtney (Kristin Chenoweth), explains to Kate that their parents set aside their differences once they had grandkids. Kate goes up to her old room and is followed by her father. Creighton tells his daughter that he has always known that Kate has been lying about going away for Christmas. He also explains that he lied many times to avoid his family and now regrets not taking the time to spend the precious moments that he could have had with them.
Meanwhile, Brad goes back to his father's house. He tells his father that he and Kate broke up after he refused to start a family with her. His dad laughs and tells him that he is smart like him. This frightens Brad who goes up to his bedroom and looks at his old things. Brad suddenly realizes that he wants to be with Kate and goes back to her father's house. He tries to convince her to take him back, and promises to have a family with her "someday".
One year later, on New Year's Day, Brad and Kate welcome their daughter into the world after spending nine months hiding from their families. As theirs is the first baby born in the New Year, a news crew comes to congratulate them. Once again revealing them, and their child, to the whole world, including their families.
Additional Film Information
Rate the Film!
Warner Bros. Pictures released Four Christmases on November 26, 2008. Seth Gordon directed the film starring Reese Witherspoon, Vince Vaughn, and Mary Steenburgen.