Film and Plot Synopsis
One of the most popular games in the world is Free City. Guy is one of many non-player characters (NPC) within the game. Guy leads a repetitive existence as a bank teller who is perpetually being robbed by human players of Free City. One day, Guy encounters the computer programmer Millie in Free City and finds his entire existence soon changed. Now, Guy is not only trying to catch the eye of the girl he loves, but he is also fighting for the survival of himself and everyone who lives within Free City.
Buy the Film
Free Guy (Feature) [Blu-ray]
12 new from $19.99
14 used from $7.42
Free shipping
as of December 1, 2023 1:34 am
*As an Amazon Associate we earn from qualifying purchases.
'Free Guy' Movie Summary
The summary below contains spoilers.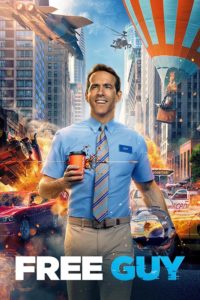 Free City is an open-world video game developed by Soonami Games which is owned by head developer Antwan Hovachelik (Taika Waititi). Guy (Ryan Reynolds) is one of many non-player characters (NPC) within the game of Free City. Guy is a bank teller who lives the repetitive existence of being robbed every day by various player characters alongside his best friend and the bank's security guard Buddy (Lil Rel Howery).
In the real world, Millie Rusk (Jodie Comer) is a programmer who plays Free City. Millie is suing Antwan for copyright infringement and is seeking evidence that he stole some of her source code from her former game, Life Itself, and used it within Free City. Inside the game Free City, Millie is known as Molotov Girl. Millie's former partner and co-developer is Walter "Keys" McKey (Joe Keery), who continues to work for Soonami and is one of the co-developers of Free City. Keys does not necessarily enjoy working with Antwan and secretly is in love with Millie.
One day while playing Free City, Millie catches Guy's attention by singing a song. As a result, Guy begins to deviate from his standard programming. Consequently, Guy alters his normal routine by attempting to talk to one of the bank robbers during a heist. Guy accidentally kills the robber and takes their sunglasses. Once Guy places the sunglasses on his face, he can see the normal player's heads-up display and realizes that he is living in a game world. Guy sees Millie walking on the street and tires to catch up to her, but he is hit by a train and killed. However, the next day Guy retains all the knowledge that he acquired the previous day.
Don't have a good day, have a great day. Guy (Ryan Reynolds)
Meanwhile, Keys and his coworker Mouser (Utkarsh Ambudkar) begin detecting Guy's anomalous behavior and mistakingly believe that he is a hacker disguised as an NPC. They both enter the game and attempt to eliminate him from the game by banning him. However, Guy cannot be eliminated since he part of the Free City programming. Guy soon follows Millie to a well-guarded compound known as the Stash. Millie believes that the evidence of her source code is hidden somewhere in the Stash. Millie's break in of the Stash is unsuccessful, and she must save both herself and Guy from being "killed" within the game. Millie believes that Guy is a novice player and tells him to level up before he gets killed. Guy takes her advice and proceeds to complete multiple missions via good acts. As a result, the gaming world begins to pay attention to Guy and he becomes a worldwide sensation known as "Blue Shirt Guy."
After significantly leveling up, Guy helps Millie escape from the Stash after a second failed break-in. The two talk about their lives, and at the end of the conversation, Guy attempts to kiss Millie which confuses her since that function is unavailable in the game. Keys realizes that Guy is truly an NPC, and that his self-awareness came about from the artificial intelligence (AI) code that he and Millie programmed into Life Itself. Keys programmed his affections towards Millie into the code which leads Guy into developing romantic feelings towards Millie. Key reveals the information to Millie and decides to help Millie find evidence of their code before Free City is wiped from Soonami's servers to make way for its sequel, Free City 2, in two days.
Meanwhile, Guy's interactions with the other NPC characters, including Buddy, causes each of them to become self-aware as well. Millie returns to Free City and informs Guy of his situation. Guy becomes frustrated that his feelings are merely a program and confesses his love towards Millie. When he is rejected by Millie, Guy breaks off their relationship. However, Guy realizes that there was something more than love in their relationship after he discusses the situation with Buddy. As a result, Guy gains full sentience. Guy returns to Millie and agrees to help her find her code.
Guy enlists the help of Buddy and his connections with security guards to enter the Stash again. Once there, they encounter the owner of the Stash, Revenjamin Buttons (Channing Tatum). Buttons is a player who is a big fan of Blue Shirt Guy, who immediately agrees to turn over the evidence that he has in the Stash. At the same time, Antwan realizes that Guy's overwhelming popularity is threatening the launch of Free City 2. Antwan orders Keys and Mouser to reboot the Free City game in the hopes that it will reset the Guy character to its original specifications. Keys refuses, so Antwan does it himself.
The reboot is effective and resets Guy to his original programming. Millie finds Guy in his original state but remembers Keys' advice that Guy would need a reminder. Millie kisses Guy which restores his sentience. Guy recalls the location of Millie's Island where her Life Itself game is located in Free City. Guy and Millie attempt to travel to the island. Antwan orders Mouser to kill Millie and Guy within the game, but Mouser's attempts are subverted by Keys who streams the events for the whole world. Once discovered, Antwan fires Keys and sends Dude (Ryan Reynolds and Aaron W. Reed), an unfinished muscular version of Guy created for Free City 2, into the game to stop Guy. Guy and Dude fight, with Guy pulling items such as a lightsaber, Hulk hands, and Captain America's shield to battle Dude. Eventually, Guy distracts Dude by placing the gamer sunglasses on his face.
A desperate Antwan attempts to stop Guy from reaching the island by destroying the Free City game servers with a fire axe. As Antwan destroys the servers, large portions of Free City begin to disappear, including Buddy. Guy rushes across a bridge connecting Free City and the island of Life Itself. In the real world, Millie rushes to stop Antwan from destroying all the servers. Before the servers are destroyed, Millie offers Antwan a deal where she will drop her lawsuit against Soonami in exchange for the Life Itself intellectual property being returned to her and Keys. Millie also agrees not seek any profits from Free City or Free City 2 games sales. Antwan accepts the deal, and all the Free City game inhabitants are saved, including a revived Buddy.
In the aftermath, Free City 2 is a failure without Millie and Keys code. Antwan is blamed for the game's failure by the media and is arrested for theft and criminal damage. Keys, Mouser, and Mille release Free Life using their recovered code. The game includes Guy and the other sentient Free City characters. In the game, Guy reveals to Millie that his code is a love letter to her from Keys. In response, Millie leaves the game she loves and chases down Keys. The two share a first kiss together. In the game, Guy reunites with Dude and Buddy. They each take their first steps into their own lives, free to make decisions for themselves.
Additional Film Information
Rate the Film!
20th Century Studios released Free Guy on August 13, 2021. Shawn Levy directed the film starring Ryan Reynolds, Jodie Comer, and Taika Waititi.