Film and Plot Synopsis
Gigi takes place in Paris, France, ca 1900. There we meet a playboy named Gaston who jumps from one mistress to another. He also spends a lot of time with the very underage Gigi. She's precocious girl whose stern grandmother and loose aunt school her in the ways of high society. Soon that little platonic relationship Gaston and Gigi share blossoms into something more as the girl matures. However, the thought of settling down is unlikely for Gaston who can not commit to one woman. Gigi refuses to be anyone's mistress though, and Gaston now finds himself choosing between her and his carefree lifestyle.
Buy the Film
Gigi [Blu-ray]
4 new from $19.97
15 used from $7.24
Free shipping
as of May 19, 2023 5:59 pm
*As an Amazon Associate we earn from qualifying purchases.
'Gigi' Movie Summary
The summary below contains spoilers.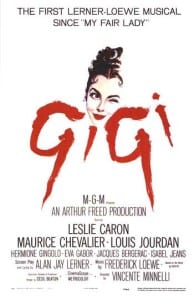 The 1958 film
Gigi
is a delightful Lerner and Loewe musical that was directed by Vincente Minnelli. It is based upon the novel by French writer Colette. Gigi is a Parisian school girl who is charmingly played by Leslie Caron. She lives in a modest apartment with her absentee, opera singer mother and her retired courtesan Grandmother, Madame Alvarez . Her Grandmother and Aunt Alysia are grooming her for life as the "mistress" of a wealthy man.
Gaston, acted by Louis Jordan, is a dear family friend of Gigi and her Grandmother's. The son of happily married parents, Gaston has chosen to emulate his playboy Uncle, Honore, portrayed by Maurice Chevalier. A young Honore was once the lover of Gigi's Grandmother. They reminisce in a sunset beach scene about their past affair. Honore admits that he was unfaithful to Madame Alvarez because he feared that he was in love with her and was considering marriage. Madame Alvarez had "closed the gates" on their affair when she learned of his infidelity.
Gaston is a world famous playboy who is bored with society life and mistresses. One place he finds enjoyment is spending quiet evenings with Gigi and her Grandmother and pampering them. He is amused by Gigi's innocence and exuberance.
After a friendly sea-side trip to Trouville, Gaston realizes that Gigi has matured into a beautiful young woman and that he is in love with her. Gigi's Aunt Alysia and Grandmother put the breaks on Gaston spending time with Gigi. They desire a legal agreement guaranteeing that Gaston will provide well for Gigi as his mistress. They ask for a house, a car, and a chauffer.
Gigi is not innocent to the consequences of life as a French Courtesan. She begs Gaston to continue their friendship as it is, maybe seeing each other more frequently. Gaston says that he cannot continue as they are because he is in love with Gigi. She is hurt to hear that Gaston loves her. How can he condemn her to life as a courtesan if he loves her?
Gigi originally declines Gaston's offer of an affair and financial security, but soon calls him back. She tells him that she would "rather be miserable with him than without him".
Gaston takes Gigi on their first public outing at a popular nightclub. Gaston is bothered as Gigi performs as the other courtesans in the club, selecting his cigar and pouring his drink. He embarrassingly leads Gigi from the club and abruptly drops her at home. Gigi and her Grandmother are mortified.
Gaston walks the streets of Paris, thinking. He returns to Gigi's apartment and asks her Grandmother for her hand in marriage. Gigi smiles and puts her arm in his. Her Grandmother murmurs, "Thank heaven." Gigi's happy ending is that she will live as a respectable society wife with a man that loves her.
Most endearing to me about this film is the music and the scenes shot in the parks and streets of Paris.
Additional Film Information
Rate the Film!
Warner Bros. Pictures released Gigi on August 4, 1958. Vincente Minnelli directed the film starring Leslie Caron, Maurice Chevalier, and Louis Jourdan.