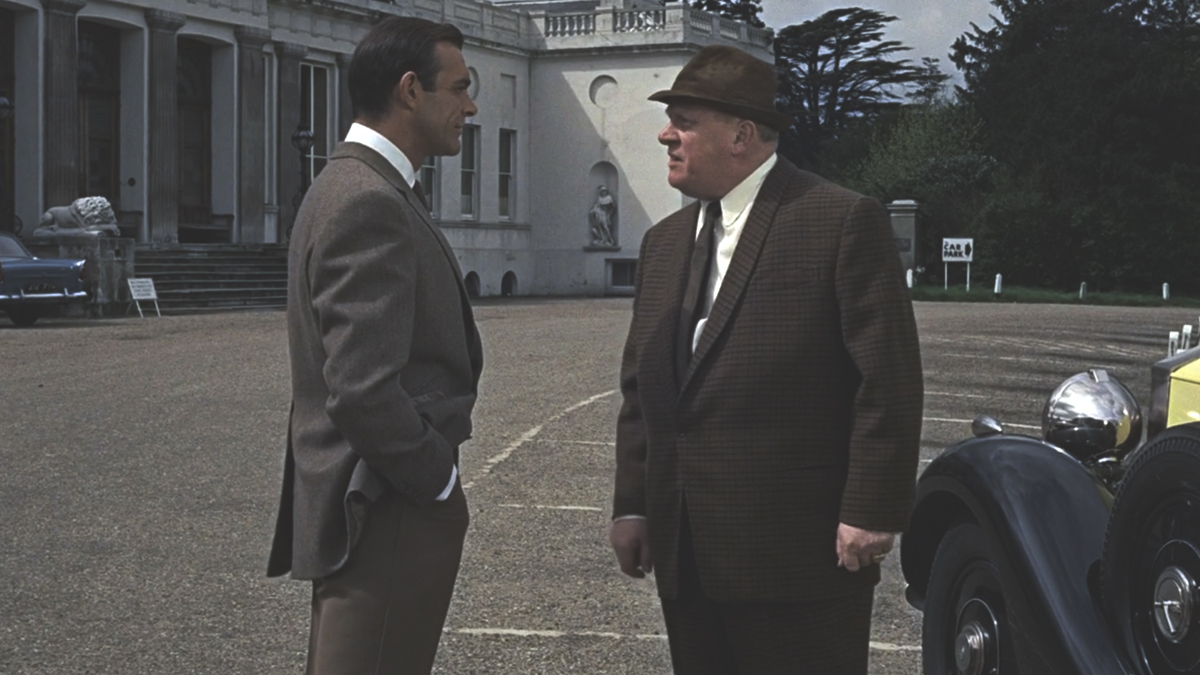 Film and Plot Synopsis
Secret agent James Bond is back in action again. This time, the Bank of England and Mi6 needs him to investigate a man named Auric Goldfinger whom they suspect is building a large cache of gold bars. While nothing seems overtly special about the tycoon, once Bond catches wind of a secret scheme he's involved in, Bond realizes that the fate of the west's entire economy may be at stake if he's not stopped.
Buy the Film
Goldfinger [Blu-ray]
8 new from $12.99
30 used from $2.49
Free shipping
as of November 15, 2022 11:53 pm
*As an Amazon Associate we earn from qualifying purchases.
'Goldfinger' Movie Summary
The summary below contains spoilers.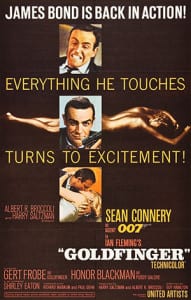 Goldfinger, it seems, has a lot of gold. In fact, he smuggles his gold across national borders and uses it to smother traitorous broads. The Brits send James Bond to keep an eye on him and schtoop his secretary. While spying and schtooping, Bond catches wind of something Goldfinger calls "Operation Grand Slam," which, contrary to Bond's intuition, does not involve four flight attendants and a bucket of baseballs.
After a long and tragic car chase, Goldfinger catches Bond at his smuggling operation and decides to slice him in half with a laser beam. But he changes his mind and decides instead to fly Bond out to Kentucky for some horse racing. Goldfinger's jet is piloted by Pussy Galore. They fly to Kentucky and put Bond in prison. He escapes and eavesdrops on Goldfinger's meeting with some mafiosos. It is here that our gold villain lays bare his dastardly plot. They plan to gas all of the military in Fort Knox and break in and steal all of the gold.
Bond is wise to him though, and it comes out that Goldfinger really wanted to nuke the gold in Fort Knox so that his gold holdings skyrocket in value. To kick off the plan, Pussy Galore's team of stunt flyers spray deadly poison all over the Fort, leaving it open to penetration. They break into the vault and Goldfinger's henchman, Oddjob, handcuffs Bond to the nuke. But Pussy turns on him. Turns out the poison gas they sprayed on the base was fake. The army wakes and fights Goldfinger's men. Meanwhile, Bond breaks free of his cuffs and bests Oddjob in a fight, stopping the bomb just in the nick of time, with the counter reading 007.
When the scene has settled, Bond takes a flight to D.C. to meet the President. But Goldfinger highjacks the flight to settle the score with Bond. Goldfinger is killed when his gun discharges and the vacuum sucks him out of the plane. Bond, however, manages to parachute safely to the ground, where, waiting for him, there is Pussy Galore.
Additional Film Information
Rate the Film!
United Artists released Goldfinger to theaters on January 9, 1965. Guy Hamilton directed the film starring Sean Connery, Gert Fröbe, and Honor Blackman.