Film and Plot Synopsis
Hail, Caesar is 30 hours in the life of Eddie Mannix in 1951. As the head of physical production at Capitol Pictures, he spends most of that time as a fixer to keep the scandalous behavior of his stars out of the press. Hot on his tail are the twin sisters and rival gossip columnists named Thora Thacker and Thessaly Thacker. However, things spiral out of control when his unmarried synchronized swimming actress DeeAnna Moran gets pregnant. Then, someone drugs his biggest star, Baird Whitlock and abducts him. As he struggles to put these fires out, the Lockheed Corporation courts him with an offer for a high-level executive position, but Eddie has his reservations with joining them.
Buy the Film
Hail, Caesar! [Blu-ray]
11 new from $7.95
23 used from $2.97

as of December 4, 2023 6:51 pm
*As an Amazon Associate we earn from qualifying purchases.
'Hail, Caesar!' Movie Summary
The summary below contains spoilers.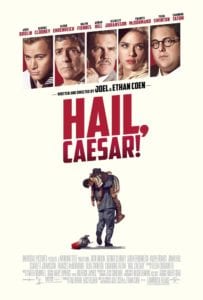 Hail, Caesar!
takes place over roughly 30 hours in 1951 during the time of the Red Scare. Eddie Mannix is a "fixer" at Capitol Pictures; working long days to keep his employees in line and the pictures rolling out on time.
When someone kidnaps his main star, Baird Whitlock, during the filming of a prestige picture called, "Hail, Caesar!" a group of communist writers called, The Future, asking for  $100,000 in ransom money.
As Baird goes missing, Mannix must also find a husband for his unmarried, but pregnant, synchronized swimming starlet, DeeAnna Moran, but first, he casts his western film star, Hobie Doyle, in a dramatic speaking role. Doyle's lack of acting ability coupled with a terribly strong southern accent causes drama of it's own on the set.
During all this,  the devil himself heavily recruits Eddie for a lucrative and easy position at The Lockheed Corporation; a job that could net him billions of dollars in stock options. He has little time to really consider the job as gossip columnists, Thora and Thessaly Thacker, nip at him for a story.
Doyle's director, Laurence Laurentz, cries to Mannix about Doyle, but Mannix shuts him down by ordering him to do his job and direct the young star. Later, Doyle, himself, talks to Mannix about his own concerns about being out of his acting comfort zone, but Manix convinces him that he's doing a great job.
During the conversation, Mannix reveals to Doyle that someone kidnapped Whitlock. Doyle, showing that he's not so dumb, tells Mannix to look closely at the film's extras who are the most likely source for the kidnappers. Doyle's theory  is correct, and it eventually leads Mannix to the communists. The communists are in league with Mannix's other star, the singing and tapping sensation, Burt Gurney.
After the kidnapping, Gurney escapes, with his doggie, aboard a Russian submarine, and they head out to Moscow. The police  arrive to arrest the communist writers as Doyle drives Baird Whitlock home.
Mannix turns down the Lockheed position and continues on as the head of Capitol Pictures. Everyone gets what they deserve in the end.
Additional Film Information
Rate the Film!
Universal Pictures released Hail, Caesar! on February 5, 2016. Ethan Coen and Joel Coen directed the film starring Josh Brolin, George Clooney, and Alden Ehrenreich.