Film and Plot Synopsis
Rick and Fred are a couple of married guys who are always looking at other women and thinking of their glory days. Their frustrated wives, Maggie and Grace, are fed up with their behavior, and grant them a 'hall pass': a week off their marriage allowing them to do anything. But the guys take their time and their week is almost up. What they don't realize is that at the same time their wives make connections of their own.
Buy the Film
Hall Pass (Extended Cut) [Blu-ray]
18 new from $3.33
51 used from $2.50
Free shipping
as of May 19, 2023 6:41 pm
*As an Amazon Associate we earn from qualifying purchases.
'Hall Pass' Movie Summary
The summary below contains spoilers.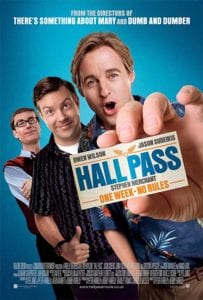 Richard "Rick" Mills (
Owen Wilson
) and Fred Searing (
Jason Sudeikis
) are two best friends who are unhappy with their married lives in the suburbs of Providence. The two reminisce about the old days when they were single. Their wives, Maggie Mills (
Jenna Fischer
) and Grace Searing (
Christina Applegate
), are also best friends and tolerate their unthinking husbands predilections.
Maggie and Grace confide with a mutual friend who happens to be a psychologist, Dr. Lucy (Joy Behar), about their frustrations with their husbands. Dr. Lucy encourages the women to give their husbands a hall pass, a week off from their marriage during which they can have sex with other women. Dr. Lucy tells the women that she gave her husband a hall pass and it improved their marriage.
Maggie and Grace are skeptical, but finally reach a breaking point with their husbands and give them each a hall pass. Rick and Fred are also skeptical at first, but eventually decide to accept the offer. Maggie and Grace take their kids and head off to Maggie's parents' house in Cape Cod for the week. Rick and Fred gather their friends, Gary (Stephen Merchant), Flat (J.B. Smoove), and Hog Head (Larry Joe Campbell), and head off to the bars to pick up women. Rusty from years of marriage, the boys' initial efforts are unsuccessful.
The boys decide what they need to do is check into a hotel and prepare for their hall pass week. On the first day, Rick and Fred eat too much and end up sleeping the night away. On the second day, they eat hash brownies and decide to play golf. They get too high and end up causing chaos on the golf course. On day three, they return to the bar with their friends and end up getting really drunk. They wind up fighting with other customers in the bar. They spend day four suffering from a hangover from day three.
Meanwhile, Grace convinces Maggie that if their husbands have a hall pass for a week, then they should have hall passes for a week as well. Grace begins dating a young local baseball player named Gerry (Tyler Hoechlin). Maggie begins flirting with Gerry's coach Rick Coleman (Bruce Thomas), although she still avoids anything physical, unlike Grace.
On day five, back in Providence, Rick goes to a local coffee shop where he flirts with an attractive barista named Leigh (Nicky Whelan). Leigh's co-worker Brent (Derek Waters) becomes annoyed with Rick's flirting with the much younger Leigh due to his obsession with her. Brent attempts to insult Rick, but Rick responds which catches Leigh's attention. Leigh tells Rick that they might see each other at her gym. Rick, who does not work out, signs up for the gym and sees her there later that day.
Leigh invites him for a beer later that night. Rick decides to sit in a hot tub at the gym to relax and ends up falling asleep. When he awakes, his muscles are too weak for him to climb out of the hot tub and he needs the assistance of two naked men to help him get out. Meanwhile, Grace and Gerry continue to get closer in Cape Cod while Maggie continues to see Coach Coleman.
On day six, Rick and Fred go to a bar to meet their hipster friend Coakley (Richard Jenkins). Rick meets his children's babysitter Paige (Alexandra Daddario) at the bar who is there celebrating her 21st birthday with her Aunt Meg (Kristin Carey). Paige is aware of the hall pass since she was in Cape Cod for a couple of days with Maggie and the kids. She tells Rick that she is attracted to him, but Rick shoots her down to dance with Leigh, who has arrived at the bar.
Brent is present at the bar and acting as the bar's DJ. Brent sees Rick with Leigh and becomes enraged. Rick leaves the bar and goes to a party in Coakley's house with Leigh while Fred takes a very drunk girl back to his hotel room. The girl becomes very sick and Fred sends her back home before he can have sex with her. A short time later, Aunt Meg shows up at the room and mistakes Fred for Rick. She seduces him, and Fred begins to fool around with her, including faking oral sex on her.
Meanwhile, Coach Coleman tries to seduce Maggie in Cape Cod. However, she turns him down due to her love for Rick. Grace, on the other hand, has sex with the much younger Gerry, but insists that it will just be the one time. Young Gerry is completely find with that. Afterwards, Grace feels guilty about cheating on Fred and has a car accident.
Back at Coakley's house, Brent approaches Rick and threatens him. Leigh intervenes and calms Brent down. She later finds Rick in a bedroom looking at pictures and offers herself to him by taking off her top. She tells Rick that she is okay with a one-time fling. Rick is very interested, but ultimately rebuffs her, unable to cheat on Maggie. In possession of Fred's phone, Rick learns of Grace's accident and goes back to the hotel to find him.
In the hotel lobby, he encounters Paige who confronts him about having sex with her Aunt Meg. Unaware of Fred's impersonation of him, he has no idea what she is talking about. They enter Fred's room and find him having fake sex with Meg. When Meg learns Fred's true identity, she kicks Fred in the face.
Rick tells Fred about Grace's accident, and the two men begin to head to Cape Cod. They find Brent vandalizing what he thought was Rick's car. Brent sees his mother, the infamous Aunt Meg, at the hotel. Brent believes Fred has had sex with her and tries to kill him as well. Brent shoots at Fred and Rick and is tackled by Paige and Meg. Rick and Fred make their way to the Cape Cod hospital with Brent and the police chasing them. At the hospital, Brent is arrested for attacking Rick and Fred, and Fred learns that Grace only suffered a broken nose in the accident.
Rick goes to Maggie's parents' house and finds his wife alone. Rick confesses that he did not use the hall pass and remembers the time he lost his virginity to her, acknowledging that he has never been with any other woman. Maggie tells her husband that she did not use her hall pass either, and they reconcile and have sex for the first time in months. Fred and Grace also reconcile and decide to not reveal their mutual infidelities to each other. However, when Grace asks him to take her to see a Kathy Griffin show, he confesses to using the hall pass with Aunt Meg.
During the credits, Fred hosts a barbecue where he pays Kathy Griffin to be present. Noticing how happy Maggie and Grace are hollowing the hall pass week, Gary's wife suggests that she give Gary a hall pass as well. Gary fantasizes about his hall pass week where he sleeps with a married woman, resulting in her death and the death of her husband, grandmother, and several bystanders. He ends up being charged and convicted for murder and ends up being raped in prison by a much larger inmate. Returning to the present, Gary responds to his wife's suggestion with "give it a whirl".
Additional Film Information
Rate the Film!
Warner Bros. released Hall Pass on February 25, 2011. Bobby Farrelly and Peter Farrelly directed the film starring Owen Wilson, Jason Sudeikis, and Christina Applegate.